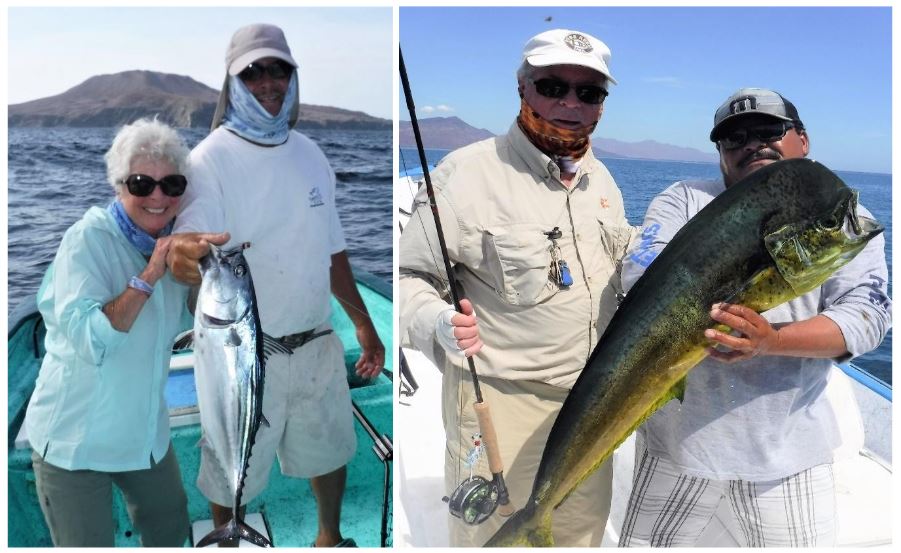 Jul 24 - Jul 28  12:00 AM
Led by: #ATT{leader}
Fishmaster: Rich Hughett
Sign Up Now! Experience a new HIGH! Fish for Dorado, and many other salt-water fish, including Bonito, Roosters, Yellowtail and Sailfish on a fly! Join the group going to Loreto in Baja from Sunday, July 24th through Thursday, July 28th. This trip includes:
Four nights at the beautiful Hotel La Mision, on the water-front next to Loreto Harbor.
Three days of fishing on 24-foot Super Pangas.
Ground transfers and fishing licenses.
It does not include meals, because there are some nice restaurants (A lot of fresh seafood!) in town or if you prefer, eat at the hotel, where they will cook your catch.
The fishing day starts around 6:00 a.m. and we usually get back to the harbor between 1:30 and 2:00 p.m. Spend the rest of the afternoon fishing from the beach, having a cool drink in the pool, exploring Loreto, or just sitting around telling some tall fish stories. And, you will have many exciting moments on the Sea of Cortez to talk about.
The approximate cost for everything but meals and airfare is: $950.00 per person (double occupancy). Interested? Please contact Rich Hughett, 831-757-5709, for all the details. You will need to book airline flights* as soon as possible. No advance payment needed.
*Southwest Airlines from San Jose and Alaska Airlines from Los Angeles to Loreto. Rich will help with your airline reservations
Add to your calendar: iCal   Google Calendar
Map Unavailable
Posted on July 24th, 2022