WHY? The California State record belongs to Hank Ferguson of Soquel, Ca. who landed a giant 67-pound 8 oz striper while fishing the O'Neill Forebay on May 7, 1992. Most of the O'Neill Forebay is less than 10 feet deep and the deepest area is 25 feet which means it can successfully be fished with a fly rod.
Fees: Fishing the O'Neill Forebay is open 365 days a year and simply requires a valid California Fishing license. Parking is $10 a day or free with an Annual CA State Parking Pass or a Distinguished Veterans Pass . Overnight camping is $20 a vehicle and the Annual Parking pass is not valid for camping.
Rods: 6 – 9 weight rods are all acceptable, but if you hook a big striper and only have a 6 weight, you could be unhappy. A standard 9 or 10 foot 8 weight is typical Some of our folks are using switch (not spey) rods. There are times when you might want three rods. Heavy sink for the channels which are 20+ feet, intermediate for the weedy flats which are shallower than 8 feet, and a floating line for the rare occasion when stripers are busting bait and you want to throw a gurgler or slider.
Line: Use a sinking line, either intermediate or faster sink. The same gear used at Pyramid Lake and the surf.
Leader: Expensive, non eco-friendly fluorocarbon leader, is not needed. Monofilament 20 # straight or dropping to a 15# tippet is fine. For one fly, a 4 – 5 foot length is enough. Stripers are not leader shy. You might try using a small swivel just below the butt section of your fly line if using multiple hooks to get a few get less tangles.
Flies: Most of the club uses Lee Haskin's San Luis Smelt fly, you can order them from http://gurglersonline.com/. Other favorite flies include: yellow clouser, gurgler, slider.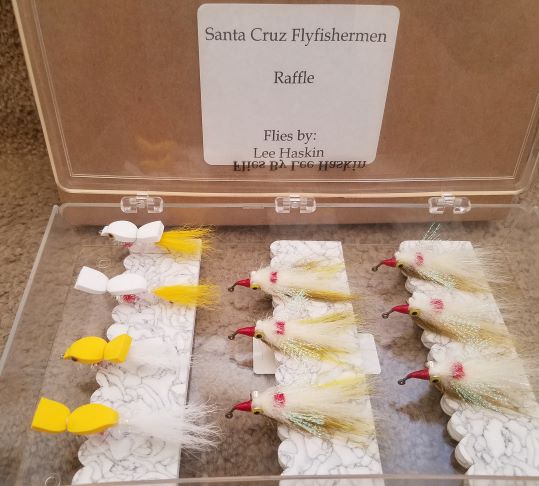 Floating Tube: Successfully fishing the forebay requires that you be on the water, and the most common way is to have a float tube with kicking fins. Regulations allow you to be on the water from 1 hour before sunrise to 1 after sunset. (Note: the state park no longer requires the mandatory inspection of float tubes before launching in the Forebay. This makes it much more convenient to fish these waters.)
Boat: Boats can be launched from the San Luis Creek side of the forebay. Boats require a quagga mussel inspection and will be tagged and turned away if there is any wetness on the boat or the trailer.
Waders: When the water is warm, there is algae that can cause skin irritation so it just makes sense to wear waders.
PFD Personal Flotation Device: Should always wear a PFD when float tubing. The winds can become very strong very quickly and blow you far from your vehicle.
Camera: Bring one!! When you get the BIG fish or triple hook-up, you will want a picture to share with the club.
Casting: The longer the cast, the longer you can strip through the strike zone. In a float tube, you can extend your cast, by quietly kicking away and letting out line as your line sinks. A key part of the cast is to know what depth you want to fish and then counting until your line gets to that depth. For example, if you are fishing a full sink that goes down at 6 inches per second (ips) and want to fish 10 feet down, than you will need to count 20 seconds before beginning your strip.
Many of the SCFF members use a fish finder to better determine the depth to fish. The most important thing is to know the depth of the water and there are portable fish finders for under $50 that will give you depth.
Retrieve: Stripers are predators and attack their prey. A common retrieve is a hard, fast strip followed by a long pause and then another hard strip. Keep stripping all the way to your float tube and raise your rod slowly to re-cast as stripers are known to hit very close to the boat. After a fish has hit your line, it is really important to strip set the hook by pointing the rod tip at the fish and firmly pulling back on the line several times.
Time of day to fish? Early mornings are a favorite time to fish, though fish can be caught through the entire day. Fishing is permitted all day and all night, though there are restrictions regarding when boats and float tubes can be on the water.
Where to fish? This is where belonging to a local fishing club has real benefit. Typically information about fishing conditions and locations are shared privately among club members via text messages, phone calls and google groups. The numbers on the map below indicate some common spots where club members have found success at the Forebay and using these numbers can help pinpoint a location to other club members.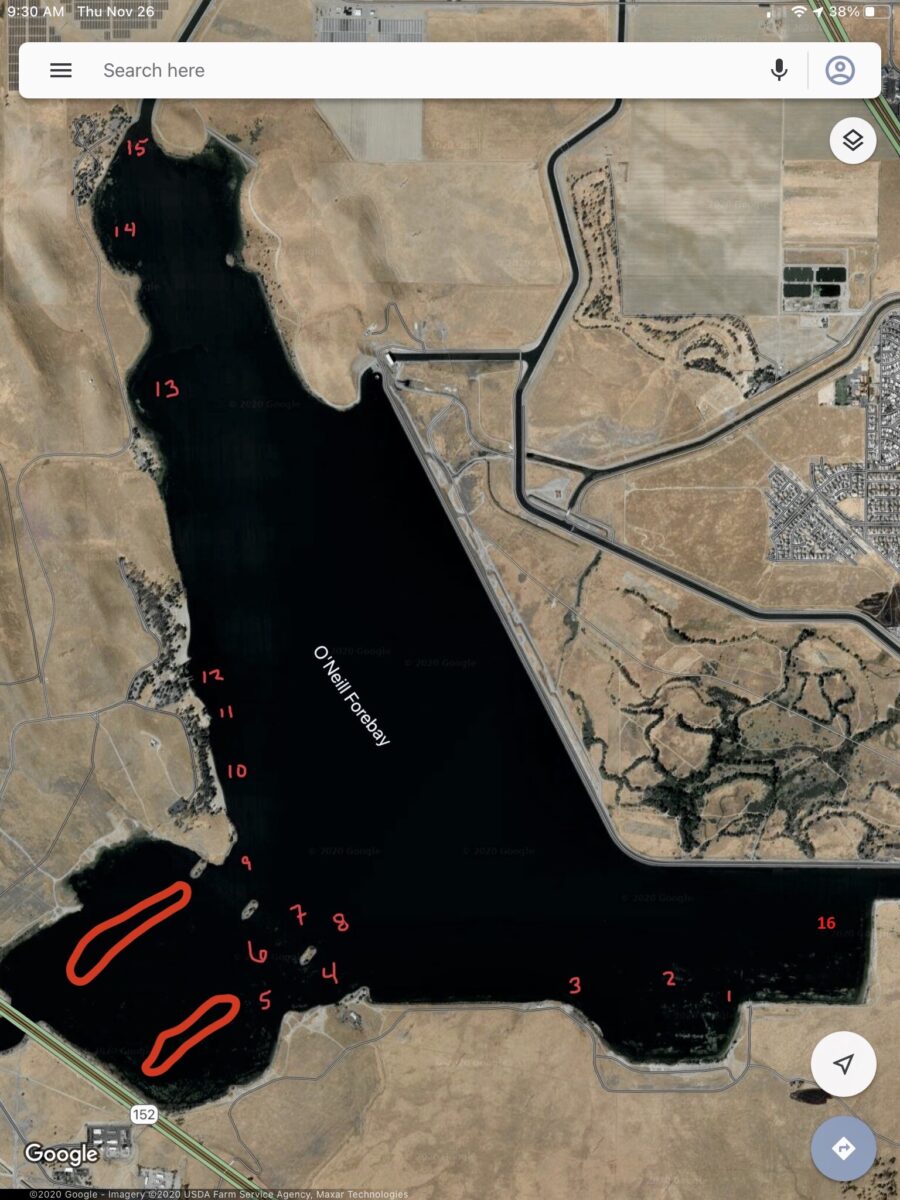 Club sponsored fish-outs: Typically occur during a fall weekend after the weeds have died down, the winds have calmed and the fish are trying to get fat before winter. Please check the SCFF newsletter or the event calendar on the website for exact dates.
Online Resources to improve your fishing experience:
Wind Conditions:
Apps for wind forecast:  Windy,  iWindsurf
Forebay wind line (recording): (800) 805-4805
Harmful Algal Bloom conditions:
https://mywaterquality.ca.gov/habs/where/freshwater_events.html
Other websites:
https://mengsyn.com/ A fly-fishing addict who fishes San Luis Reservoir and the Forebay.
http://www.danblanton.com/ Long time local fishing guide.
Forebay Water level:
https://cdec.water.ca.gov/dynamicapp/QueryDaily?s=Onf
Other Fishing at the Forebay:
Large Mouth Bass:   You can find LMB in the shallower reedy parts of the Forebay.   A floating line with a popper or gurgler in the late spring could be really fun.
Have also seen carp and really big sturgeon at the Forebay.  Give it a try, who knows what lies in the deep?