Have you ever fished the area around Hope Valley and Markleeville?  If you have you know how many fishing opportunities there are and if not, you may want to consider venturing that way.  It's about a four-and-a-half hour drive from Santa Cruz through Stockton then Jackson, the foothills, finally to the Sierra and over ~8,700 Ft. Carson Pass on SR-88 a Scenic Byway.
There are many fly-fishing opportunities on still-water, rivers and streams.  Larger lakes include Silver Lake, Caples Lake, Upper and Lower Blue Lakes and Indian Creek Reservoir.  And then there's Heenan Lake that is open from Sep. 1 through Nov. 30 where you can catch broodstock Lahonton Cutthroat.  Numerous smaller lakes are also in the region, e.g. Woods Lake, Lake Kirkwood, Burnside Lake and others.  4, 5 or 6 weights are used on the lakes with wooly buggers, various nymphs with the Damsel Fly nymph often being the most productive.  Hit risers with a Damsal Fly dry or parachute Callibartis.
Much of the fishing attention is focused on the West Fork and to a greater degree East Fork of the Carson River.
The West Fork originates above Upper Blue Lake at Lost Lakes and runs through Charity Valley and Hope Valley.  The meadows have good long runs with a few steeper, narrower, faster canyon areas that hold fish in the deeper pools.  The river then flows down a rather steep boulder strewn path along Hwy 88 through the town of Woodfords.  Call it pocket water.  There are many places to pull off the road at fishable locations.  Blue Lakes and the river are regularly visited by Fish and Wildlife trucks full of planters.
The East Fork originates high up between Ebbitts Pass (Hwy 4) and Nevada with fishable Silver Creek and Wolf Creek adding to it along the way.  Most of the more accessible waters are planted.  A few miles south past Markleeville the East Fork passes under Hangman's Bridge, where from there to Nevada there are special regulations including artificial lures only.  This area is not planted and flyfishers target rainbows and browns for miles down this stretch of the river.  Runs, riffles and pools provide fairly straight forward dry and nymph fishing.  The areas strewn with borders will make wading more challenging and requiring more technical casting and mending.
Fishing 4 to 5 wt. rods is ideal but 3 and 6 are just fine and to some degree the time of year or day and fly will influence your selection.  If the County (Alpine Co.) plants Alper's trout or you're throwing streamers go heaver.  If the flows are slow and a small fly delicately presented to smaller natives is the way of the day, go smaller.  Depending on overnight temperatures morning Mayfly hatches get going like crazy and parachute Adams should do the trick.  Stoneflies come out early too.  When you hear the grasshoppers start buzzing, you may want to get on that band wagon.  Dry dropper rigs with a nymph of the top fly work good, except in slow shallow water where the nymph could get snagged and/or the dry is small.  Bigger Mayfly dry's, Stimulator's, Chubby's and of course hoppers work for the dry or indicator.  Imitative droppers (and for bare nymphing too such as hare's ear, pheasant tail or stone fly) work well but loud Prince Nymphs or Copper Johns usually get more attention.  In the evening, Caddis get their heads up and rising fish are targetable.  Browns are more vulnerable a ways downstream from where Markleeville Creek (water not to be ignored) enters the East Fork.  Go deep with streamers swung around submerged boulders.  And Browns are even up in Wolf Creek meadow (think spring creek tactics, possibly with terrestrials) before it plunges down to the river.  This gorge has rainbows in the pocket water.  It's bouldering territory where you dap a little dry, maybe get a couple feet of drift and, hopefully, see a little guy come up and grab your gift.  Wolf Creek is about 5 mils (dead end) off Hwy 4 turning off at Centerville Flat Campground on a somewhat paved road (good fishing along there) then a dirt road to the Wolf Creek campground or a left turn before that to the meadow and then down to the river.  If you keep going south on Hwy 4, fishable Silver Creek runs along the route, with good access at Centerville Flat Campground.  Keep going and you'll find Kinney Reservoir for easy access lake fishing.
So, there are lots and lots of fishing and camping opportunities in the area.  Now back to kind of the center of it all — Markleeville.  This is the county seat of the least populated county in California.  The little town has a couple restaurants a motel and a small/limited general store.  A few miles south of town is the Carson River Resort ("resort" – ya right) with a very little store and campsites across the street on the river.  This stretch of the road is central for recreation in the area.
I'm writing to mention to the SCFF Club members that I think this is a great area (the beauty however has been moderated by recent wildfires) that is relatively close to enjoy and encourage you to check it out.  Below are a couple of maps and photos to help orient you.
Randy Saar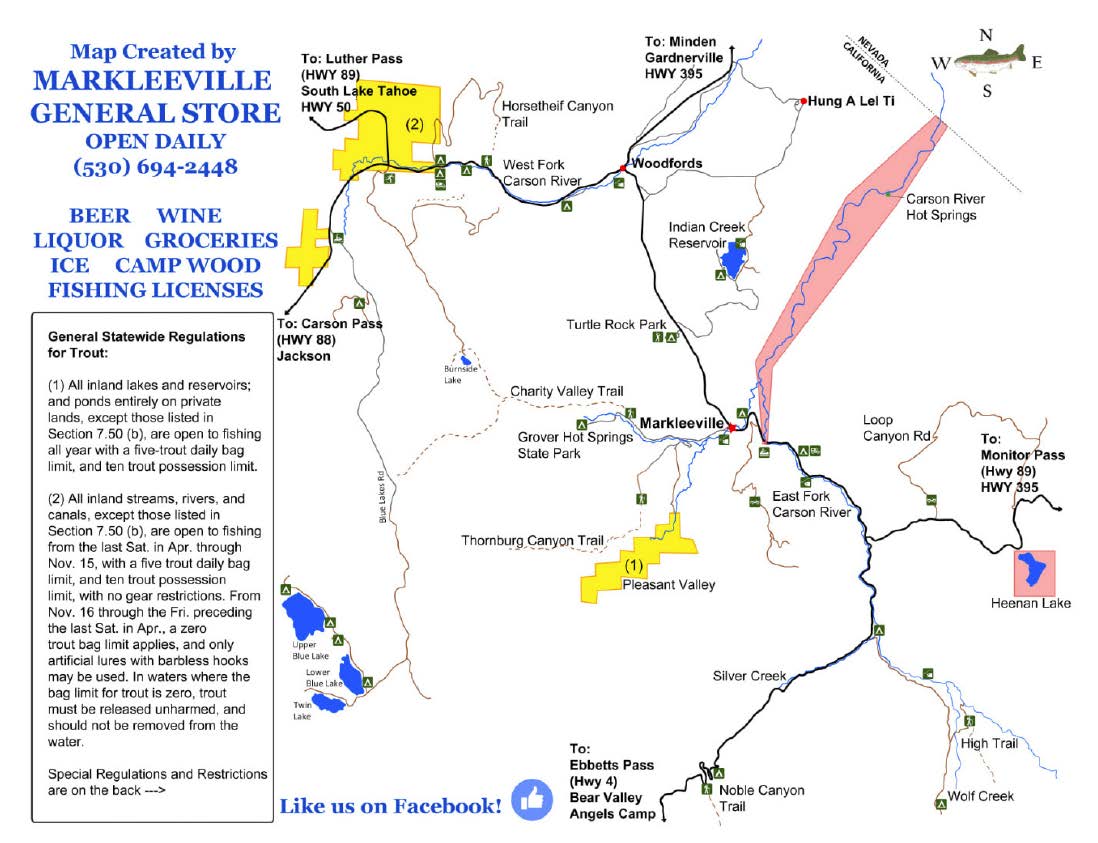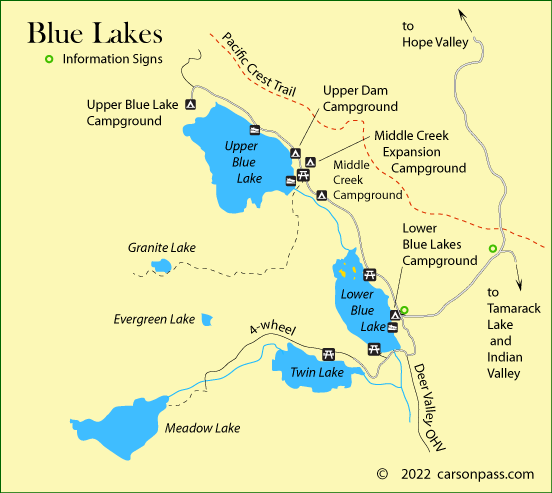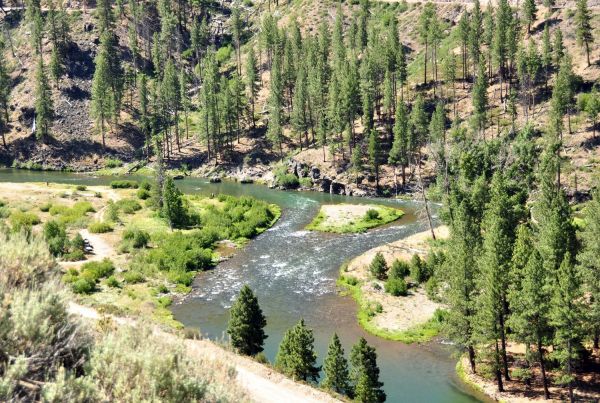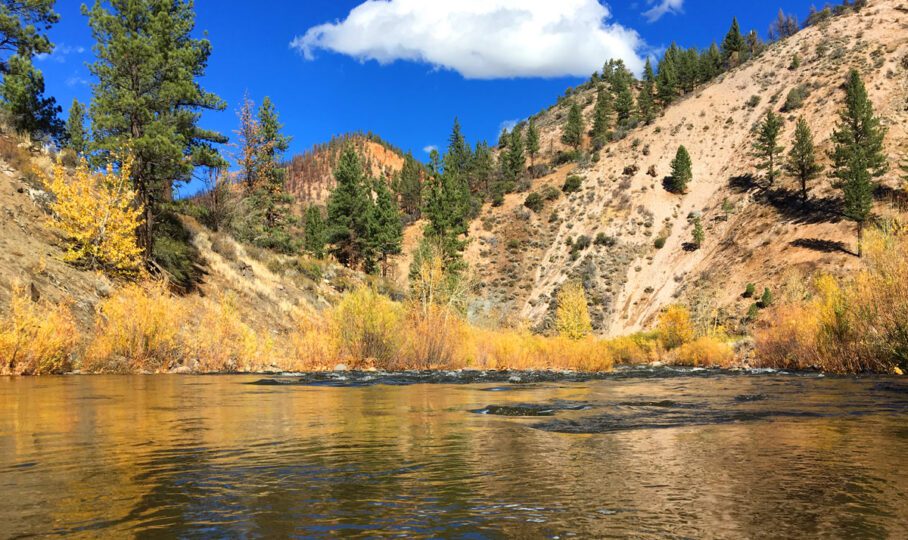 Posted on May 24th, 2023