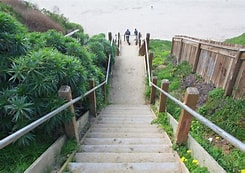 Oct 07  6:50 AM
Led by: #ATT{leader}
Our October surf fish-out is the last one scheduled for 2023 and will be at Beer Can Beach in Aptos. It will not be at Palm Beach. Beer Can is accessed by stairs on Via Palo Alto street in Aptos, between house numbers 1074 and 1094.
We will meet at 06:50, sunrise is at 07:08 . This is a residential neighborhood, so just gear up, sign my log and head quietly to the beach rather than congregate and talk that time of morning. If you need a stripping basket or flies, I will have them.
Starting about 9 am, Mike Lovejoy will be serving us breakfast on the deck at his home just up the street at 115 Driftwood Court. Normally we don't ask for an RSVP, but if you do plan to attend breakfast, please let me know. Just drop me an email will be fine. sambishop@totlcom.com
TIDE: High tide is a plus 4.0 at 07:55, so we will fish the crest of the tide from high flood to slack tide, to ebb.
It will be a great time with lots of fish and great comradery afterwards at Mike Lovejoy's home.
Add to your calendar: iCal   Google Calendar
Posted on October 7th, 2023