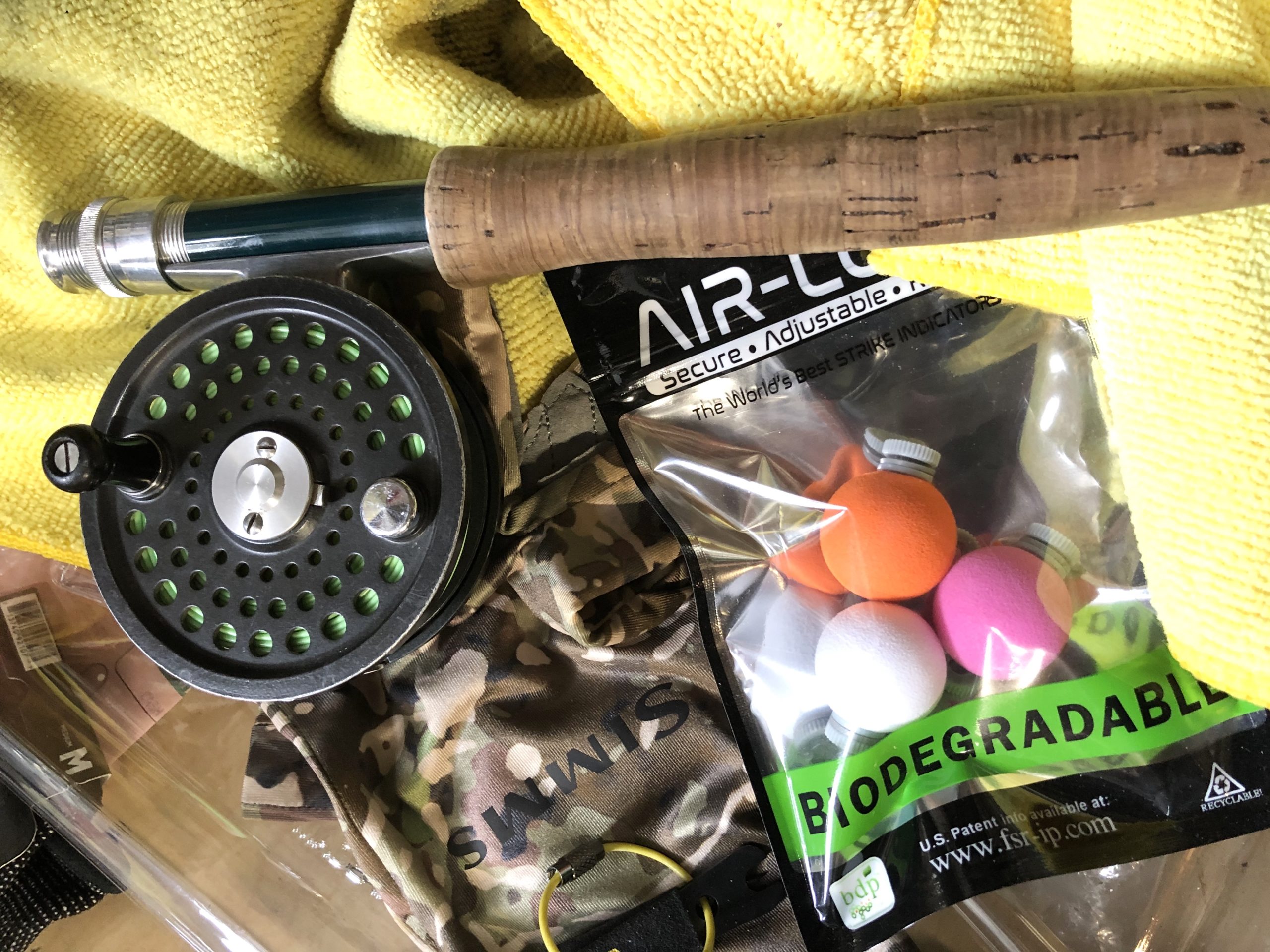 In 1992 I was at the Ed Rice Fly Fishing Show with Mona.   We were still practically newly-weds and had recently seen A River Runs Through It, in the movie theatre.   As new comers to fly-fishing I was on overdrive soaking in everything as a guy who by today's standards had virtually nothing in my collection of all things fly-fishing.   We were taking in everything from fly-tying, gear, waders, flys, vests, hats, how I came to get my Filson cap, and guys and gals casting fly rods, like I'd just seen Brad Pitt do in the movie.
Mona and I befriended a guy at the Sage booth.   At that time, I didn't know Sage from Orvis, from R.L. Winston, Thomas & Thomas,…   They were all just really expensive and really beautiful.   This guy was super nice.   He grabbed a couple of rods and we went outside to do some casting.    It was evening, but the casting pool was lit up.   Fly lines shimmering and floating in the night sky against the bright lights.   We were having a blast and learning a lot, watching the line, practicing and practicing.    When we asked his name, he said it was Randy Swisher.   I commented, 'Swisher?! You mean like, Doug Swisher?'
Yeah, That's my dad.
Wow – I was hooked.   When we went back inside, I asked him about the rod I was casting.   It was a beautiful deep bluegreen graphite Sage SP.  Mona said I did have a birthday coming up soon, and Randy offered up his employee discount and threw in the rod tube.
I've loved that rod and at the price you pay for a rod like that, even 28 years ago – you take care of it.
Well I broke it last summer and was crushed.   I was worried that part of the rod wasn't even available anymore.   But the long and the short of it, is they did.  Sage treated me like it was one of my kids.   They repaired the rod and had it back to me in a few weeks.
"Social Distance".  Two words none of us have ever though of putting together before.   In an unprecedented health crisis, none of us saw any of this coming.   Although I did hear a 2015 TED talk with Bill Gates who warned us of just such a disaster.   Wow.   Anyhow, I am, like all of us, at home, working to be responsible so as to mitigate this health crisis.    We are certainly going to be a different world in the future, and preparing our "kit bags" for many different things we never really thought of before, will become the new norm.   Teachers will now have to prepare for their classes each year, with an online curriculum, just in case.   Hospitals, government, manufacturing, finance, business in general will have to have a disaster plan that now may include some sort of crisis unforeseen.  Probably all good ideas, but hard to manage now -unless you're Walmart, Clorox, Charmin or Amazon.
It was really hard canceling the April meeting and equally hard having to cancel the board meeting.
As we are at home, I do recall one of the instructions is to "get outside"!   I've seen more people walking their dogs, or just walking together than I've ever seen before.   I painted the laundry room and have been fixing some fences.  Went for a bike ride.   I took inventory of all my fly-fishing gear.   I cleaned my fly lines and rigged up some two fly leaders for surf perch/Striper fishing in the near future.   I organized my fly-tying and spun up a couple of bugs for the summer I'm very much looking forward to.   My rod came back!   Get Outside!   Okay – that's where you can practice Social Distance Casting!  The grass is green at the parks, and it's legal/okay to go to the park.  You had time to clean your line and maybe even clean up your favorite stick.   A good time to get out and practice your line control, with a little dab of yarn, and do something different.   If you're in the park waving a nine foot long stick with a long colorful string on the end of it, chances are, people are gonna stay way clear of you.   Much more than six feet.
Stay well my friends.   Hang in there and all of us at SCFF are wishing everyone good health so we get through this together and get back to having fun together.   We are going to appreciate that more than ever before.
Cast away – everything!    Tom
Posted on March 22nd, 2020