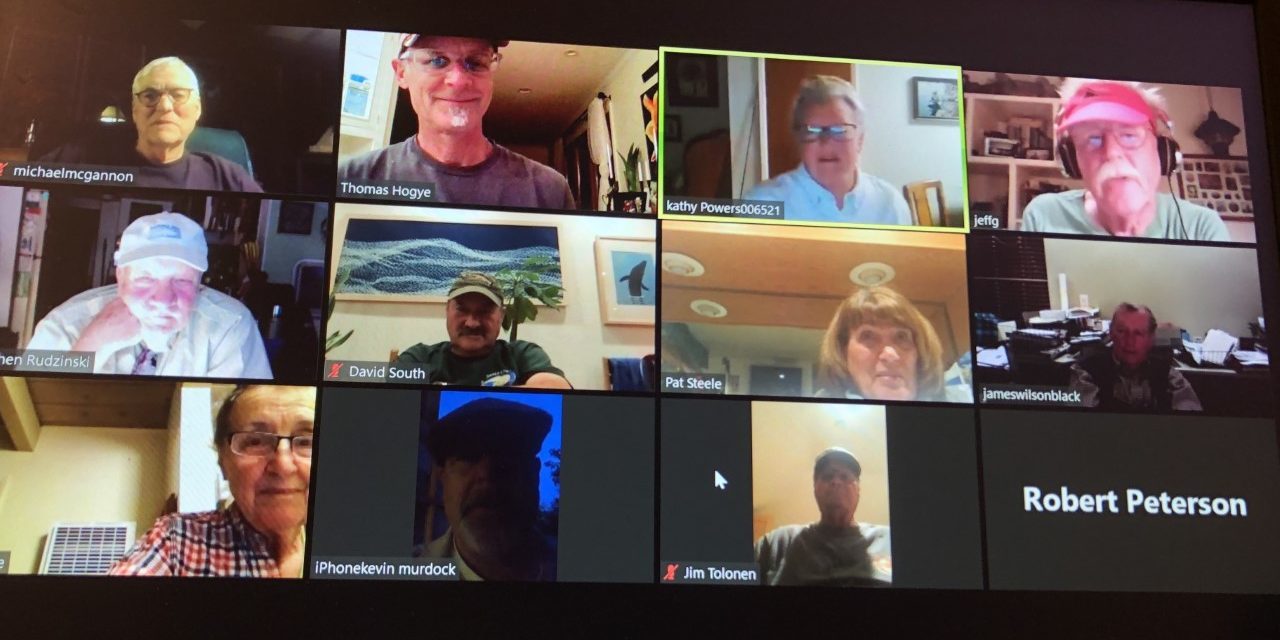 Shifting gears can be super difficult if your clutch is bad and your synchros aren't working properly, crunching through the gears, with a shift lever that won't move, a car that won't go and a clutch pedal that won't give up.  Well, I'm happy to say that your Fly-Fishing synchro's – the group you might refer to as "The Board" – of SCFF are synced and seem to be expert at navigating gear changes quite good.  Afterall, who else will drive 5 hours or fly twenty-four hours to a destination with a plan, only to find it changing in an instant.   Weather, flies, water condition/volume, hole in yer waders, hook in the neck, broken rod, dropped your best fly box in the water…   COVID-19 got nothing on this bunch of seasoned veterans – with all due respect.
Not to take lightly the situation at all, but your board came together battling things we often resist or just leave alone as we mature for the benefit of you.  Yeah – you!
For the first time in the forty-three years the Santa Cruz Fly Fishermen has been in existence, we held our board meeting via "Zoom"- an internet based teleconferencing application that made it easy for anyone with a computer, tablet or smartphone to access.   Even when some of us had never done such a thing, it was not only fun, but very productive.   Elaine Cook, your Master Fly-Tying instructor, even launched her meeting from the passenger seat in Big Red, as she and John were obviously returning from a top secret, never to be disclosed, socially distant day of fly-fishing.
All of us wore our favorite fishing hats, donned a libation, sat in our favorite spots and launched further into the 21st Century than any of us would have ventured, ever.   I dare say that if I ever told the board, let's do something like this for "fun", it would have passed like the worst constipation you've ever had in your life – I know, bad picture.  But look; we simply would not have done it.   You throw a deadly virus at us and tell us we can't meet for the benefit of our membership, our mission, fly-fishing, scholarships, a beer together, and what we can do to help?   Get out of the way.
As many of you know, if I miss a board meeting or a club meeting, it's because of work.  Oh – and I'm still working – twice has hard to do half as much with thirty percent less.   But I am grateful.   Anyhow, I miss everyone when we can't get together.  Having the board meeting via the internet came terrific and it was really good to see everyone, hear their voices, laugh together and do our job.
So, while we physically still can't "get together" for the May meeting – we're gonna get together.  We are going to have our May Meeting on Zoom.   You will all get an invite in your email – so make sure it's up to date.    Wear your best fishing hat, and we'll get through the business portion quickly.  AND – we're going to test out a raffle by having a super nice door prize for anyone attending.  Jeff Goyert said his wife will do the draw – so we know it wasn't fixed!!  Then we'll have a Zoom presentation with Western Rivers Conservancy.  Yes – a presentation – on line, with questions afterward.
The new website is up -www.santacruzflyfishing.org, AND in less than a month, we had our first member who signed up on line.   I can't wait till we have our first member join from a different country!!  How cool is that!    Over the next month or so, the website is going to get even better and there will be opportunities for lots of fun stuff.
Look, I know it's really a mess out there and I realize that without my phone and with out the internet, I likely wouldn't have the job I have, and the club wouldn't be doing much at all.  So while all the technology and traffic often gets on my nerves, I am so grateful for these opportunities to do so much good, in a time when we need to focus more on that.
Stay tuned, I'm working on Mark to do some YouTube or Zoom casting instruction / Q&A, and I'm trying to convince Elaine how awesome it would be to do some Zoom based fly-tying.  And Sam Bishop is organizing some Social Distance Surf Casting for Perch and Stripers.   So watch the newsletter and schedule.   The surf is open and this is an excellent time of year to get out on the surf.
Things will continue to change as we adjust to all of this conundrum we're in, so keep close to your newsletter and the website.   Write, call, talk to each other, get out there and practice yer casting.   We will be back on the water.  Think how terrific all of this is for the environment, for the fish, for those places you like to fish.  Know they aren't getting hammered, but they are being left to recover.
Wouldn't it be a good idea if maybe every couple years, we just shut down everything to let the earth heal from all that we do to it?
I think so.   Thank you all for our support, we are wishing you well and a safe return to a new normal.
Peace out.   Tom
Posted on April 26th, 2020