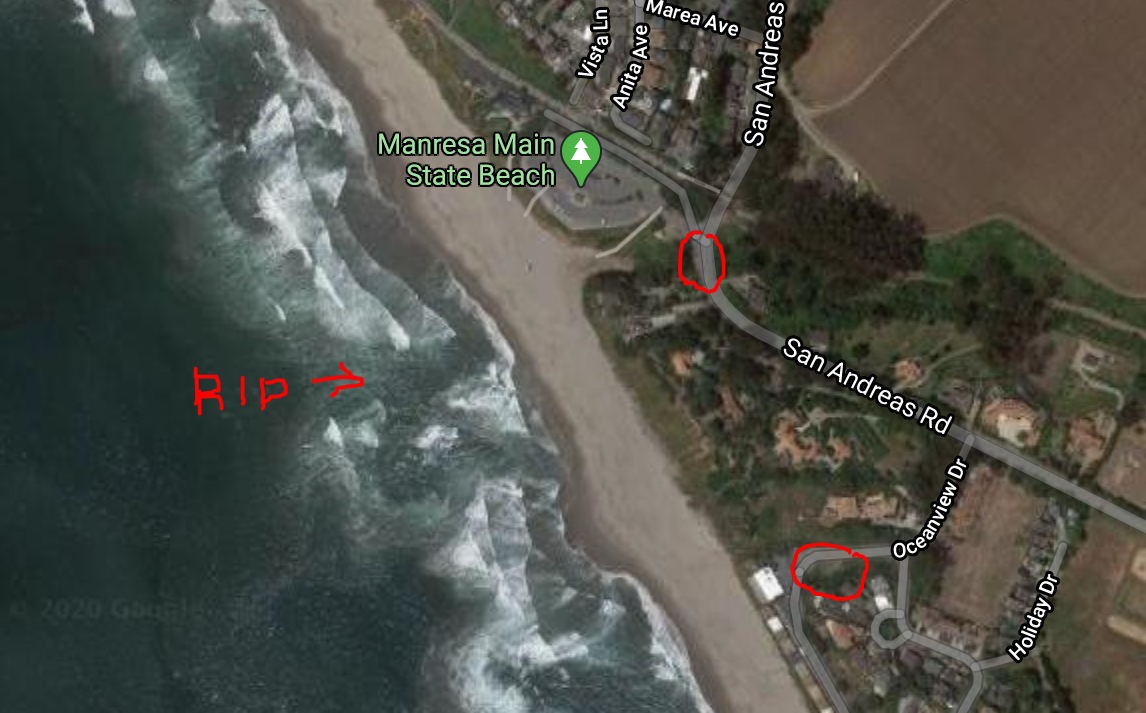 June 6 we will have an early start, because the sun rises so early. Let's be ready to hit the beach at 0535, ready to fish. So put your waders on at home and have your rod ready. You can rig it up completely then just break it down into two pieces for transportation. Manresa parking is right outside the beach entrance and sometimes fills quickly with surfers and other anglers, so if there is no place to park, keep driving another ¼ mile and turn right on Ocean View, then another right into a larger parking area. There are stairs down to the beach. We will fish to the NORTH side of the stairs, all the way up to the railroad bridge.
There is a minus 1.5 low tide at 0550, so we will be fishing a very low slack to flood tide. This is a great opportunity to observe the structures of the beach with the water so low. Only caution is to be careful not to get way out and realize ½ an hour later that the tide came in so far it will be tricky getting back in. This beach has a tendency to have a much more active surf and is popular for Striper fishing. Jim Hall got a great one here before the tardy club fishermen even got to the beach.
As always, I will have spare fishing baskets and extra flies, so if you don't know what to bring, take (and keep) mine. Questions? sambishop@totlcom.com, or 831-274-4024 or 831-476-6451 (home).
Take San Andreas Road all the way to just past the railroad trestle. If the parking area is full, continue to Oceanview Drive and follow it to the wide parking area, gate to the stairs is on the right side. Walk up the beach 100 yards and find us. Red circles = parking.
Posted on May 27th, 2020