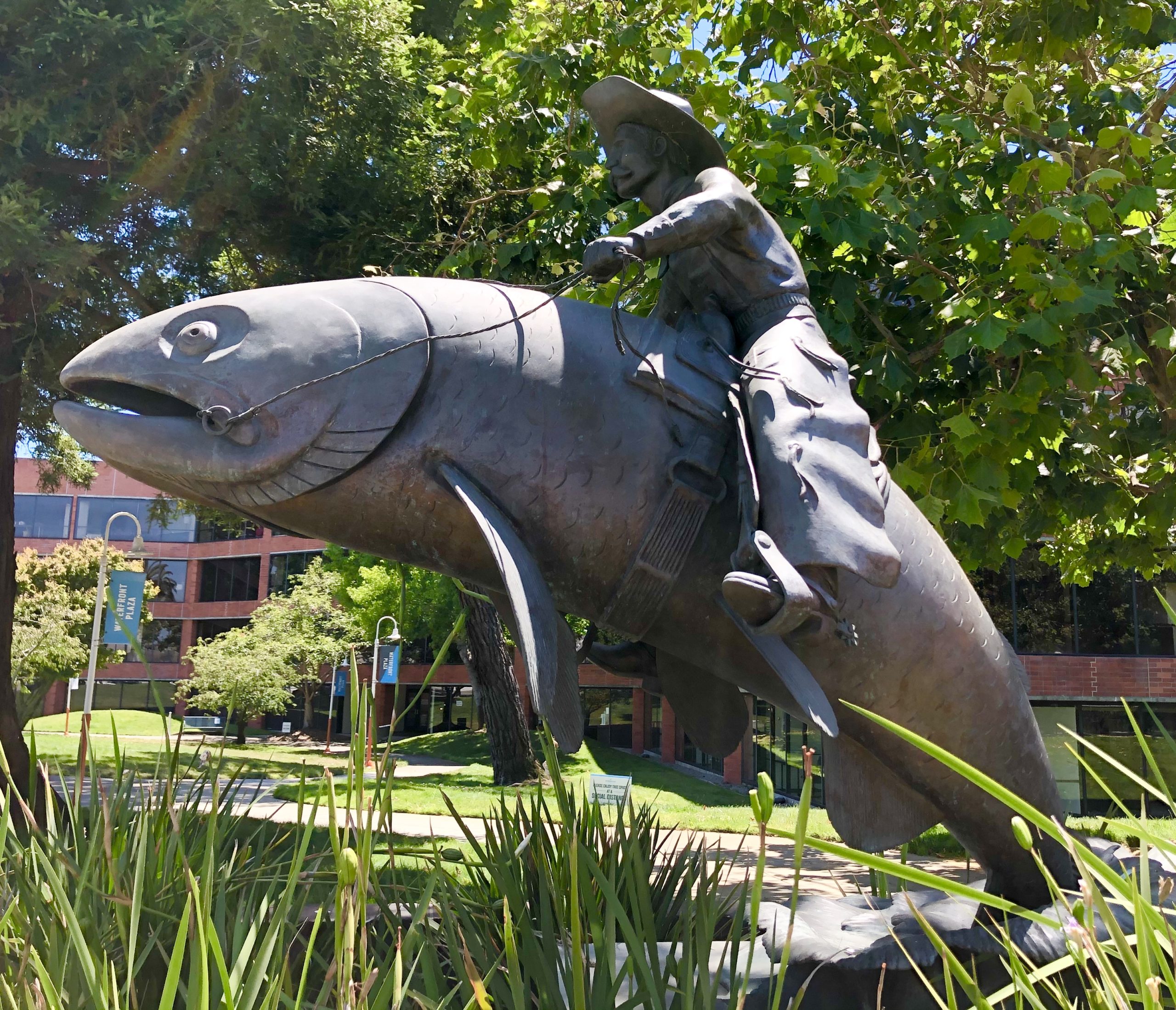 Well – so much for the "restart".   I think I'll go fishing.
Wow.   Didn't really see this coming, but now planning for more essential long-term opportunities.   Isn't it nice to know that fishing is a good way to get out these days?   RV sales, Campers, hiking and cycling related sales are at record highs.   So are the hardware stores and pizza shops!
Just a 2-3-4 or 5 hours drive from Santa Cruz – are some great trout fishing opportunities.  The very best in the west.   I am headed to the Merced in a couple days for an overnight camping trip and some summer wet wading and dry-fly fishing.    If you're into it – you can go to www.recreation.gov – put in the name of a National Forest near you, the camping area you want to go to, and your'e in.
Last month, we talked about the surf, which for some of us is between 10 and 20 minutes away.   And that fishing is still very good- surf perch, striper, halibut…
Many of you missed George Revel's Zoom presentation on fly-fishing the surf in the Bay Area.  I know this because Zoom is a really cool way to see all of you.  If you haven't loaded this onto your computer – do.  It's super awesome.    We had a very engaging 2 hours and it was really fun hanging out with George and our members till 8:30 chatting away about everything surf and fly-fishing related.
August was going to be our annual BBQ/Slop n Swap meet, but due to the Covid conundrum, we are instead going to be having a nice raffle -with online ticket sales, and a fantastic presentation on fly-fishing for bass and bluegill – which you can also do in a 1-2-3 hour drive from Santa Cruz.  The club meeting will start via Zoom at 6:30.  See the club meeting section for the link – click on it, and zoom – you're in!   Easier than a campsite!
If you are a new member, we're going to be doing fly-tying again – via Zoom, a Happy Hour, knot tying and Steve Rudzinski and a few other board members are going to be hosting some beginning fly casting tutoring.  The first at Jade Street Park in Capitola and maybe some additional work at another park – TBD- maybe at DeLaveaga.  Keep up with the newsletter and the SCFF email list.  If you're not getting either of them – reach out to me – and we'll make certain you are informed.
With the Covid crisis in an uncertain state, more than ever, we are going to continue to do more to keep you engaged.   We are also collaborating with other clubs such as the Delta Fly Fishers -who are enabling us to join in some of their fish-outs where there is room.   I'd encourage you to participate and join in some of these activities where possible.  They are a super enthusiastic group.   We're all in this together.
I do miss all of you, but I am grateful we are doing well as a club and as a membership.  I am happy no one has been sick.  You have been fishing.  You have been helping, encouraging and being responsible to each other and your families and friends.   We are going to come out of this better and all of the really awesome fun, on-line things we are doing because of this, are only going to make us stronger and more engaging, fun,…
All for now – trying to keep this short.   If you want to participate on the board, help the club, have some ideas to share -write to me or call.  I'd love to hear from you.
Fish on my friends.   Tom    – thomashogye@yahoo.com / 831-214-7578
Posted on July 29th, 2020