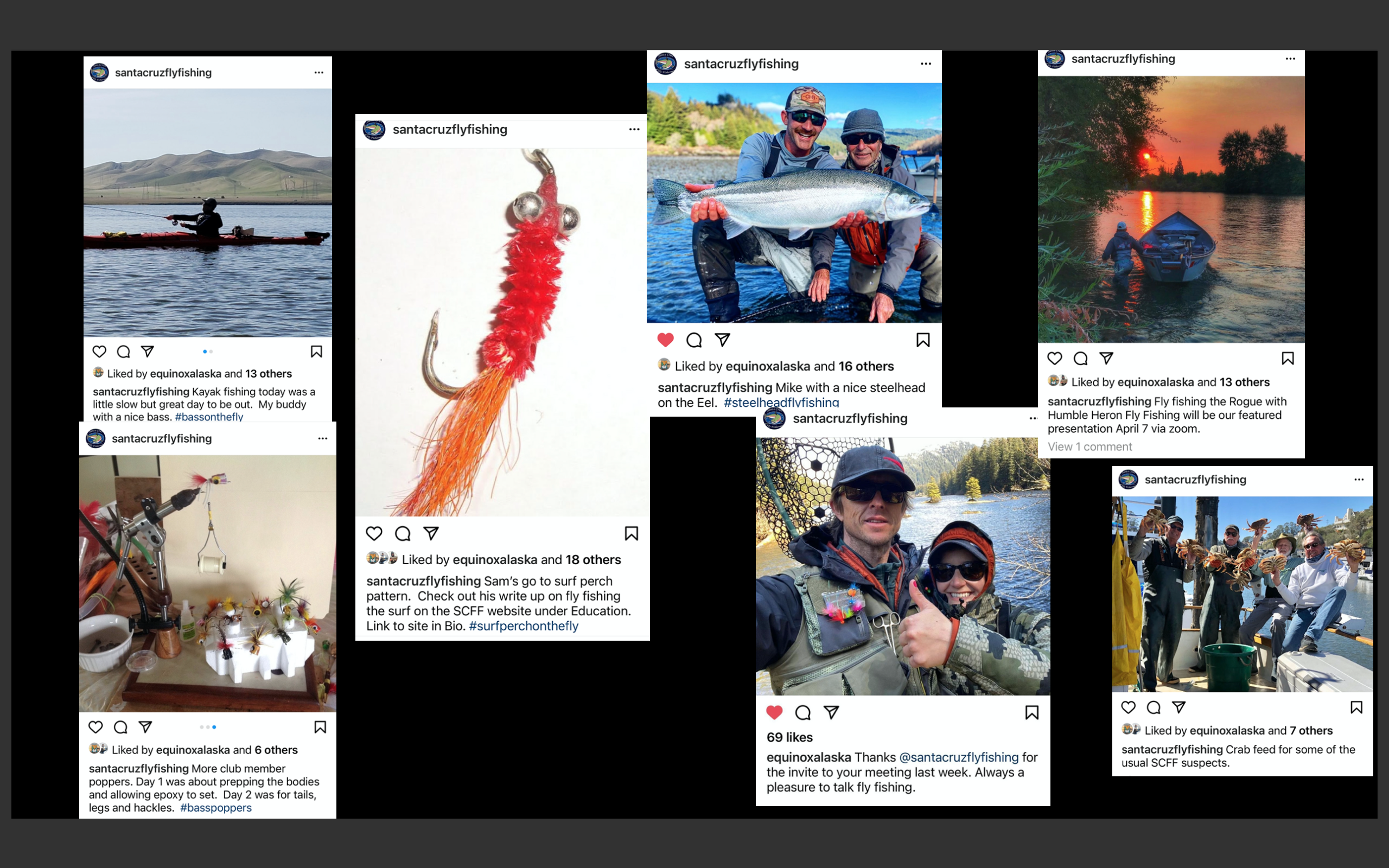 The more I learn about fly fishing, the more I realize I didn't know about fly fishing.  Aristotle must have been an angler.   While I'm not a novice to our sport, I realize daily through my involvement with the club that I have plenty of room to grow.  Last weekend I tied my first bass poppers, thanks Elaine!  Stosh educated me on how to get your fly to the right depth at Pyramid, Scott took me surf perch fishing, Phil gave me some good intel on a back country trip I'm doing and several of you have shared your fourth and fifth favorite fishing spots…. I know, I know you have to earn spots 1-3.
Fly fishing has become a bigger priority for me.  More of my free time is spent focusing on how I can be a better and more well rounded angler.  I'm reading a bit more, tying a bit more, watching more videos and connecting with more of you.  Although I'm really looking forward to Spring fishing, it's been an inspirational off-season for me.  Thanks for that!
Instagram has been an extension of that angling community for me.  It's been an honor to post your content and rewarding to see the enthusiasm from 160 like minded people come back in the form of "likes" and comments.  In addition to SCFF we have a diverse group of talented followers.  Whenever someone new follows us I take a peek at their account and sometimes I get lost in their posts.  To name a few socalflytying, truckeetroutunlimited, Californiasurfflycasters all have great content.  There are also plenty of young followers of our page that make up in enthusiasm what they might lack in experience.   The future of our sport is in good hands and some of them are following us!  Your content is connecting us to experienced fly fishers and youth alike.
If you're currently following SantaCruzFlyFishing you probably have noticed that we offer a wide variety of photos as content.  Hero shots holding that beautiful striped bass are great but I'd like to expand our content to other categories of fly fishing.  Fly tying, rod and reel shots, bugs, boats, nature, etc.  Anything that's part of the fly fishing lifestyle.
If you do not have an Instagram account, you can still see what we are doing by going to https://www.santacruzflyfishing.org  website and click on the menu item INSTAGRAM.  This will show the latest pictures from our account.
Please forward me some of your favorite pics through email or text.  You can find my contact info in the Google Group ss or in the club roster.    Let's keep this thing moving forward.  T hanks!  Jerry McKeon
Posted on March 31st, 2021