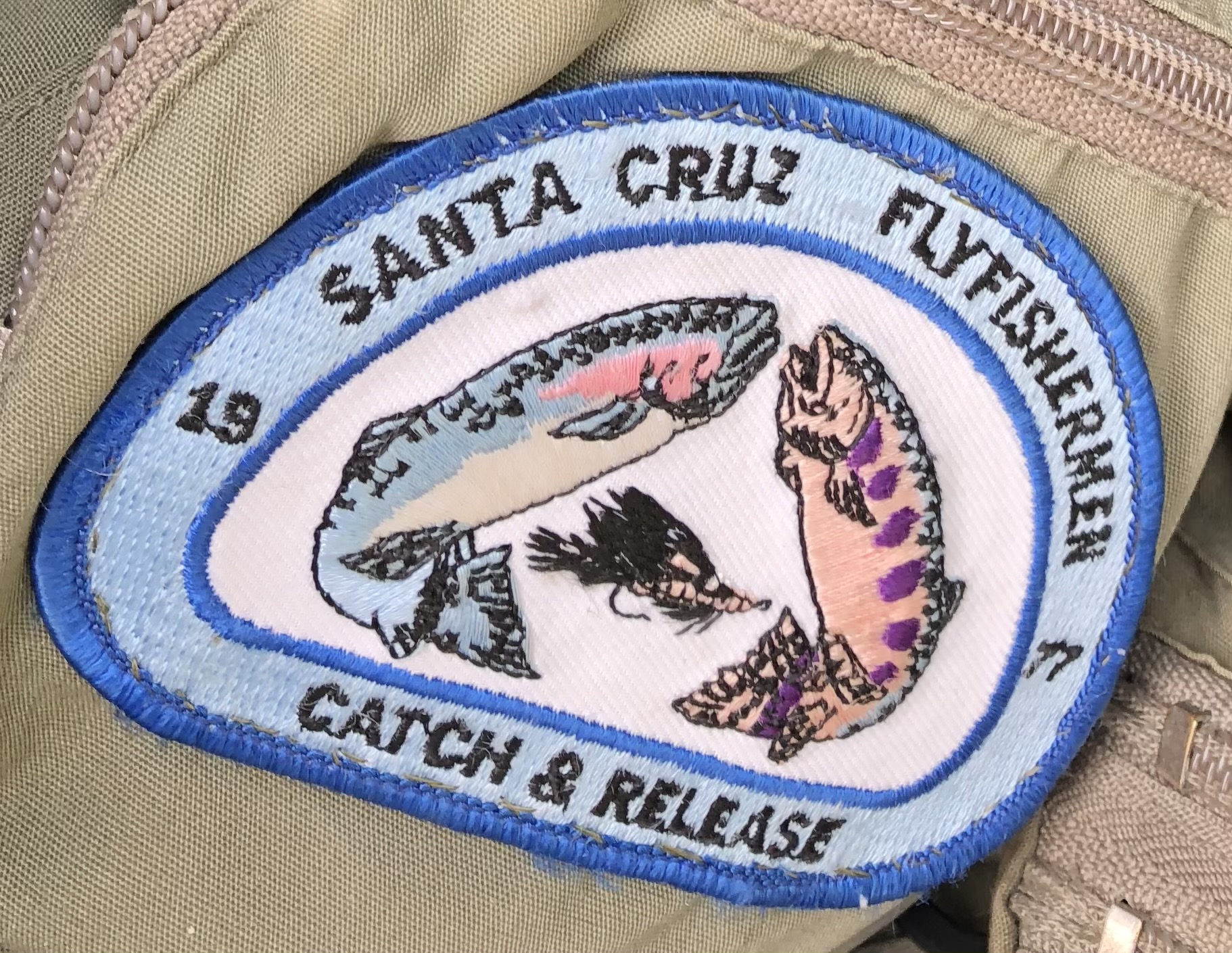 Long before "A River Run's Through It", there were six guys in Santa Cruz who fished together, likely since they were kids.    One of them, Ernie Kinzli, had recently opened a Fly Shop in Soquel, at the bridge on Soquel Drive over Soquel Creek.    At this time there were several fishing shops in Santa Cruz as many of our creeks and rivers were chock full of trout, Steelhead, Coho and Lamprey Eel, all year.
Jim Hall, Ernie, Manny Gutierrez, the Morelli brothers and Rick McCary knew about the San Jose Fly Casters and the Salinas Fly Fishers.   In Santa Cruz there was another group who called themselves the San Lorenzo Steelheaders.  Jim teases that they were known as the hardware, bait guys, and were in fact the guys who founded Monterey Bay Salmon and Trout Project.
Since Ernie's store would become the nucleus of fly-fishing in Santa Cruz in the early 70's, these six guys came up with an idea of a club.  I bet it was over dinner with their wives, because I know Mona is always the one coming up with the best ideas for the club.   Ironically, they wanted to be "different" than the San Jose and Salinas clubs, and didn't like the word "fisher" or "caster", so in 1977 they named their club, The Santa Cruz Fly Fishermen.
The guy's wives became members, performing duties such as Vice President, Conservation Chair, Membership, Finance and Secretary.   Ernie Kinzli and Jim Hall, who are still members today (I fished with Jim at Pyramid last month!), acted as the clubs first presidents and fishing trip coordinators.   Soon thereafter, people you know even today, joined the club and participated in some capacity as board member, fishing trip organizer (Fish-Outs), Spaghetti dinners, Conservation…    They teamed up with the fledgling MBSTP and began more organized efforts to save the fisheries.   They had meetings and parties at nearly every Elks Lodge, Portuguese Hall, German Hall, and Grange in Santa Cruz.
Women joined the club and got their boyfriends and husbands involved.  Kathy Powers, Elaine Cook, Betty Rentz, the Steele's and more.   Family memberships were created so people could get the whole families involved.  Singles started mingling and fishing together, then were a couple.  The Annual Dinner was created simply as a means of getting together to celebrate friendship, fishing and food.  Ernie had some things from the store and came up with an idea for a raffle, which then became something he contributed every single month his store was in business for over 30 years.    The Pyramid Lake and Mammoth Fish-outs were born.   People joined who often fished at other places – like the Delta and San Luis Reservoir, Ed Marcillac and Gil Santos, which then became fish-outs.   Kathy Powers jumped into Conservation.   Pat (Patricia) Steele and Elaine mastered what became our award-winning news-letter – seriously.  Lois and Walt Robinson started casting classes, George and Pat Peterson – fly-tying and rod building.  Programs started to involve anglers from afar who came over, had dinner with us, then spent the night talking to us about new places to fish, photography, hiking and horse-packing – which then lead to the creation of the "Pack Trip Fish-Out" which went on for years.    Fly-tying classes came about as a way of just getting together to hang out with the friends you were making.   The Con-Fab was created because we were all competitive by nature so it was a fun way to enjoy casting, exchanging gear and hoping to claim the "Big Dog" trophy, for being the proclaimed best caster for that time, that day!
I joined the club in '91/92, after I got married and one of my wife's friends was telling her about fly-fishing and the club.   I just realized at this moment, that if it were not for my wife, I would not be a fly-fisherman.   Hmm.   I met Kathy Powers, Manny Gutierrez, Elaine, and Henry.   Never forget that.   Kathy got me hooked and that was it.
Some of you know, I became the Conservation Chair (where, in my exuberant youth, I proceeded to piss off a great deal of anglers as I worked to change regs on Steelhead and Coho fishing in California – who ended up liking me because it was weird- I was a fly fisherman), then President, and then Program coordinator.   We had a lot of fun teaching so many people of all kinds who had seen the movie, and were interested in fly-fishing.  We were in all the schools teaching the kids, and the teachers and the parents!  We were in parades, in the newspaper, in other places all over the world.
Fly fishing is fun, it's about being, as Hank Patterson would say – "in nature, all peaceful and quiet, alone with yourself, screaming at a bait-fishermen who just plunked into yer hole with a two pound chunk o' lead, a night crawler and a bobber – that thing fly anglers call an indicator.  It's a bobber!"
In my business, these last 20 years, if we didn't change when technology changed, we would never have lasted a month.  Covid.  Covid taught us all how to change very quickly.  We were, all of us, shoved off a cliff and made to fly or land with a splat.    We all did things we never, and I mean never, thought we would do.   Some of us said the word "never", but within a month we were doing exactly that thing we said we'd never do.
Our club is now a part of Santa Cruz history.  We have a very real purpose here and are looked upon with a good bit of respect.   This community leans on us soundly whenever there is a question or concern about the creeks and rivers here that so desperately need our help.   Whenever fish are stranded, or the runs of steelhead are coming in, or a clean-up is needed, we participate in so many ways.  We did the work, laughed, joked, and then had coffee or a beer together later, thankful we did something good.   When Covid is over, if you're new, you'll see and have a chance to participate.  If the club ever went away, it would leave an enormous hole in the stewardship and accountability role we play here in Santa Cruz, and thanks to our Conservation Chairs, around the world.   Our Scholarship fund, which came from an idea my wife had to honor Gary Hazelton, John Fong, Ric Von Carnap and others who left us too soon, started as simply as adding the word "Donation" to the bottom of our membership form, and is now a maturing high-school scholarship fund for students entering environmental studies and science.
Change is the only constant in life, and while no one can ever please everyone, we are always considering things we need to do, or should do to improve, to meet the spirit of our mission, which is "To Promote, Educate and Enjoy the Sport of Fly Fishing".   I didn't create this.  Our founders did.  Forty-four years ago.
More than a few times, the word "Fishermen" had been brought to our attention.  When firemen became firefighters, stewardess became flight attendant and horseman became rider, or when nurse became – uh, well, wait, it's still nurse – you know what I mean.  Men were starting to become nurses and flight attendants; women were becoming firefighters, law-enforcement, and now today, Vice President of the USA.  Changing "fishermen" was at times contentious.  And you should know, that resistance did not always come from the 'men'.
After careful consideration, the Board has decided to change the name of the club to fit more appropriately our unwavering dedication always to being a welcoming place for anyone interested in the sport of fly fishing.   We are now "Santa Cruz Fly Fishing" or you will see The Santa Cruz Fly Fishing Club where appropriate.  SCFF will still be our acronym, if you will, because we are an active organization.    New logos, patches, stickers and some really cool art is to follow.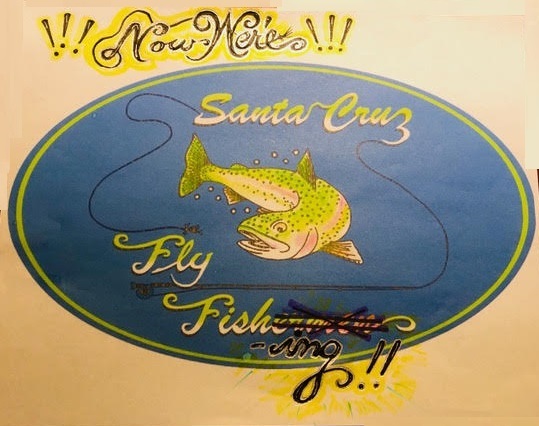 We are not a name.  We want everyone to feel they are an important part of who we are.  We are more concerned about the future of how we can best represent fly-fishing, conservation, preservation and restoration.  Your background, our experience level, how you identify – none of this matters to us.  If you are interested in fly fishing, you are our type of people, and we'd love to meet you.
While there were a multitude of different sentiments on the naming decision, this does not change who we are as a club, or our commitment to our mission.   It was hard.  There is a lot of history in "The Santa Cruz Fly Fishermen".   The name was never meant to exclude anyone.  Our founders will tell you they chose that name because it was different than the other two; they didn't like "fishers" and they weren't just "casters".   So, this name still holds a lot of respect and historical significance to us.   Our founders, board and membership are the most caring and supportive people I've ever met.   Considerate, embracing, engaging and fun to be around.   I personally have the fondest, best memories, and love for those we've been involved with for forty-four years.
The foundation, mission, spirit and fun this club is, remains.  It is growing stronger and younger.   Our members (I like to think of you as family) are the most important part.  Our perception and respect in the fly-fishing world is important.  We want to be a role model, good stewards, set good examples, do good, work hard, give back and have fun.
If you are not a member, and you are reading this, I challenge you to join, now.  Yes, right now.   Go to the "Join" button and join.  ALL are welcome.  Step in, be part of the next forty-four years.  You will see what I mean and you will find friends you never thought you'd ever have.  Do not hesitate.  Time is too short.
Thank you, Tom
Santa Cruz Fly Fishing   ?  SCFF
Posted on April 26th, 2021