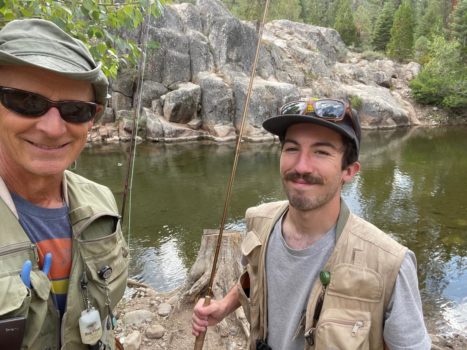 Hi everyone.    I am back from a terrific fly-fishing and hiking week with family high in the Sierra, far away from the internet or a phone.  The only technology in my hand was my  3wt, Sage LL with my beloved Abel reel.   Okay, truth be told, I had my "camera" with me – that sometimes doubles as a phone!    Hence the photos in this P-Message.    Tommy and I fished a mile together for the entire day both landing about thirty fish each, Tommy catching more than 15 on dry flies.   The beauty of a net and barbless flies is they often came out of the fish in the net, and made getting them back to their habitat all the better.   It was awesome spending a whole day together doing that, laughing, and talking.    The fish made it best of all and so much easier to do the rest.
Getting away from technology is one of the best things we can do today.  But admittedly, there is technology that enables us to enjoy that getting away even more.
As Mona and I traveled Sonora Pass in our air-conditioned comfy Ford F150, enjoying our cabin with electricity, a shower and a refrigerator, we took turns reading about the history of Sonora Pass, it's first discovery, how treacherous it was to build and how people "camped" there in the weekends traveling there in Model T Fords with an ice box, no electricity, no showers and no "facilities".  No fly boxes filled with hundreds of flies purchased with ease, if necessary, from the comfort of your home delivered to you next day.
Sonora Pass has some terrific history – ironically, if it weren't for the Depression in the 30's and WWII, it would likely not be the treasure it is today.    In the 20's, plans were to take full advantage of that area building communities for getting away from the city.    Clark's Fork, if you've ever been there, ends at Iceberg Meadow's, abandoned plans for another highway that would have continued north and east, connecting with Highway 4.   Leland Meadows, a place I haven't been, is reportedly the one place that was last developed beyond Pinecrest, but most halted because of the depression and the war.
While no one likes a pandemic, a depression, a war, these things have benefited the earth and all the creatures, and people, that were here long before us.   Even on this trip, while a year later, it seemed more beautiful, quieter and abundant.   I never realized that if it weren't for the depression and WWII, where we've been going – for almost 30% of it's entire 100 year+ existence, would not be what it is today.   Pretty cool.
I hope to see you at the BBQ Wednesday.   Look at the newsletter and send Scott an article under the Newsletter submission page.  Someplace where you fished with family and or friends.    We love hearing from you – our members.
As we work hard to navigate the waters of living today, please know your board is actively and constantly talking about how we do our best to continue our mission to promote, educate and enjoy the sport of Fly-Fishing solely for the purpose of our members having fun, being engaged and being contributors to the same.    Thank you all for your encouragement, your membership and for participating like you do.  It is in fact how all of us came to this club, joined and took interest.   It is a lot of fun and such beautiful work.
As the year winds down, we are looking ahead at how we can continue growing.   I'm excited about the opportunities to be together, have fund-raisers, education days, new fish-outs, fly-tying, casting and other activities we will do thoughtfully with you, our members, in mind.   Do keep the ideas coming and thank you for being the most important part of the Santa Cruz Fly Fishing Club.
Oh – Follow us on Instagram:  santacruzflyfishing – and follow me:  tomhogye !
Fish often my friends.   Tom
Posted on July 31st, 2021