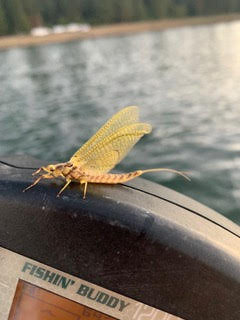 Starting June 22 thru June 29th I will once again be guiding at L. Almanor for the world famous Hexagenia hatch that starts in mid June and goes on into early July. This will be my 21st year fishing the lake. The Hexagenia is one of the largest Mayflies in North America.
California is one of about 6 states that have these Mayflies. Michigan is also famous for the stupendous Hex hatch they have. Often times the department of Public Works in many Michigan towns spend hours cleaning up spent Hex carcasses over 2 feet deep from underneath highway lights. We should be so lucky! However, we do have a pretty significant Hex hatch of our own at L. Almanor. Lake Almanor is located about 35 minutes east of Mt. Lassen along Rte. 36 out of Red Bluff. You can camp at Lake Almanor West in the state campgrounds above Prattville or stay in one of the many motels on the lake or in Chester on Rte. 36. Customers have a good chance of landing giant rainbows and browns (8-12lbs) along w/smallmouth bass up to 22". The lake also has 1-3 lb. landlocked salmon that are often landed and make excellent dinner fare.
My guiding starts at 3pm w/a short presentation on "How To Fish" for the Hex out of a float tube or pontoon. We cover the gestation period for the Hex nymph and the Hex migration to the surface. I offer 3 styles of fly fishing – nymphing w/an indicator, stripping a nymph/streamer combo and dry fly fishing. We try to get on the water by 5pm and continue until dark around 9:30pm.
My rates are $200.00 for individuals / Lower rate for groups of 3 at $190.00 apiece. Club members get a discount to $175.00 apiece. I supply float tubes and fins, rods/reels, tippet and flies. Customers need to supply their own waders and are encouraged to use their own water craft and fins if they have them. Contact me with questions and dates.
Big Sur Styles Guide Serv.
Tim Loomis
C 831-345-8411
H 831-426-4683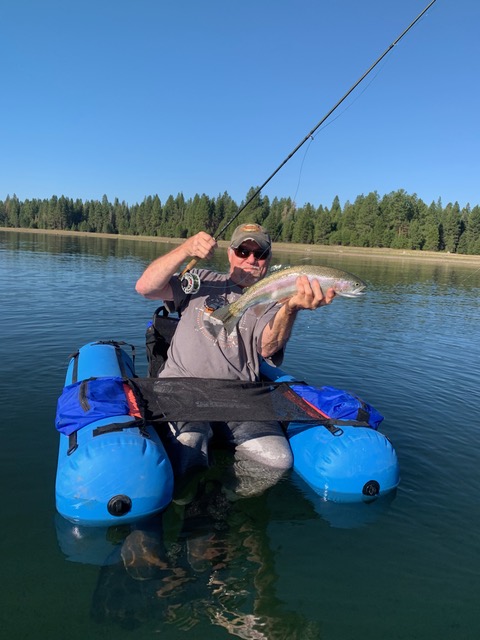 Posted on April 19th, 2022