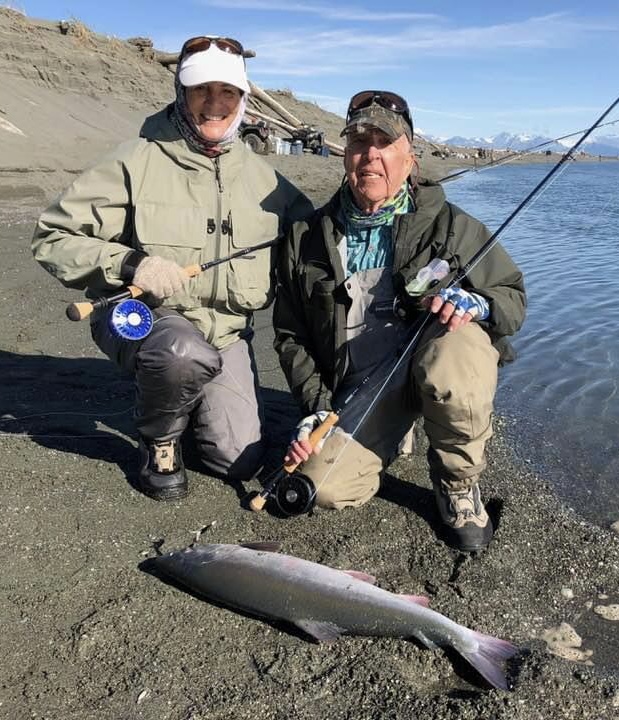 This President's line is a tough one. I'm writing like this because I've been sitting here at my desk wondering what to write, how to start, for over half an hour. I've been thinking about this all week and how do I write it down for you, for me, for anybody.
The Santa Cruz Fly Fishermen, now Santa Cruz Fly Fishing, has been around for 45 years. No one thinks of that when they join, not that anyone should join because of its age. I certainly didn't. My wife had a client who told her about the club, who told me, and since I was new to fly fishing in 1992, and I really wanted to learn more, learn to tie flies, cast better, know where to go at any given time of the year, I went to a club meeting.
I remember what I loved right away was how everyone was talking to each other; how easy it was to talk to anyone and tell them where exactly I was as a beginner. There were no "airs" as we often see in other settings. I was not only welcome but introduced to other people at the meeting simply because I was new and they all wanted to help. I don't even know who the speaker was, or the raffle. But I do remember meeting Kathy Powers, John Steele, Tom McMillan and George Peterson. Today I still see this happening at every club meeting. I'll say, it is also the very reason it is so difficult to start the "official" meeting part on time. Everyone is literally talking to each other about everything related to fly fishing – for the most part and I feel bad interrupting genuinely good conversations. And as embarrassing as it might be for some, I love the introduction of guests, new members and who's been fishing, where… I still remember when I first stood up as a new member and how welcome I felt.
Kathy Powers encouraged me to get involved with the club, and within a few months I was going to be the clubs Conservation Chair the following year. It has been 30 years.
At the time, when newsletters were printed and mailed, SCFF was known for having the best newsletter in all the northern CA clubs. I thought that was the coolest thing on the planet. Pat Steele, and Elaine Cook were responsible for collecting all the data putting it in print, getting it mailed. For 29 years Pat Steele edited and published the newsletter, and when the internet came along, figured out how to put the website together and publish the newsletter to the website where we all had a chance to read it. She was also my best editor. The best letter I've ever received from anyone was Pat's letter as I completed my first stint as President.
I'd say, on the side-lines, but it was characteristically more of a stealthy quiet thing, John Steele was there. President of our club the year I arrived. I realize John was younger than I am now when I first met him. And to think some of you still call me "kid".
It was probably natural for John to be the President at that time, because along with his wife, he was actively involved with many parts of fly-fishing, and his other love – duck hunting. At that time, still working as a pharmacist here in Santa Cruz, raising two young adult children. John ran the rod-building class, organized, and encouraged people to go on a number of fish-outs – most notably the Green River for 30 years and a pile of Alaska trips. When he wasn't doing that, with all of George Peterson's walnut gunstock scraps, John was busy making shadowbox frames for fly displays, Regal vise holders and tool holders, fly-tying tables. John would make this beautiful large trout windchimes, wood carvings, fish, quail, frames, and stained glass. He'd take ordinary Sage blanks and turn them into works of art, especially the scrimshaw carvings, one of which I am a treasured recipient. And for as many years, taking a full bedroom in their house to store all the fly-fishing gear we would amass every year for the Annual Dinner Fundraiser. Spending his own time, buying things you would want, finding the best prices and the very best products for the benefit of everyone in SCFF. The silent auction was likely the largest contributor of finances during the Annual Dinner, most of which had something hand-made by John Steele. And if you ever asked John about fly-fishing, fly-tying, where to go, how, when… if John didn't know the answer, he would take you to the person you could talk to, introduce you and make sure you were well on your way.
The formerly known Dame Juliana-Berners award for the person making the biggest difference in your fly-fishing experiences every year, became appropriately the John Steele Award.
In retirement, John and Pat made a pact to travel somewhere (most often involving fly-fishing) as often as humanly possible. And they did. Alaska, the Green River, Montana, Wyoming, the North & South Atlantic, the South Pacific, the Gulf of Mexico – East and West. Salmon, Trout, Bonefish, Redfish, Snook, you name it – there is a photo of John and Pat – together usually with fish. And after all that, dove, pheasant, duck season.
More than 57 years, married to the love of his life, his "cat", glued to the hip. They did everything together and loved it! Especially fishing.
John died, again, this past Sunday. Yes, again. Some 22 years ago, John suffered a heart-attack and died. He and Pat were home, John in his easy chair – gone. Pat was in the other room for several minutes before discovering why John didn't answer. The ability for him to come back was in part because Pat and John live less than 2 minutes from the fire department. John had been gone for quite some time.
When John got better after the first incident, he jumped right back into fishing, hunting, crafting…, giving. He got healthy. Then he ran the club and became President – again! He and Pat traveled, hosted the Board Meetings at their house for years, chock full of goodies to eat, dogs and cats, until the C-word stopped it. And travel they did.
This last time, John didn't come back. He passed peacefully. Selfishly, because we loved him so very much, we're kind of upset, sad, heartbroken, and grateful for all he meant to us – a tiny portion mentioned here. A celebration of John's life is planned for November13th, at 1:00 PM, at Chaminade.
30 years. Half of my life. More than two-thirds as long as the club has been around. How did that happen? It wasn't until this week I thought of it this way, knowing so many of you half of my life and some of the best parts of it. You join this club and it's like Hotel California – you can check out, but you can never leave!
Don't be afraid to get involved. It will change your life. You will find introductions turn into friends, turn into family.
Posted on October 24th, 2022