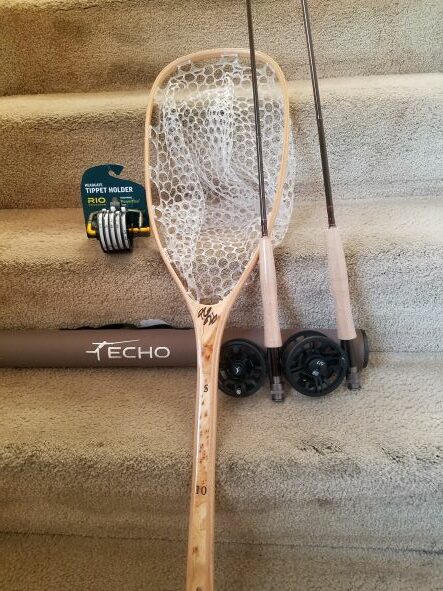 It's January! Two important things: the "Holidays" are over (yay!) And it is time win some great fly fishing raffle prizes.
 First we will do a winner's pick for a 5WT or a 6WT Echo Carbon XL 9 Ft 4 section Fly rod along with a matching ION large arbor disc drag reel. One rod prize awarded, winner's pick. 
Float tubers should take a look at this great landing net up for grabs. It features a long handle for an over length of 35 inches with an oval basket size of 20 inches. Perfect for the Almanor hex hatch,  Forebay Stripers, and Eagle Lake Rainbows.
It is probably time to organize and freshen up  your stash of tippets. How about winning 5 spools of Rio Powerflex tippets, 30 yards each testing from 2X to 6X? These spools are held in a trick Fishpond Headgate tippett holder.
The ticket sales are open and close at noon the day of the meeting (1/4/2023). 
Click on this link to purchase tickets: https://www.santacruzflyfishing.org/product-category/raffle-prizes/
Tickets are a dollar each, $20 bucks get you 25. The drawing of tickets will take place at the monthly meeting. Club membership is not required to participate, need not be present to win.
Support your club, buy a raffle ticket!
Posted on December 26th, 2022