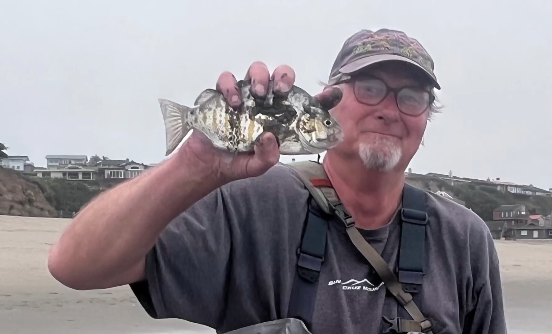 Saturday, August 5, 2023 was another foggy summer morning at Rio Del Mar Beach. Our surf fish-out was to start at 0600, so being the organizer and wanting to be early, I showed up at 0530. There was only one good parking spot left because so many guys showed up even earlier than me! An eager group for sure, ready to fish a minus low, slack tide as we started. As we worked our way down the beach (the fish don't come to you, you have to keep moving to find them) we started picking up more bites as the tide began to change. Most of us picked up between 1 and 10 fish, but I know of that were "write home about it" size.
And I met a couple other people on the beach that have serious interest in our Club, so I hope we get a couple new members too!
Here is a list of those I know were there. I missed a couple who did not sign in. My apologies for spelling I couldn't read.
Adam and Peter Althoff, Jerry McKeon, Matt Bohn, Jeff Zeische, Bob Garbarino, Pete Soderstron, Lance Boling
And Jerry McKeon has already posted pictures on Instagram.
Posted on August 24th, 2023