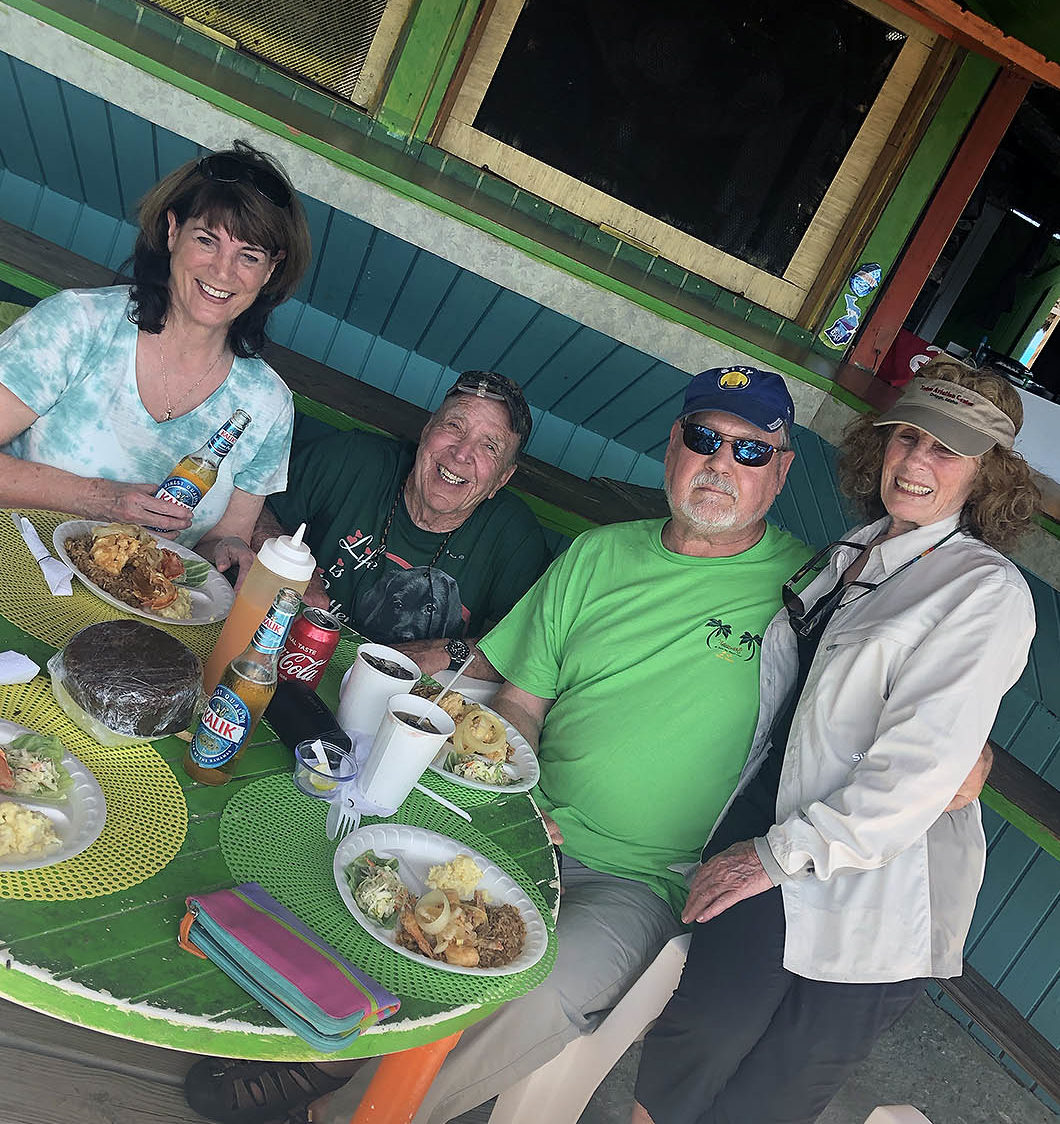 Bahamas – March 5-18:Pat and John Steele
This trip was a weird one, from beginning to end. The first glitch came when I got the notice to check in. I did so, and obtained my boarding pass. I tried to get John's pass as well, but he was not listed as a passenger on the same locator number, which was odd. No matter what search criteria I used, I could not find John. John finally resorted to calling the airline, and to his dismay, he was not ticketed, so after spending all afternoon on the phone, he finally managed to get a last-minute ticket.
We got the same flight, although not seated together, and arrived in Atlanta, spent the night as planned, and flew out to Georgetown Exuma the following morning.
We picked up a small car at the airport. We noted several scratches on the right front door of the vehicle. We stopped by a deli to get some lunch provisions, and when we came back out to the car, we noticed a big dent on the same side of the car as the scratches. John was afraid we would be held accountable for the dent, but it was rusty and had obviously happened before we rented the car. A lady saw us walking around the car, fretting, and came out. She offered to call the car rental place to tell them about the dent, as she was related to the owner of the rental agency. She squared things up with them, and we went on our way.
Tom Pelikan and Noelle Nichols had gotten to Exuma several days before us, and they reported they had had a good day's fishing, so we anticipated something similar. That was not to be. The weather was so windy our guide, Drex Rolle, called us to cancel our first day's fishing. We spent the first three days hunkered down, waiting for conditions to improve. We finally got to go out, John went up to bat first. Try as he might, he couldn't seem to work line out or get any distance on his casts. Drex coached him, and finally took the rod to demonstrate, much to John's chagrin. Drex caught a mangrove on his back cast, wiggled the line to get it loose, only to have the tip section come off the end of the rod. He carefully retrieved the rod tip, and discovered it had fractured right above the ferrule. Fortunately, we had my Orvis Helios II, which John used for the rest of the day. I only got up briefly all day. I think John got two fish, tagged a few more but did not land them. It was a pretty scanty day.
The next time we went out a couple of days later, I caught a good-sized bone fish on my second cast. We thought, hoo, boy, it's going to be a great day if this keeps up! It didn't. John didn't score until after lunch. There were the few schoolies after that, but nothing to write home about.
We had a third day out, but again, the fishing was not that productive. Tom and Noelle had to leave before we were to depart, so John offered to take them to the airport. After dropping them off, he went over to the car rental agency to thank them for being so nice about the dent. No good deed goes unpunished. He backed into a post behind the car and put a sizable dent in the bumper!
We spent the rest of our time resting, reading, and watching the COVID-19 crisis unfold. We were worried we wouldn't be able get back into the USA. It came time for us to try to fly home. We got back out to the airport, checked the car in and John settled the bumper issue with the rental agency. We got in line to check in. John suddenly discovered he did not have his passport! He ran back across the street to the car rental agency to look for it. I got out of line and piled our bags in the corner. I waited, almost in tears, not knowing what he was doing. He was gone for almost an hour, and his phone was left in my bag, so I had no idea what was going on. He finally came running back in, having found the passport back at our bungalow, on the bathroom floor. We checked in, and got aboard, and flew in to Atlanta. We were supposed to fly out to LAX and then on to SJC after clearing customs. We got aboard a nice, cushy 777, but they couldn't start the starboard engine. They fiddled with it for over an hour before pushing us back to the gate and making us get off. The time for our connections had long since lapsed, so we had to rebook with the gate agents. They couldn't get us home that same night, so they gave us hotel vouchers, and booked us on a morning flight straight through to SJC.
We stayed in the airport Westin in Atlanta. We left instructions for a wakeup call for 6 AM. Not only did they not call, the room clock had not been reset for EDT, so when we did arise, we only had 30 minutes to jump on the shuttle and get ourselves over to the airport, go through TSA, and get on the westbound flight. It was eerie. We were on a 737, and counting us, there were only 20 passengers on the flight.
This isn't so much an article about fishing as it is a caveat for anyone planning any trips in the near future. We can't fault the good people of Exuma, they took very good care of us, fed us well, and did their level best to make our vacation enjoyable. Nobody has control on fishing, nature or a pandemic. All we can do is cope, use good sense, wash our hands, stay home and pray this latest crisis resolves itself. For now, we are just happy to be home, safe and well!
Posted on March 23rd, 2020