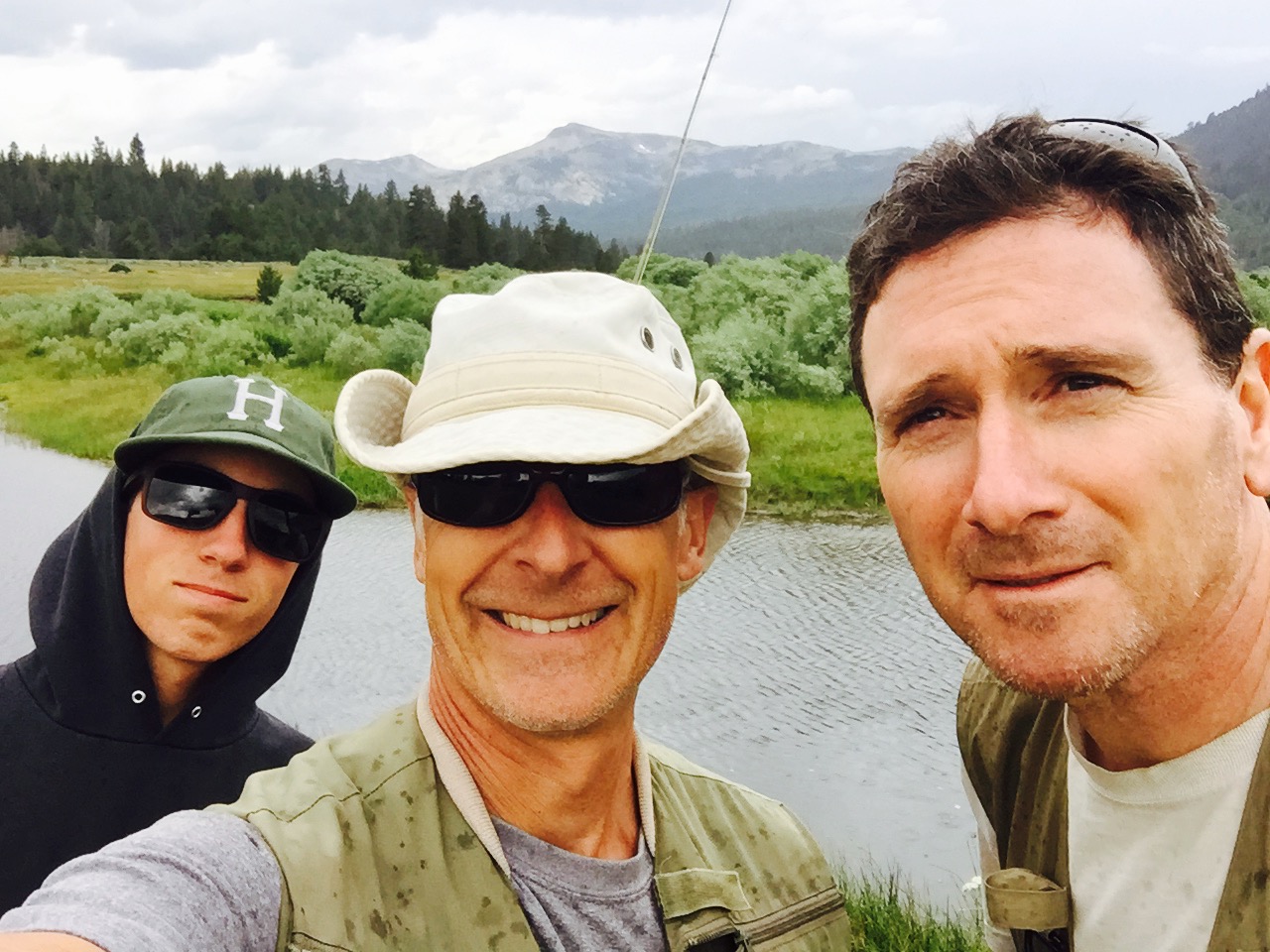 Go Fishing!
Really – I mean, respecting all concerns, requirements, regulations.   But there are lots of opportunities for all of us to get out and go fishing.   Immediately, the surf is in our back yard and is abundant with Surf Perch, Striper, Halibut and other species- like Great White Shark!!   Wouldn't that be a hoot!  Yes, it's best to have a sinking line, running line and stripping basket, but you'll get the hang of it fast and you can often get in 3  hours of fun before the rest of the world gets up in the morning.  A lot in your newsletter – thank you Sam Bishop and the rest for bringing us along.
You can get out to a number of bass lakes within a few hours and some trout fishing not too much farther.   Many, if not most, of our local California guides are working and are very reasonable for a day or two of wade fishing our northern CA waters, or the Eastern side of the Sierra locations.   I'm immediately thinking of a number of our guest speakers-  Jon Baiocchi, Joe Contaldi, Chris King and many others who would happily help you navigate a successful, safe and fun trip.   Look them up.  Go fishing.
Club Meetings!
If you missed the May meeting via Zoom – it was a HUGE SUCCESS.   We had 38 people attend and stay the entire meeting.   Jeff Goyert pulled of an excellent door prize raffle as it was easy to capture everyone's names via Zoom.  AND – I didn't have to ask anyone to be quiet – ever.  I just put you on Mute!!  ?  It was so fun to see everyone's faces and everyone had some input or another.  It really was fun.   Jim Cox, from Western Rivers Conservancy, was incredible.   A beautiful presentation and a commanding expertise in his field, kept everyone interested.   This month, June 3rd, we are doing to do it again!   This time we'll have George Revel from Lost Coast Outfitters.  Join the meeting by 6:30!   Don't miss this fun way to meet.   You'll love it.
Fly-Tying Class – Zoom?
Elaine is even thinking of doing a Zoom Fly-tying class where you can sign up, pickup the fly-tying materials at a predetermined location and then do the class via Zoom!!   How 'bout that!?   Stay tuned.
High-School Scholarships – Aptos, Harbor, Soquel, Santa Cruz, San Lorenzo, Pajaro Valley
This year, the SCFF members contributed directly to enable us to give twelve, one hundred dollar scholarships to students finishing high-school, heading into college studies that involve Science and/or Environmental Sciences/studies.   Each of the twelve students will also receive a on year membership to the club.  Thank you all for your generous donations to SCFF, enabling us to continue our mission "To Promote, Educate, and Enjoy, the Sport of Fly Fishing" and to call upon the youth of the world.
The Future! – Well, at least July, and August
I understand these days have been challenging for many, and downright disastrous in other ways.   But there have also been many blessings.  The wildlife and the planet are benefitting in ways we'd never have been successful at even with all the "world leaders" we have.   Tragically, it took a deadly virus to clean up the air, water and noise pollution in one month, now two.  For how much longer?  And will we try to keep it that way?
We've come together in ways we'd never do normally. We've given, or stayed put, reached out in encouragement, volunteered, donated and changed to meet a need and do our best to enjoy what we can -even if it's just being together or taking the dog for a walk every day.
There is traditionally no July Club meeting.  So I will wish you a truly homespun good ole-fashioned 4th of July with those you can be close to or with.  Of course, you can still – Go Fishing!!
We are going ahead with our plans to meet at the Grange in Aptos, for our August meeting.   It will be outdoors, mostly, and is our annual club Barbeque and Swap Meet.   Yes -we will be taking every required precaution, and some maybe a bit more personal, to be as responsible as we should be.    IF, something was to happen where we couldn't have the BBQ, we'll have a plan B.   But I am hoping those of you who will be excited and able to come together, in August.  We'll have an All-American BBQ and swap meet.
Thanks to your board, all those who have reached out to help in so many ways.  And thanks to some new members, Scott, Camille, Michael, who have offered and helped in a number of ways.  That is what we are about.
Set Zoom up on your iPad, computer, and prepare for the June meeting.  I look forward to seeing you.  Until then?   – Go -what?  Go Fishing!
Posted on May 27th, 2020