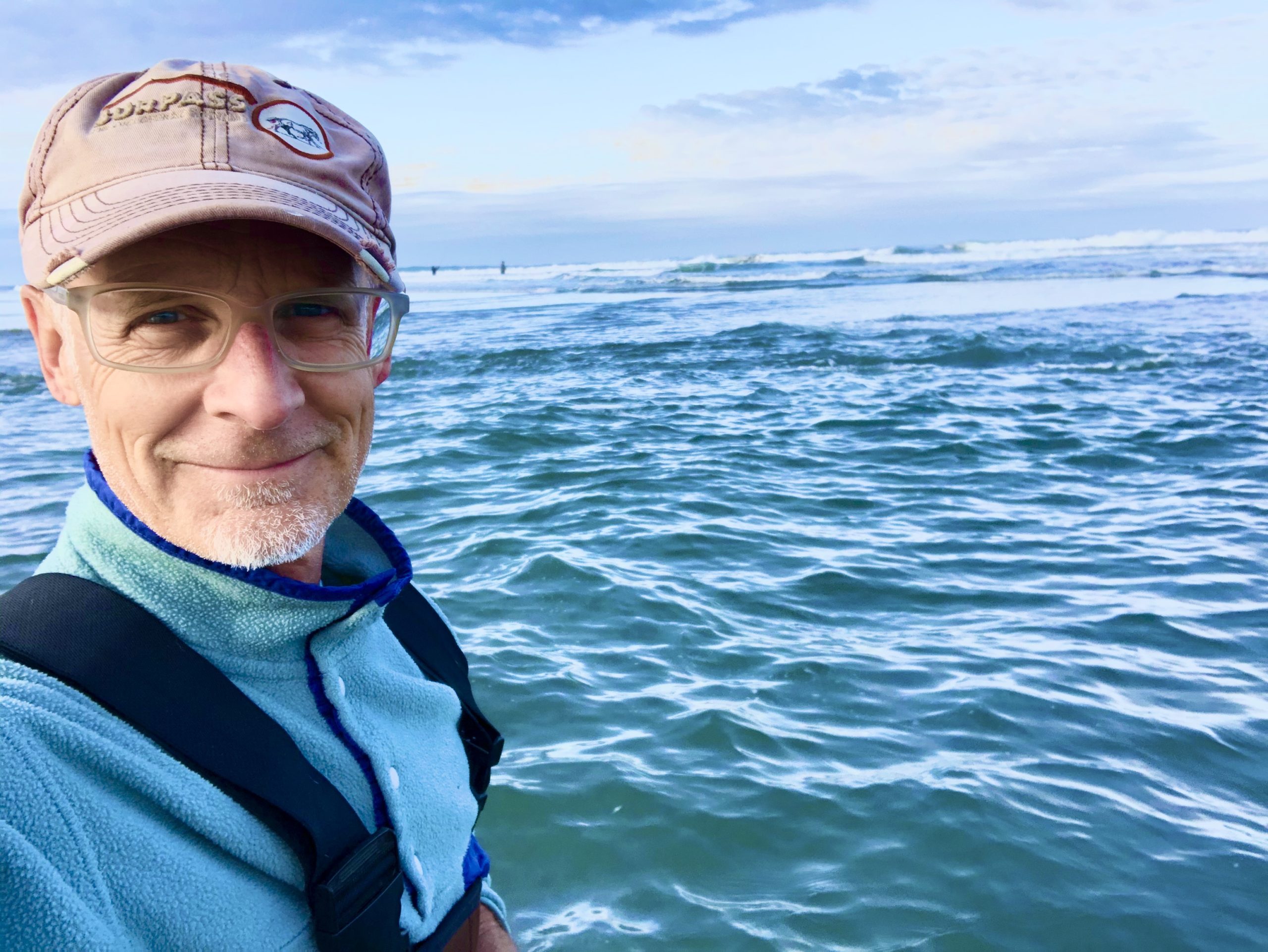 I had the fortunate opportunity to fish for surf perch and Striper in our local waters from New Brighton to Manresa.  Caught my first Striper on a Clouser at New Brighton.  My first Barred Surf Perch with the legendary Jim Lazzarotti, in Rio Del Mar when he first taught me to fish with my fly-rod this way.
I admit I really enjoy New Brighton and Rio Del Mar the most.   I've spent the last 38 years here and "grew up" in the Rio Del Mar, Seacliff area.
I moved to California when I was 20.   I was deeply entrenched in horse sports.   The short part of the longer story is that I had a dream to ride Dressage in the Olympics one day, but discovered vaulting- gymnastics on horses, and in California, and that was it.   Yes – I was, and still am, in many ways, a horse person.
When I moved to California, for three years, I lived in the apartment right behind Café Rio.   It's still there and still the same blue/grey color it was in the 80's.   I paid ninety bucks a month to split a room with one of my teammates.   I ran every inch of those beaches and the stairs around them.   Swam more than a few times in those waters out near the cement ship.
But didn't fish those waters until I became a fly fisherman, and then it took a few years to get me off trout and bass waters and into the salt.   Shooting head?  Sink Tip?  Running Line?  What was all that?
As with most of your fly-fishing terms, technology and lingo – you figure this out very quickly.  Two or three times fishing in the surf and you'll get it.  DO NOT give up!   Relax, enjoy those hours.  They are undoubtedly early, so what else would you be doing?  Sleeping?  Working?!   Get it?  Enjoy.
Our club has arguably some of the very best surf casters and surf fly-fishers in the Bay Area.   If you read California Fly Fisher Magazine, and you should, Robert Ketley is almost always writing up some practical article about fishing New Brighton.   If the bowl isn't full of salad – you'll find Ketley there pretty much any time you're there.   Others like Robert Eberle, Kirk Mathew, Sam Bishop, Elaine Cook, Mark Traugott, have mastered their skills here.   If you ever get to fish with any of them – watch them closely.  Do what they do!   Seriously!   While I'm only 5'6" and Robert Eberle 6' something, he has that bit of an advantage over the height of the breakers he can take over me, but his casting, retrieve, where and how he moves the fly in the surf rewards him with more than humbly.   So, even with the height disadvantage, if I can get everything else, right – it works.   And it does.  You might even catch a halibut, or as in Elaine's case once – a Leopard shark.
It's not expensive!  And, you don't need 6X tippler and magnifying goggles to see the flies.  'fact, you can fish 10 pound mono and rig a two or three fly leader easy.  And you don't want expensive anyhow, cause you want to make sure when you forget just once or twice to completely rinse out your gear, you're not ruining something priceless.
Anyhow- we've had a lot of good discussion, fish-outs and speakers regarding this means of fly-fishing.  Sure, it's not your High Sierra, Montana, Wind River Cuttbow fishing experience, but it has its own beautiful charm right here.  You have to be careful, just like you do anywhere else.   Never turn your back on the ocean and know how to read what a "rip" or a hole looks like.  Waves are very unpredictable and some sets will be small, but then boom – you're caught off guard by a rogue wave, or the larger set.  Rivers and lakes have their trials too.   Just keep your eyes open and your wits about you.  Those form fitting PFD's – Personal Floatation Devices are a good idea.   So is what you're wading in.  In the summer, the water isn't really that cold.  You could wet wade!  Or just make sure you got your wading belts on snug and stay reasonable.
I never fished when I lived in Rio Del Mar or Seacliff.  As a 20 year old kid, I ran, swam, sat on the beach – if I went to the beach at all.  But I loved the peace there – especially in the morning and evening.  For nine years I lived there and all I did besides work and school was ride horses.   Now I live where I have horses, but all I think about is fishing!   Or the garden!
I'm not sure what the next few months have in store for us.  Your board and I are trying to figure out what's best for our membership, how to be responsible, compliant and still have fun.  We have some new members who'd love to get out and learn from some of us – even some of our newest high-school scholarship recipients.    I miss just being able to pick up the phone, plan to meet some place and have fun casting, fishing,…   Of course, we are still doing all of this, but it's just taking a little more planning and care.
Since my own mom and dad would surely have a very difficult time surviving this pandemic if they were to get sick, I'm super grateful for everyone who cares.   I also feel the burden, anxiety, unrest and other emotions that come with the hardships, even if I don't have them, entirely, myself.   I know a lot of people who have lost their jobs, lost loved ones and have lost their businesses at a time when they were doing really well.   They didn't get sick, they didn't hurt anyone, didn't do anything wrong, but overnight, we had to change and it was very hard on them and still is.  If you're in that group, I appreciate you.
So, let's remember the good, focus on good, appreciate that which has been good amidst all of which can seem really bad.  Look out for each other, no matter the differences.  Be Kind. Be good, and maybe take someone fishing, or go fishing with someone.
We are doing our best and you are helping us be our best.   Thank you.   See you soon.   Have a good 4th of July.  We're still planning our August BBQ at the Grange – all things considered.
I miss you all.   Tom
Posted on June 26th, 2020