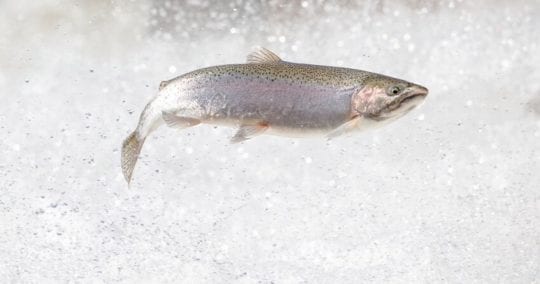 The first-time introduction of a bacteria into California caused a culling of many fish at hatcheries. Member, Tom Deetz, let us know about this and below is an article from CalTrout about it. If others find new information about this, please share on Google Groups or submit to the newsletter. – Scott Kitayama
---
CDFW Euthanizes 3.2 Million Trout to Halt Bacteria Outbreak
July 22, 2020 (article from CalTrout)
On July 20, 2020, three California Department of Fish and Wildlife (CDFW) hatcheries in Southern California and the eastern Sierra euthanized 3.2 million hatchery trout to stop the outbreak of a bacterial infection. Fish at the hatcheries have been infected with Lactococcus garvieae, which is similar to streptococcus, wildlife officials said.
The disease was previously unknown in California, and CDFW staff have been trying multiple treatments and strategies to try to resolve the outbreak over the last three months. Efforts have been unsuccessful. Consequently and as a last resort, CDFW pathologists have recommended that the fish be euthanized and the facilities disinfected before repopulating the hatcheries with L. garvieae-free fish.
The trout, which are used to stock waterways for recreational fishing, are at Mojave River Hatchery, Black Rock Hatchery and Fish Springs Hatchery.
Where have scheduled fish plants been canceled, due to this outbreak?
The counties affected include:
– Los Angeles
– San Bernardino
– Riverside
– San Diego
– Orange
– Ventura
– Santa Barbara Inyo
– Mono
Can CDFW make up for the canceled plants with fish from non-infected hatcheries?
Currently, three of CDFW's largest trout production hatcheries in the state are shut down, and two others are coming back online after significant infrastructure problems and not yet at full production. In addition, a catchable size fish takes around two years to get to size. There is no way for the remaining trout hatcheries to make up that level of fish production. CDFW is evaluating the possibility of re-allocating fish destined to be stocked in northern California waters to a small group of high use, easily accessible Eastern Sierra and Southern California waters, but there are still significant logistical details to be worked out including safety of staff and travel under current COVID-19 restrictions.
Can humans get sick from this bacteria? Should people take extra precaution if eating fish they catch?
There is limited evidence L. garvieae bacteria has been passed to humans, but fish-to-human transmission is extremely rare. As always, anglers should follow USDA recommendations on cooking fish to an internal temperature of 145 degrees F.
More information can be found on the CDFW FAQ list. "FAQ for Lactococcus garvieae outbreak in Southern California fish hatcheries"
Posted on October 24th, 2020