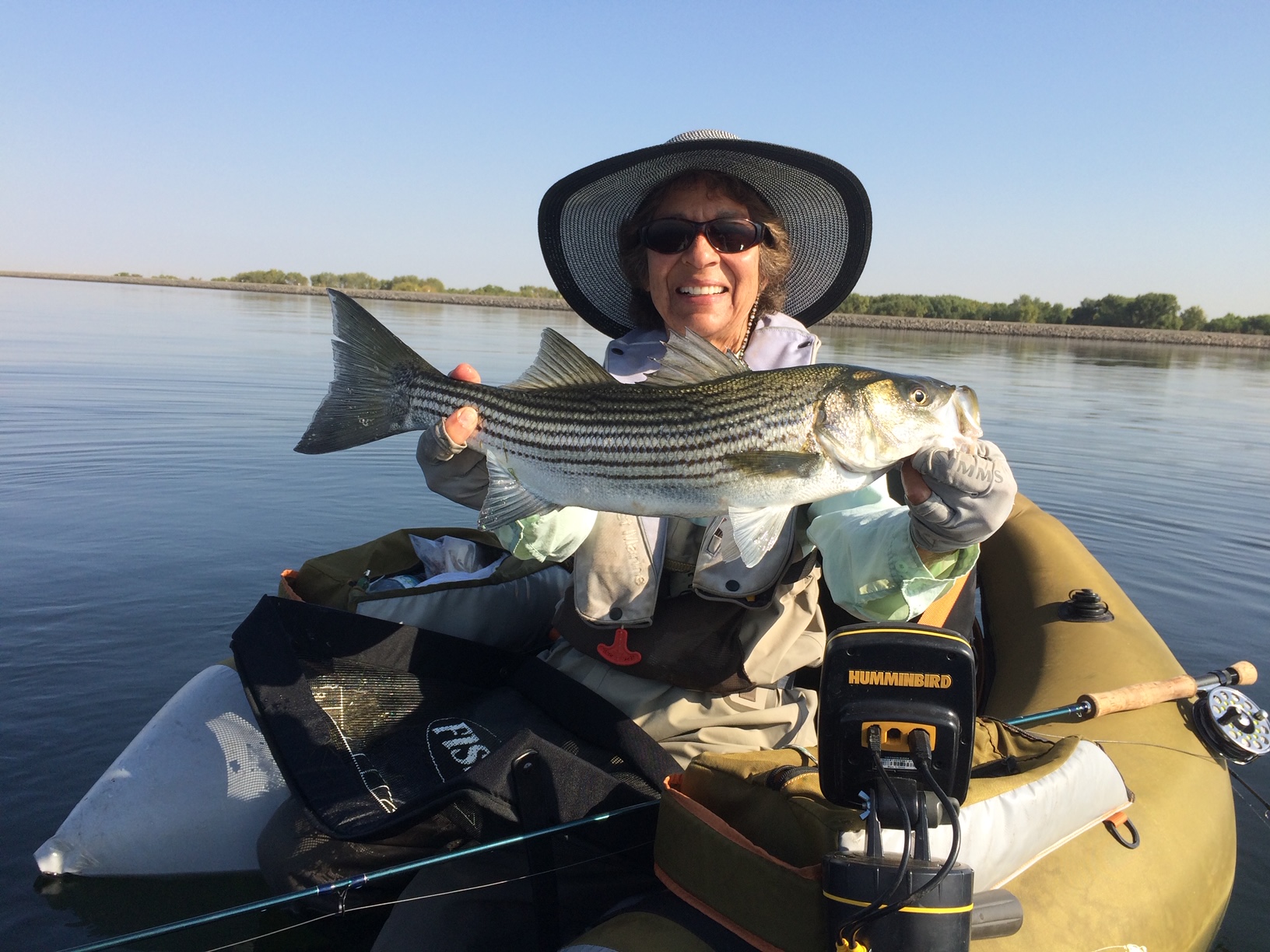 image:  Cecelia Stipes with 25″ Striper
It was a record according to our senior members attending, 21 of us during the four day event. I want to thank those attending, we all thought it was highly successful although the fishing was not great in our side of the lake, those who found the bait, found the fish.
Scheduling the yearly event I have moved it to mid or late October and try to coincide with the new moon phase and to find cooler water and a change in the weather for good fall time fishing.  This was not the case this time. Ninety plus degree days and little wind or clouds knocked us off the lake when the fishing shut down after 9 AM. Those who fished till the mid afternoon did a lot of kicking the tube around in the hot sun. We only had one person, former fish master Jim Hall and his little aluminum car top boat found the fish and had the highest fish count which he whispered "got 15 this afternoon bite". He rarely brags how well he does.
Everyone attending was happy to escape their homes and get together with friends and fish and the most important part was to all join the evening campfire to tell stories and laugh out loud a lot. Every day was a little different, as some fishers came for the day and did not sleep over or stayed at the nearby Motel 6.  We had no more than seven of us sleeping on any night. Special thanks to those who were there all four days. Kevin and Terry Murdock, Elaine and John Cook, Kathy Powers, Scott Kitayama and yours truly.
For me personally, the heat was oppressive, and fishing sucked, averaging one fish a day and almost zero bumps which is so rare this time of year. I did play fish-master casting instructor with a new member who won a fly rod at the last meeting, Carly and Sean got an hour and a half casting her new rod from a rock below our camp. They were not ready for float tubing yet and just starting out fishing.  It is always great to see the younger generation pick up where the older folk are leaving off.
Super special thanks to 'Kevin and Terry's Bar and Grill' for bringing everything under the hot sun to eat and drink and to Steven and Milana Rawson who make pizza dough from scratch and a pizza via Dutch oven before our eyes right in the camp. I am always blown away by the variety of skills our membership have. The best way to get to know a person is to go camping together. I'm a lucky person indeed.  Stosh 10/2020
Posted on October 24th, 2020