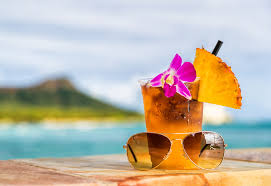 Let's dream about warm Hawaii in chilly January by tying Hula Shrimp flies and drinking Mai Tais. As many of you know, the Mai Tai was created by Victor Bergeron (Trader Vic's) in Oakland. A decade later, the Royal Hawaiian on Waikiki Beach was the first to serve the drink and it quickly became synonymous with Hawaii instead of Oakland.
The Royal Hawaiian Mai Tai*:
Ingredients
1 ounce dark rum
1 ounce light rum
1 ounce orange curacao
2 ounces orange juice
1/2 ounce lime juice
Dash orgeat
Dash simple syrup (bar syrup)
Preparation
Combine all of the ingredients in the order listed in an old fashioned style glass over shaved ice. Stir with a swizzle stick. Garnish with a slice of pineapple and a cherry.
Note: There are many downsides to virtual fly tying, however staying at home provides a benefit that adult beverages can be consumed during the class.
* From Hawaiimagazine.com July 31, 2017
Posted on December 30th, 2020