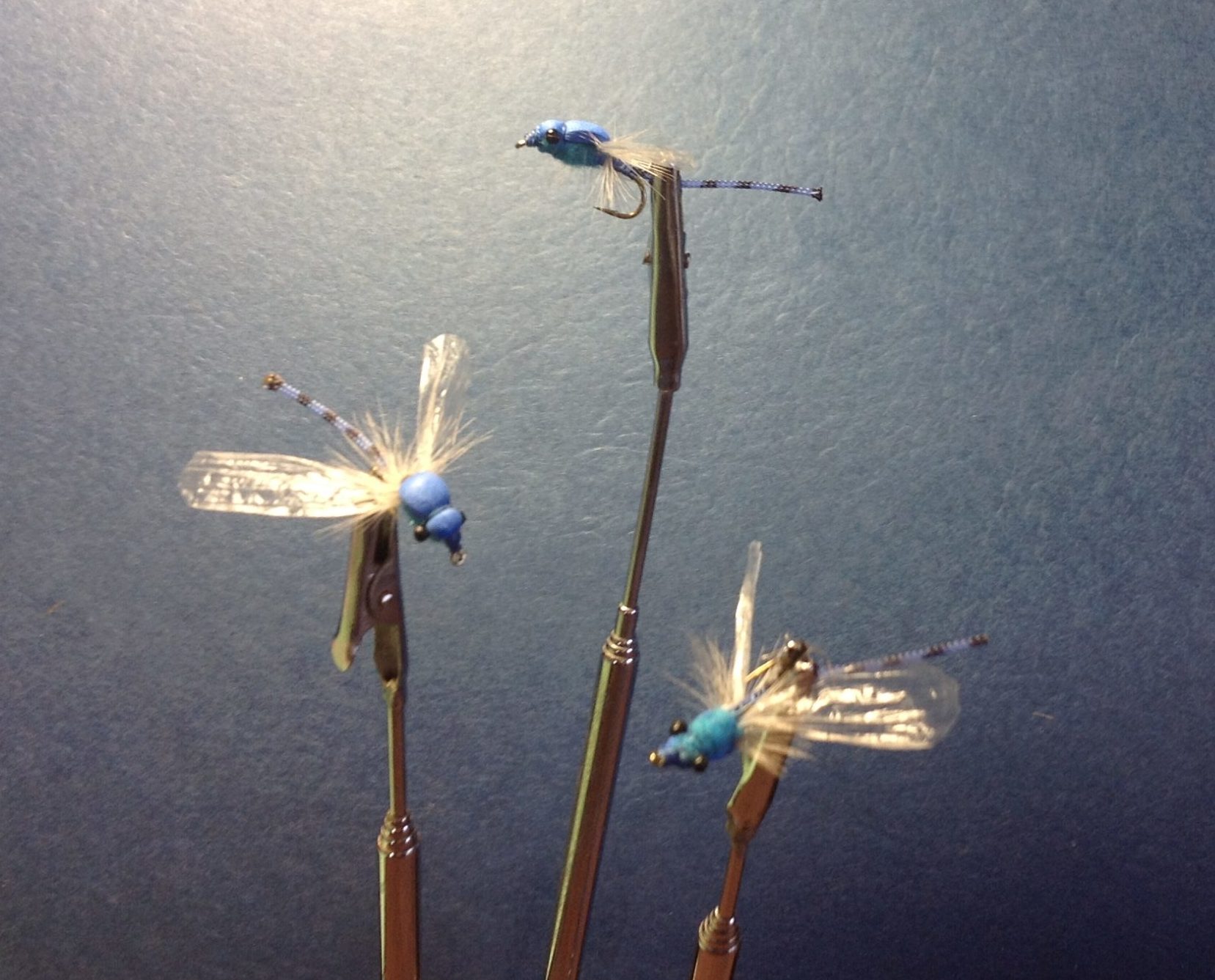 In late spring and eairly summer, damsels migrate from the debths of ponds and lakes becoming very vulnerable to trout and bass. As adults they flutter around vegetation that sticks out of the water. They end up in the water from mating rituals and the wind. Fish will sometimes come out of the water to take them from the air or off vegetation. Do check out http://Vimeo.com/85147880.
Hook: TMC 5262 size 12
Thread: 6/0 royal blue   Damsels often come in tan. Just change all the materials to tan to imitate them.
Abdomen: "Adult Damsel Body" or "Braided Butt Damsel" in blue. These are braided monofilament. And a black Sharpie pen.
Eyes: Pre-made black monofilament eyes OR make your own from plastic hairbrush bristle. Holding a 5/8″ piece in the center with hemostats, melt each end with a flame, forming a barbell shape.
Thorax: blue 2mm closed cell foam
Hackle: dun saddle or neck
Thorax: blue superfine dubbing
Head: blue foam as above
1. Crimp barb.
2. Attach thread behind eye. Touching wraps to rear of  shank.
3. Prepare abdomen. Cut 1 1/8″ long. With hemostats, hold 1/16″ from tip. Melt end with flame. Mark with Sharpie 6 times starting at tip. Note: some of this will be covered, leaving 4-5 exposed marks. Lay on top of shank, melted end to rear,other end to mid shank. Tie in place. Advance thread to 3 hook eye lengths behind eye.
4. Position barbell eyes 2 1/2 hook eye lengths behind hook eye. Attach to top of shank with figure 8 wraps so it's at right angle to shank. Apply drop of Super Glue" or the like.
5. Cut 3/16″ of foam. With one end behind eyes, attach snugly to top of shank back to mid shank or a touch more.
6. Cut wing strip 2″ X 3/8″, round ends. Twist center and attach to top of shank infront of  extending foam with figure 8 wraps so that wings extend outward.
7. Select hackle with barbs 2 times hook gap. Cut off fuzzy end. Cut 5-6 barbs short on each side of stem forming a "crew cut". Lay crew cut on top of shank infront of extending foam with tip to rear. Tie in place.
8. Dub thorax up to and a little around barbell eyes ending infront of extending foam.
9. Holding hackle, foam and wings upright, wrap thread all the way around base of all 3 over shank leaving thread hang on your side. Holding wings downward, make 3-5 hackle wraps around base of foam then leave hanging infront of hanging thread. Bring thread upward, make 3-4 wraps around base of foam. Cut excess hackle. Cut hackle barbs short in front of foam. Apply small amount of dubbing to thread and wrap to behind barbell eyes.
10. Pull foam forward. Tie snugly in place with several wraps. Advance thread to infront of barbells, pull foam forward. Tie in place with several wraps. Pulling on foam, cut foam short.
11. Snugly wrap down foam stub. Whip finish. Cut thread. Apply glue.
Posted on February 27th, 2021