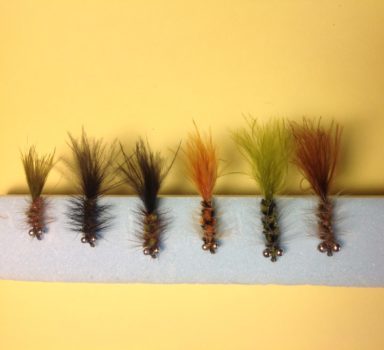 To fish this fly, use a sinking line, twitch or strip to elicite a strike from a trout. Woolybuggers typically are not tied with bead chain eyes. They give an entirely different profile. This pattern also varies in that dry fly hackle is used and barbs are kept short.
Hook: TMC 5263 , sizes 8-14
Thread: color to match tail or body
Eyes: bead chain , size proportional
Tail: Marabou, color to match hackle or body.
Hackle:  Neck or saddle. Color to match body or tail, or dun.
Body: Chenille: black, brown, olive, cinnamon, or those colors variegated.
1. Crimp Barb.
2. Attach thread behind eye. Touching wraps 1/4 back on shank then forward to one hook eye behind eye.
3. Cut bead chain with wire cutters into sets of 2.
4. Attach bead chain eyes to top of shank, one ball on each side, using multiple figure eight wraps and around base of eyes on top of shank. Wrap thread to mid shank. Apply drop of glue.
5. Pull clump of marabou off stem of feather. Note: moisten marabou for easy handling. Cut off butt ends. Lay butts on top of shank behind eyes. Tie to top of shank back to end of shank. Break (do not cut) tips to desired length.
6. Select hackle with barbs equal to 1 1/2 hook gap. Holding tip, stroke barbs against grain. Position tip on top of shank, butt end to rear. Tie in place.
7. Pull fibers off about 1/4″ of chenille exposing core threads. Attach threads to rear of shank. Advance thread to behind bead chain.
8. Wrap body forward with touching wraps. Tie off, cut excess.
9. Spiral hackle forward in 6 evenly spaced wraps. Tie off, cut excess. A couple more thread wraps to secure.
10. Make several figure 8 wraps around bead chain eyes. Wrap thread head. Whip finish. Cut thread. Apply glue to head.
Posted on March 3rd, 2021