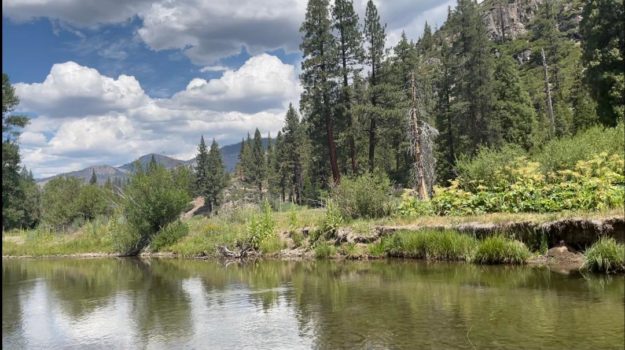 Mona and I have been going to Kennedy Meadow's fishing the Middle Fork of the Stanislaus for 30 years now. How I remember the old days! The Stan is where I saw my very first fly fishermen. Yep a couple of ole timers who were fishing the pocket water (I didn't' know it was called that back then) with some really tiny PT and Zug Bug nymphs. Mona and I were just kids, 27 and 25! We marveled at the peace these two fly anglers carried, casual, fulfilled. We wanted that.
As Mona and I started our annual trips there, it wasn't just for the fishing. We met family there. We slowed down, and stopped all together. There was no such thing as a cell phone and we didn't know words like – Wi-Fi, YouTube, Instagram, Facebook, or what an App was.
This last trip was our best fly-fishing experience in those thirty years. I suppose it's because our 23- and 25-year-old children, who were practically born at Kennedy Meadows, are healthy, and because for the first time, Tommy hooked and landed at least 15 fish on dry flies and another 15 or more on nymph's. And we were practically the only people on the water. Laughing. Taking it all in. Slowing down, stopping. Enjoying.
It isn't and wasn't always that way.
I remember the fires that nearly choked us out of our five days stay and the fire we missed altogether – thank God. I remember the thunderstorm that rolled in, flooded our tent and campsite in a matter of minutes, all while we ducked for cover from lighting that had shattered trees next to us. Or the seemingly perfect week, except for an ice dam break and filled the river with chalky white silt for that entire week. No fishing, no fish, not a one.
While we distinctly remember these days, we lose site of the many years where the fishing was good, or okay, but the trip itself with family and friends, the hiking and the beauty of the Sierra, left us with something far more beautiful to remember.
I'm remembering these days because I need to realize that even the worst days fishing, aren't really that bad when we put things into perspective. When Covid disrupts our plans for a year, or maybe another 6 months, again, compared to thirty, ten or even five, it's not that bad.
I was so looking forward to kicking off our September return to meeting together – like we've done for the last 43 plus years, without any consideration, except perhaps when the '89 earth quake occurred. But Covid has dealt us another setback; so we won't be meeting in person in September. At this point, I'm not even sure of October, but we will keep moving that direction and keep you informed.
We are going to have a super Zoom presentation, and I have some awesome speakers lined up for October, November and December– Spey Casting for Steelhead and a review of the Green River – for those of you planning 2022 outings. September is "fanatical fly-fishing" who is an adventure outdoors team specializing in some pretty fun fly-fishing destinations, techniques, tackle, and flies.
Thank you for all your help this year. Thank you for persevering with us throughout so much. Our mission and goals have remained – To Promote, Educate and Enjoy the Sport of Fly Fishing. And, as hard as it is to believe at this juncture, I'm optimistic about a good wet year ahead, the disappearance of Covid and a lot of fun to be had together, as we work hard return to normal!
See you soon. Promise. Tom
Posted on August 25th, 2021