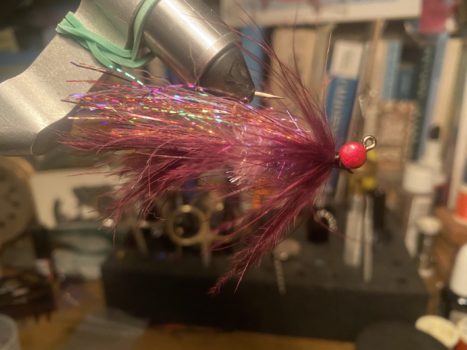 If you desire or must have a steelhead fly for the San Lorenzo, here's one that comes highly recommended. Of course it will probably work for the mighty fish elsewhere. This is a variation of Cliff Watt's Kilowatt Fly. The color combinations are limitless but the 2 that seem to work best are: maroon marabou and hackle  OR maroon marabou tail with both both blue and black hackles.
Material:
Hook: Gamagatsu 60 degree jig hook size 2
Thread: black 140 denier or 3/0
Eyes: "Lead Eyes" 1/30 oz. ( barbells)
Glue: UV resin, Zap-A-Gap, or Super Glue
Tail:

1. Orvis –  New Age Holo Flash- Kaleidoscope color   (Can substitute Flashabou or Mega Baitfish Emulator)
2. Spirit River UV2 maroon marabou. (Can substitute maroon marabou)

Rear Body: FNF UV Jelly-biscuit color. (Can substitute UV Polar Chenille-hot pink color)
Forward Body: both UV ice dub- purple color AND Salar Synthetic Mikkeli-blue color
Wing: same Holo Flash
Hackle: maroon marabou
Instructions:
 Crimp barb.
 Attach thread behind hook eye. Wrap thread base to rear of shank then forward to blend in hook.
 Paint eyes with 2 layers red nail polish then one of Sally Hanson's-Hard As Nails nail polish. Attach at bend of hook with many figure 8 and circular tight wraps. Apply glue. Wrap thread to rear of shank.
 Tie in small clump of Holo Flash. Cut to length of hook.
 Tie in clump of marabou. Same length as Holo Flash.
 Tie in UV Jelly. Make 2-3 touching wraps forward, forcing thread as you turn. Tie off, cut excess.
 Blend both forward body materials. Place in dubbing loop. Advance thread to 1/4 back on shank. Twist dubbing loop making  a thick chenille. Wrap forward a thick body. Tie off, cut excess. Pick out body with a bodkin.
 Turn hook upside down. Tie in small clump Holo Flash on top of shank. Cut to hook length.
 Select lg. marabou feather. Strip barbs off one side of feather. Tie in tip. Wrap, preening back barbs as you go. Tie off, cut excess. Whip finish, cut thread, apply glue.
This is not an early season fly. It can be swung on a Skaget line in the estuary when big fish are in, or dead drifted on a tight line through a riffle or under a bobber. It also can be jigged like a spoon through a pool or frog water. You may have noticed that there isn't a lot of room for a back cast on the upper reaches of the San Lorenzo. That's why most seasoned Steelheaders fish exclusively with mono line much like euronymphers. Strip casting is the common method of presenting a fly on the S.L. It is a similar technique to flipping for bass and allows the angler to pitch a fly into tight pockets in very tight quarters. Not to say that you can't use a traditional fly line but many times anglers spook fish with a role cast over a run or pool, especially in low clear water.
Posted on October 18th, 2021