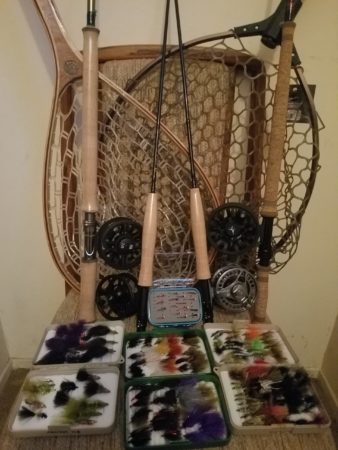 Buy your tickets from home or buy them at the Posse Grounds BBQ meeting. Or both!
To celebrate our first "in person" meeting in many moons, we have a bunch of choices for our lucky raffle winners.
Look at these rod and reel packages:
2 Spey rods, one 7/8 wt and one 9/10 wt.
3 BlackStar high carbon 9 ft rods in 4wt, 5wt. or 8wt. The winning ticket holder gets their choice of any one of the five rod and reel packages!
If you are going to land a fish you are going to need a net, you pick the right one for you.
How about a classic wooden handle net to be hang from the back of your vest?
Maybe a long handled wooden net for your float tube, pontoon boat, or kayak.
We also have the perfect Pyramid Lake net that you really gotta have to land that trout of a lifetime when you are fishing for the big boys.
3 to choose from, the winner gets to pick!
What better prize than a box of flies?
We have boxes of flies donated by Matt Maurin that are up for grabs. Leaches. Steamers, and hoppers; take your pick.
We also have a box of Pyramid Lake midges and beetles along with a Clear Lake crappie/bass rig.
Be a winner, take your pick!
How do I win? Easy. Just buy tickets!   There will be 3 chances to win!
Tickets are a dollar each sold in blocks of five, Twenty bucks gets you 25 tickets.
Tickets will be available starting at noon on Saturday January 1st. Click on:
https://santacruzflyfishing.org/raffle
The cutoff to purchase tickets will be at noon the day of the January meeting Wednesday 1/5/22.
Tickets will also be available that evening at the meeting. Need not be present to win.
Posted on December 22nd, 2021