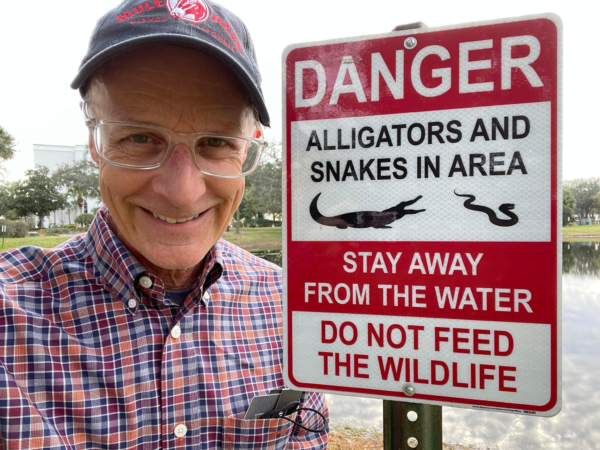 Hello Everyone. January was another first in SCFF's 45 year history – a "hybrid" club meeting. Would any of us thought of the "inter-web" when this club first started? I suppose in 1977, if you said someone was using a cell phone, it was likely because they were in Jail. The internet might have been presumed to be some fancy fly-fishing term for the inside of your net, or what was in your net. Gore-Tex might have been some sort of Texas horror show.
If you've been around fly-fishing long enough, you will meet some of the nicest people in the world. Truly. You will also more likely meet "famous" people, who at least 99% of the fly fishing community knows, but only .0005% of the rest of the world does.
As I'm flying to Florida for work and to see Emily, I'm pouring through Fly Fisherman Magazine's (hey wait, don't they need a name change?!), 2022 Gear Guide. Wow! If you read this one, you're sure to be seriously prompted and guilted into buying all the "necessary" gear in this issue. Seriously. They seem to hire writers who scribble in such eloquent, scientific, and perfunctory (I just like that word) manner as to make you feel that if you're an educated person, you wouldn't second guess or question their prescribed mandate to get out and put this stuff in your fly-fishing arsenal now, or you ain't much of a fly-angler. That being said, I would be coming home with three pair of waders from all three vendors, fifteen new fly-rods, and equally as many fly-lines, four backpacks, a kayak, BOA wading boots (which I love by the way) that I must have, if I'm to be remotely successful in the trout or salt water fishing I might consider planning this year. No mention of two-handed Spey equipment for Steelhead or Salmon. Guess is they didn't have enough room to publish or not enough interest.
Fly Fisherman Magazine has been one of the few publications that has outlasted many others over the last 30 years. Wonder what they will eventually do about the "erman" issue in the future.
I tried writing for the rag several years ago. They politely declined and helped me learn a bit about how one might end up being published in their rag, indicating that 90% of their readership were doctors, lawyers, and executive level subscribers, which sounded like people with a lot of money, were men and still smoked cigars (not that there's anything wrong with that). I took that to meaning I didn't use content within my text that would be enough of a challenge for their vocabulary, or the next winner on jeopardy.
Be that as it may, it isn't Gray's Journal, or Isaac Walton's book, or that favorite Shooting Sportsman rag I used to subscribe to, and it is good to see it's still around and writing good content. I did learn a lot about all the new gear out there and find that to be helpful especially as the end of February is the return to our Fly Fishing Show in Pleasanton, which many of our members will be going to. Jeff Goyert as even promised a tailgate party for lunch. It's Feb 25,26, 27 – and you should definitely go – mask or no mask. It is completely worth it.
Some of us have been fishing the San Lorenzo, Soquel and Pescadero for Steelhead the last few weeks. Despite all the early rain we received, the good flows, the catch rates are very low. While I knew my chances to hook a fish were low, I went fishing. It is beautiful to be on the water, early, close to home, and it is so very peaceful. I'm grateful for that and need it. I hope the rain returns soon in the event the bigger spawning fish are still out there waiting for that
opportunity to come in and help the river survive another year. When the flows are lower than 100CFS, I tend to stay home. If you're interested in when it might be less pressure on those fish holding in holes waiting for the flows to return, you can go to the USGS website www.waterdata.usgs.gov, and the river you fish. The San Lorenzo monitors the CFS of the river just below the rubber dam monster in Felton at the Henry Cowell Bridge. There is also a camera there shooting live video there. Some will tell you that below there other tributaries enter the San Lorenzo, so flow may actually be a bit higher, say in the lower gorge, but that measure is a good litmus for most.
Thank you all again for being such good spirited members despite the roller-coaster that Covid has been these last two years now. It has been good for us in a different way, especially with the opportunity to include members in so many activities where they couldn't get to directly, but can enjoy via Zoom, our Instagram page and Facebook page. None of that would have happened as well as it did if it weren't for Covid. We will get through this soon, and we are going to have fun fishing and casting, tying flies and helping to restore and preserve those waters special to you.
See you soon. Tom
Posted on January 26th, 2022