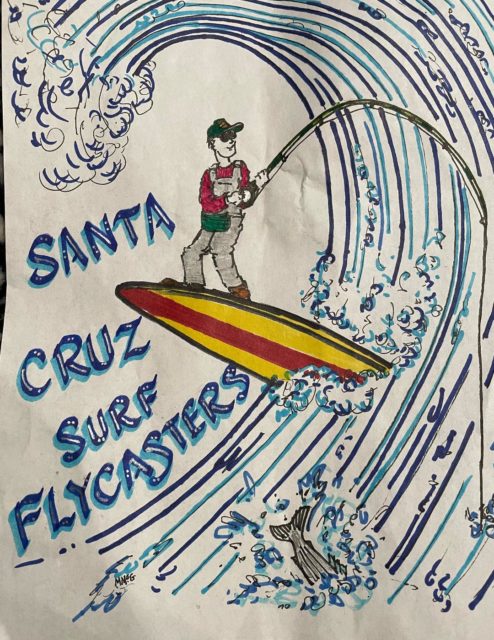 We have a lot of talent in our community.   For a fly-fishing club, in a surf community that was once mostly a retirement town with surfers and outdoorsy people, we became a fly-fishing club.
You might find it interesting, that we really don't have that much fly-fishing around here anymore.    Certainly not a "trout stream".    But did you know that as far back as the early 20's, hatcheries were built along the San Lorenzo for the purposes of supplanting year round trout fishing?    That's right!  Back in the 20's, clear through the 50's, you could fish the San Lorenzo, and most, if not all, of her tributaries for trout – all year.    And your limit – per day?!    25 fish.   At least for a while.    Then it went to something like 5 or 10.
True!   I remember Jim Lazarotti, who spent his life here, from the 50's until he passed away in 2008, working to save the San Lorenzo, telling me that he would fish Zayante Creek before school catching fish his mom would make for dinner.
We often marvel at the catch rates from the old days, but I also wonder if those catch rates were not also kill rates, would the rivers and tributaries have been better today.    Probably not.
The surf, cars and airplanes, have provided us the ability to be fly-anglers with plenty of opportunities to feed our desire to be out of doors, in the water, marveling at fish, and all things within those elements of the healthy habitats where we find these creatures.  Fluttery things, crawly things, four footed and two footed (Big Foot and Sasquatch! – just seeing if you're paying attention), perhaps some peace and quiet away from the hustle and bustle of being stuck at home or afraid to go somewhere, with or without a mask, because of a pandemic.  Which, by the way, is ending.  Funny how it's now called an endemic.    Weird cuz it wasn't called a begindemic.    Never mind.
I hope if you're reading this after February 27th, you got to go to the Fly-Fishing show in Pleasanton on the 25th to the 27th.   I am so excited to be going again, especially since so many of you are also going.   I'm sure there is something I still need there even after now 30 years of fly-fishing under my belt.
I'm also excited about our March meeting as it will be at the Grange, with a raffle, an in person guest speaker – Dagur – from Iceland.   And a chance to see some of you who I only just met these last 2 years via Zoom – in person!    At this meeting, we are also going to work on our "hybrid" solution, which is to run the meeting in person and via Zoom for those who can't make it.   Please bear with us as we may bump along at this meeting, trying to dial in the technology we need to become our own 1 million subscriber YouTube channel.   Okay, kidding.   We really just want to be good for those who can't be at the meeting in person and can still enjoy the club meeting.
In this newsletter you will also read some beautiful tributes to three of our long-time members who left this planet this year.   Matt Murphy, Jim Black and Pat Murray, all of whom were beloved members, family and friends with their own special gifts they bestowed on the club, their family and those who were very close to them.
If you have a knack for writing – please note that you can write a nice article, or even just a few sentences, and publish it in our Newsletter.  Yes – You!   Just find the tab on the website, under Newsletter, Article Submission, fill out the details, the write your article.   Easy.  We'd love to hear from you and put your input in our newsletter.
Michael McGannon has been our Marketing and "merch" guy for several years.   I'm super grateful for Michael, because every time we've been together, he's often drawing on a napkin – which I'm constantly stealing from him to hide in my own personal collection.   The Picaso fish, the multi-caster, the tangled mess, and others he's drawn up.    At one of our last meetings, I explained to the board I wanted to have something related to Santa Cruz – Santa Cruz Fly Fishing.   So what better way to describe that than on a surf board!    This is an initial rendition that Michael drew up for me, and I love it.   Note the Striper in the waves.    Truth be told, is I got this idea from an old advertisement Salz Leathers used to promote a leather they made called "Surfer".    It was a waterproof leather we made for the likes of Timberland and Wolverine boots.   Similarly, it was a heifer surfing.   Likely a native heifer – but that's another story.      I envision this one being refined a bit, then being available as a T-Shirt – Santa Cruz Fly Fishing.   Who knows, maybe we can get the "Santa Cruz" logo on it and sell it in the surf shops!!  Wouldn't that be a hoot!    Thank you Michael!!
I've really enjoyed our Zoom meetings.   I don't know what we would have done if it weren't for that technology which until then, was just a way for companies to hold fancy meetings in conference rooms and offices and for those who might have been "remote" for one of those meetings.   I am certain Zoom never thought they'd be taking on the whole world when the begindemic occurred.   And while we often use fly-fishing to get away from it all – it all – meaning technology, that very "technology" has made fly-fishing infinitely more enjoyable, perhaps a bit easier to learn, and Zoom gave us a chance to break down barriers, not otherwise possible.
But I sure am looking forward to seeing you, shaking your hand in person.  My only regret is that I won't be able to "mute" you all when it comes to start the meeting.
See you soon!!  Really – not kidding!!
Posted on February 23rd, 2022