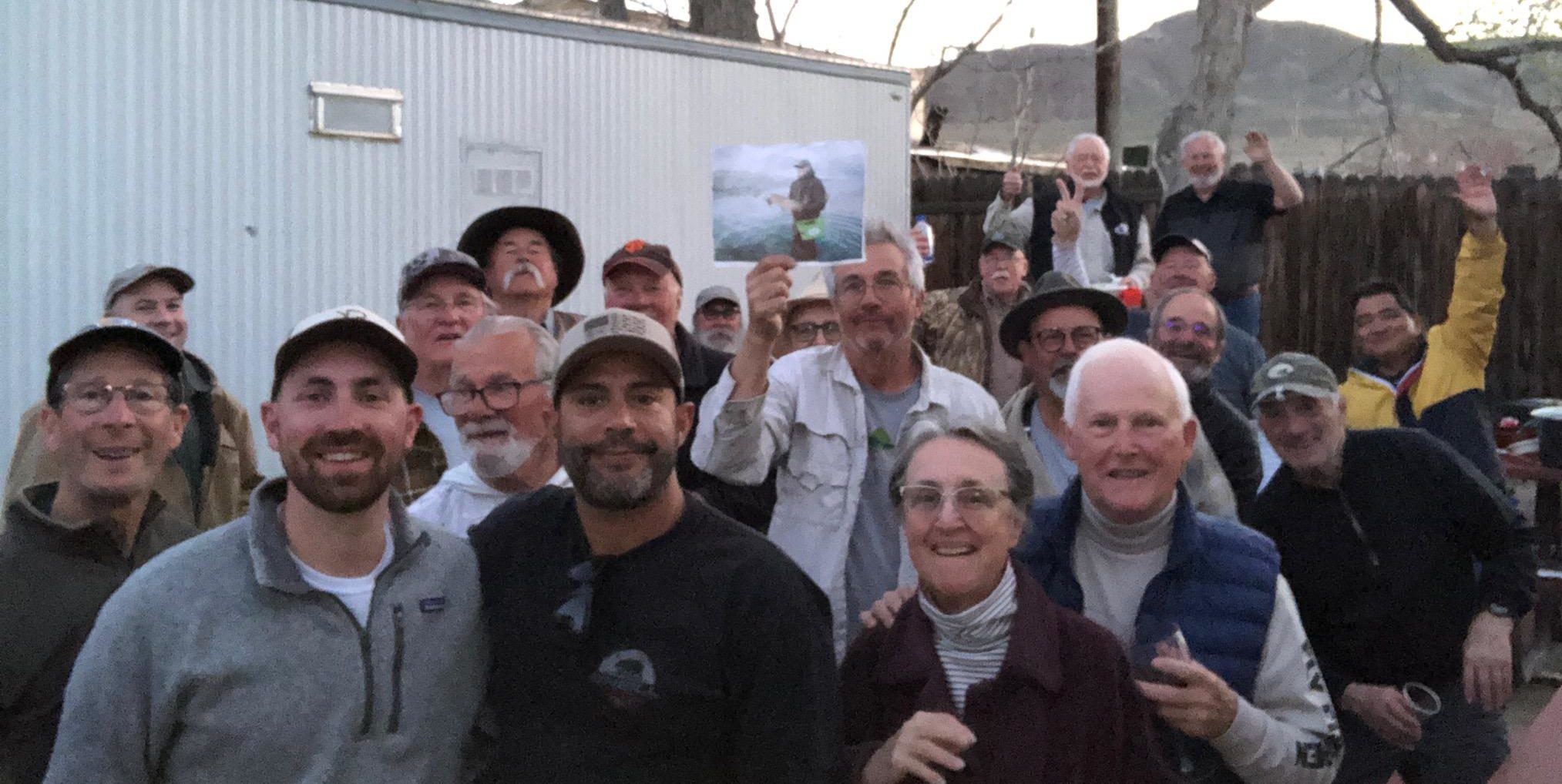 Note from Stosh:
The lake was stingy with rewarding us after many hours on a ladder or chair or other this last week. Diligence and more time with the fly in the water always pays off with at least one fish a day instead of 'skunkdom'. The fish you could see follow the fly and turn away, maybe flipping its tail at it or the fly hooking a side fin happened a lot (and counted as a fish landed) ?
A guide told me that they did not stock the lake the 2 years of C-19 and next year should be a lot better so there is always hope for the future fishing there. I caught all but one fish on a black midge with a white bead which was partially worn away and brassy and still catching fish, they only took the balanced leech on the lower hook one time. (more than fifteen).
Thanks to all who attended and let's make it happen again next year.   I only landed one fish stripping beetles and leeches. They call it 'midging' now.
---
Note from Scott:
This was my first time on the Pyramid trip and have a few thoughts to share for those who haven't gone:
If you have ever dreamed of big trout in New Zealand or Argentina, stop dreaming and do this trip. The fish are getting bigger each year and there are lots of people who can show you where and how to fish. And the cost? Ha, I was gone for eight days and it cost about $500 for everything.
The Pyramid fishout is really "a loose confederation of trailers" all with different personalities banning together under Santa Cruz Fly Fishing.  Mike White and Jim Hall put on a club-wide dinner commemorating long-time club member, Gary Hazelton,  which provides a great way for everyone to bond. Otherwise the members mainly sleep, fish, and eat with others in their trailer.
I met a club member, Patrick, who is busy at work, was recently married, and has a new child.  Right now a full week fishing is impossible, but Patrick has figured how to miss a few days of work, appease his family and squeeze it into his life. I think he has made a wise life choice.
And the Pyramid trip is not just for guys. Elaine was there from our club, Elizabeth from the Salinas club and this group of women who annoyingly caught all the fish at Windless one day.
My suggestion is to get out of your comfort zone and throw yourself into the experience:  Get up at 4:00 am and fish until 6:30 pm,  Get on that ladder and howl back at the wind,   Have a drink or five with your fellow club members.    I think it is a wise life choice.
---
Pyramid 2023:  March 26th – April 1st, 2023.
Posted on April 21st, 2022