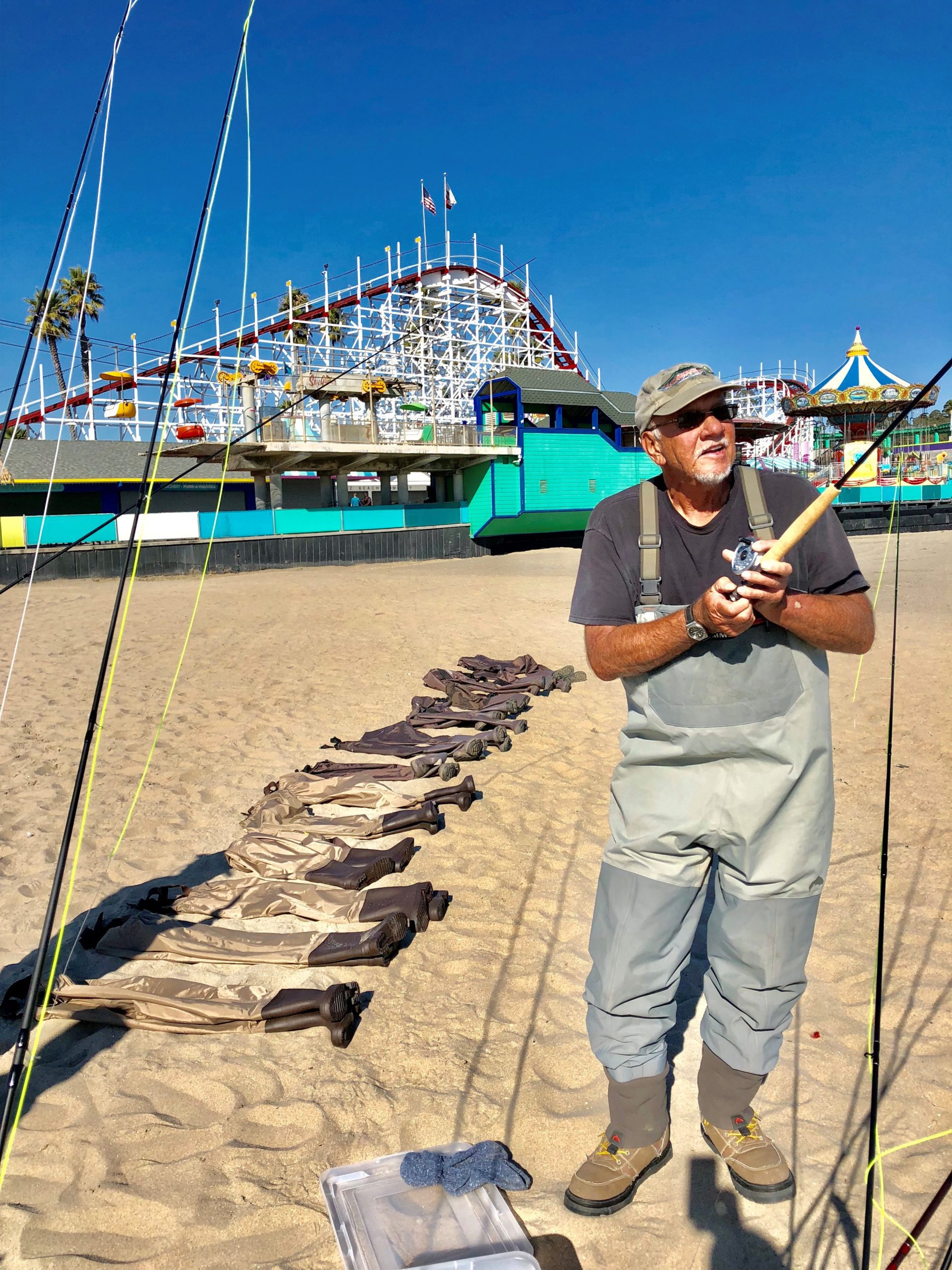 The absolute most difficult part of being President of this Club, especially after so many years getting to know so many of you, calling you family, friends, is when we lose someone to an untimely passing.    This isn't supposed to happen in a fly-fishing club – is it?
As many of you know already and by the extraordinary outpouring of your hearts on the club mail account is the untimely passing of our beloved Steve Rudzinski.    So many of you described Steve and his character in the most beautiful of ways.  A staple at the Pyramid Lake fish-out always rallying everyone together.  A consistent O'Neil Forebay Fish-out master who would do everything to set up a successful adventure for everyone and especially newcomers, before he began catching is first fish – which he did very well.    And the Casting classes he came up with on his own, that turned into one of the most successful monthly events and fun gatherings on the lawns at Jade Street Park.   If there was an activity, an event, a gathering, at SCFF, or MBSTP, Steve was one of the first to volunteer.  As many of you heard me say – we will never see a vapor trail ever the same way again, and I guess in a cool way, they will always remind me of Steve.   And the UFO's.    How wonderful to be so transparent and so genuine.     I really wanted to go bowling with him.
The ole saying is better to have loved and lost than never loved at all.
And so it goes.    Until we meet again Steve, thank you for your heart and soul my friend.
June is upon us.
The fishing will be good, the summer hot, and plenty of comradery to be had with all at SCFF.   I hope you have all you need to be fishing from the surf to the Sierra and beyond.     Mona and I will be heading east to dabble in the Sierra rivers this weekend and I'm looking forward to that solace one finds out on the water, in the environ as natural, untouched, and far away as possible.   If that's possible.
These next couple of weeks, we're handing out scholarships to the high-school students as part of our commitment to the future of the environment, fly-fishing and the club.   Hopefully, these long-term investments will pay dividends for the benefit of our environment, even if it's long after we're gone, but hopefully sooner.
I saw a sign the other day that stated, "The planet was far better without us".    True.    I hope as the future becomes more diverse, more aware of what we've done in the name of progress, those youth of today will shape tomorrow a bit better for the fish.    If the fish can thrive, anything can.    I've often said the fish are today's canary in the coal mine.     Sure, they aren't all warm and cuddly like a puppy, cat or stuffed bear, but not much on the planet can survive if the fish aren't here.    Steve had his vapor trails and UFO's; I have my beef with development and water.   Oh well – Lani Waller once told me, we each have our fights and to keep fighting the good ones.
Our June meeting will be at the Grange and on Zoom.  Yay!    So much fun being back together and at the same time giving those who can't make it to the grange, an opportunity to hang out with us, even if we're still ironing out the bumps of making it all happen together.    Come to the June meeting with a chance to see each other.    As many of you know, we don't have a July meeting because of the 4th of July week, and August will be our annual club BBQ, Swap Meet and Raffle again at the Sherriff's Posse Hall.
Elaine is having fly-tying classes in person at the Grange, which is great, so check in and learn all you need to know about the foundation for tying flies at the vice, or vices for fly tiers!     Materials are provided, check in with Elaine for any other particulars by class.
If you would like to be more involved with the club, come to a Board meeting.   We have fun, don't bite, and could use your help.  Plenty of good opportunities to make a difference in the world, lead, be part of change, fun activities, and the opportunity to Promote, Educate and Enjoy the sport of fly fishing.   If you're interested, reach out to me, or any of our esteemed board members, we'd love to have you.
Lots of fishing opportunities in the Fish-Out schedule, but if you still don't see what you're looking for, be sure to use the Club Google group email and put out a few feelers where you might want to fish, what you want to fish for.  You will get a wealth of information from your fellow members.  Where to fish, what to fish with, when, …    You might even find yourself with a few companions go to with you.
Get out there -have Fun.   Make a new friend.   Life is too short.
Peace out.   Tom
Posted on May 23rd, 2022