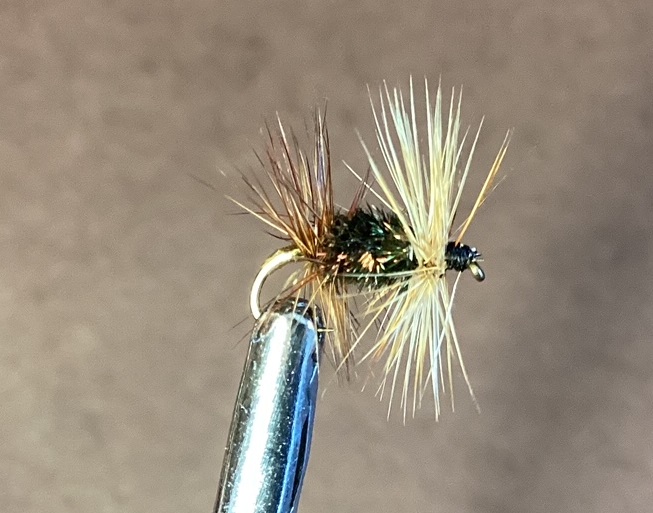 This dry fly pattern has been around for decades. It is an effective attractor, easy to tie, easy to see.
1. HOOK: TMC 100 (or any standard dry fly hook).  Size 10-18
Crimp barb.
2. THREAD: Black 6/0, or 8/0 depending on size of hook.
Attach thread, 3/4 back on shank.
3. TAG: small or find flat gold tinsel.
Tie  in back to above barb with silver side facing you. Hand wrap tinsel around 1/3 of curve of hook and back to starting point.
NOTE: that will expose gold side of tinsel. Tie off cut access.
4.  REAR HACKLE: brown or grizzly    Barbs equal to 1 1/4 to 1 1/2 times hook gap. Remove any fuzz at base of stem. Cut 4 to 5 barbs short on each side of stem (crew cut). Tie crew cut in with feather tip to the rear and light side of feather facing you. Advance thread 1/4 back on shank. Wrap feather  forward to thread with close wraps and tie off. Cut excess.
5. BODY: peacock herl.
Using 2 to 4 strands, break off fragile tips. Tie in tips. Reinforce hurl with thread loop and dubbing tool. Advance thread to 1/4 back on shank. Twist thread loop forming a chenille. Wrap chenille forward forming a generous body. Tie off cut access.
6. FORWARD HACKLE: white or cream grizzly   Barbs equal two 1 1/2 to 2 times hook gap.
Prepare feather the same as above. Move thread to one by length behind eye. Wrap feather forward with close wraps. Tie off, cut excess. Wrap small thread head. Tie off, cut thread. Apply superglue, if using a large hook.
Posted on April 21st, 2023