Happy June Everyone,  I thought I would use the club's mission statement to provide a unifying theme around some disparate events that happened in May.    Usually, I like to discuss future events, but sometimes you just have to look back and appreciate what has been accomplished.
Promote: Did you hear about the Swap Meet that happened on May 20th?  If you weren't one of the 150 or so who attended, it was a 'shoulda been there' event. I saw beautiful rods and reels that were sold for 10% of the original retail price going to happy fishermen from SF, East Bay, and other distant places.  Carly Blanchard created the Swap Meet poster and Jeff Goyert made sure that the event was well-promoted online and in print.   Due to generous product donations from club member estates, the Swap Meet raised quite a bit of money for the club and helps to ensure that next year we will be able to match and/or exceed our 2023 donations for conservation and education.

Educate: I am so proud to be part of a great organization that gives back to the community.  Below are the eight students that we gave scholarships in 2023.   The Scholarship program is headed up by David South and he has done a tremendous job this year; getting the club to double the scholarship amount per student, coordinating with the schools to select the students, and lining up club members to present the scholarships.  David South, Kathy Powers, Tom Hogye and I attended senior award nights and gave these students a chance to be recognized by their peers and parents for their past and future accomplishments. 
| High School | Recipient | Major | College |
| --- | --- | --- | --- |
| Aptos HS | Vivienne Chankai | Environmental Sci. | UC Santa Barbara |
| Harbor HS | Maya Manildi | Environmental Sci. | UC Berkeley |
| Pajaro Valley HS | Alexa Falcon-Vizcarra | Food Science | UC Davis |
| Santa Cruz HS | Jace Gularte | Fire Science | Cal Poly Humboldt |
| San Lorenzo Valley HS | Mia Hamilton | Green Engineering | UC Davis |
| Scotts Valley HS | Payton Dufour | Environmental Sci. | UC Davis |
| Soquel HS | Jakob Sporleder | Ag Bus. / Engineering. | Cal Poly SLO |
| Watsonville HS | Aaron Escalante | Environmental Sci. | Cabrillo College |
Enjoy Fly Fishing: This spring, I have enjoyed the heck out of fly fishing. In late April, I caught my first ever sea trout, snook, and tarpon in Florida fishing with club member, Jeff Sloboden. Caught black bass locally and spent a fun day with some club members and local fishers in search of spawning white bass in the Nacimiento River (alas, too late). But for me, the biggest thrill was achieving my goal of the past five years by catching my first striper off the beach with a fly rod. What made it even better was that I was with two other club members, Bob Garbarino and Lance Boling. Bob was able to jump into the hole after me and land a striper, Lance had to wait a few extra days before he caught his. In all of these fishing adventures, what made them special? What's that word again? Oh yeah "Fellowship".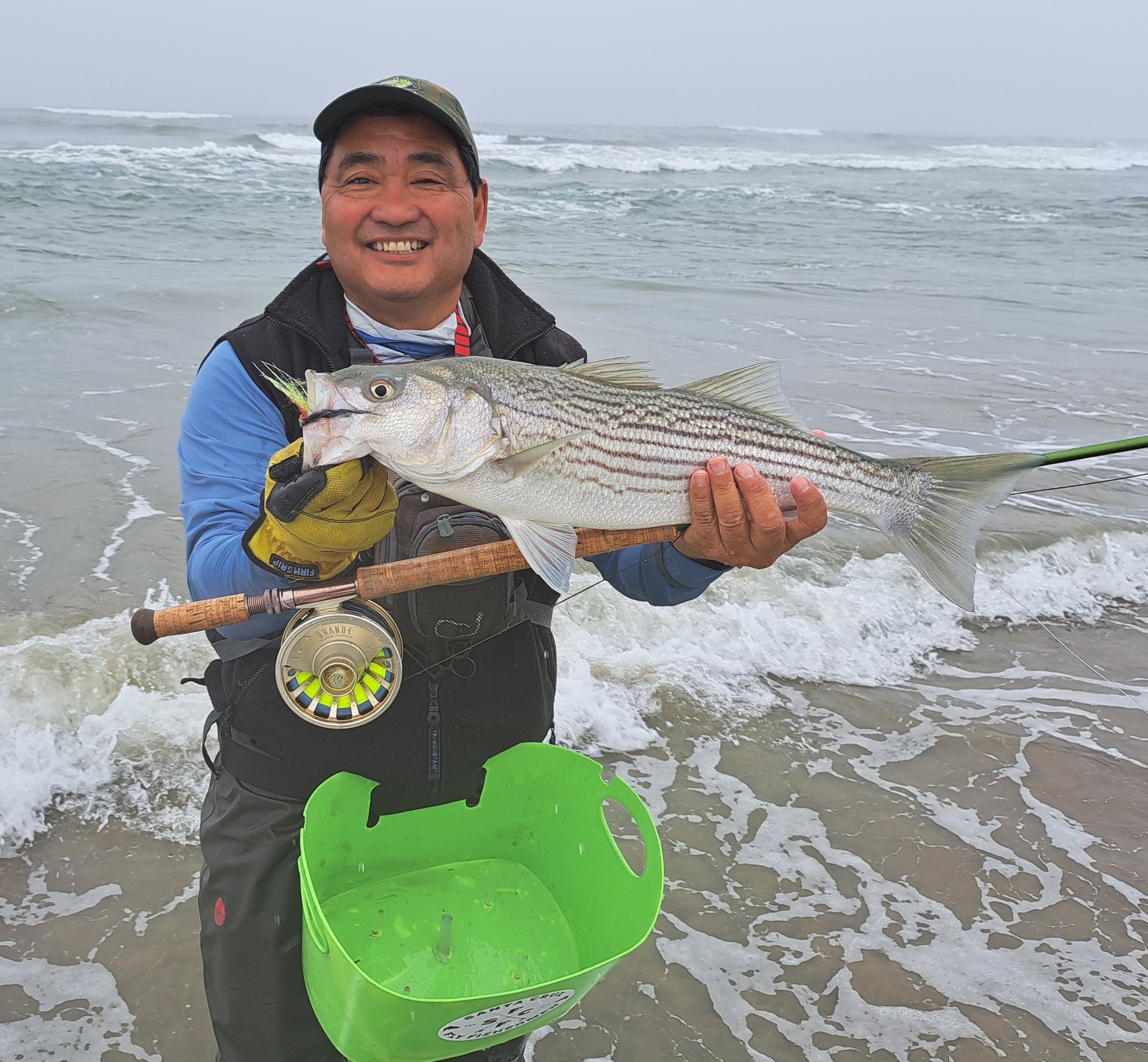 Posted on May 31st, 2023