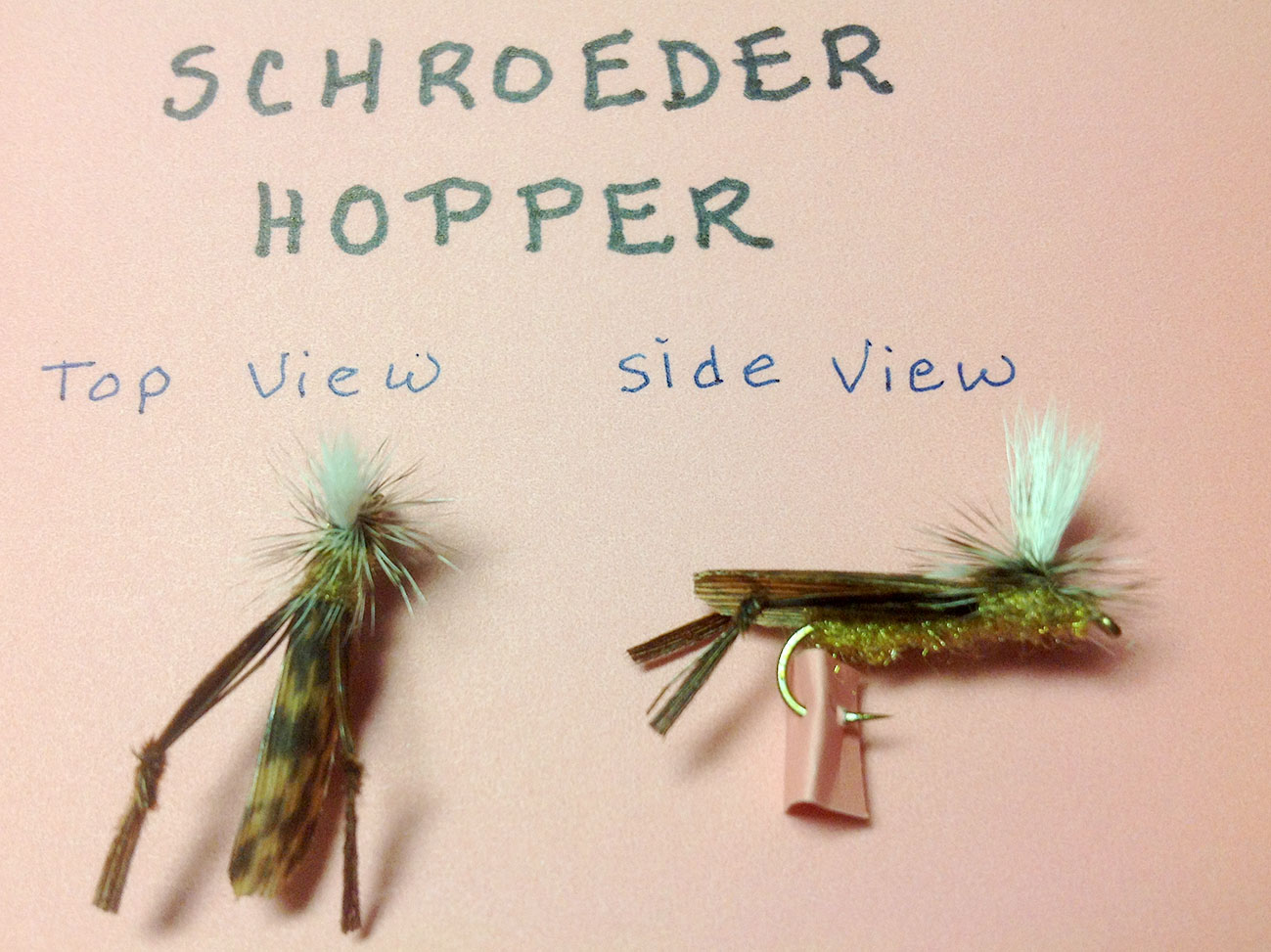 This grasshopper pattern has been around for many years and the trout sure like it. Most hopper patterns today feature foam bodies and rubber legs, which are easier to tie and are more durable. There are times when the foam flies don't work and the fish gobble the Schroeder imitation up. Since hoppers come in a variety of colors, the fly can be tied with wings in tan or cream. The body in tan, cream, yellow, brown, green or orange.
Hook: TMC 5212 or 5262. Sizes 8/12
Thread: brown or tan. 8/0
Post: white calf body
Body: golden-brown Antron dubbing
Wing: mottled turkey quill
Legs: Ringneck Pheasant tail feather
Hackle: grizzly saddle
Thorax: same as body
Wing and Leg Coating: Flexament or clear lacquer spray
1. Coat or spray wing feather. Allow to dry.
2. Crimp barb.
3. Attach thread behind eye. Wrap to 1/3 back on shank.
4. Cut small clump calf hair from hide. Remove underfur. Stack tips. Position on top of shank, tips 1/2 shank length forward. Make several wraps to secure. Cut excess buts at an angle. Wrap down butts. Hold post upright, making many thread wraps in front of it to hold position. To secure, make several wraps around base, then pull thread to rear and make several wraps around shank. Repeat a couple times.
5. Wrap thread to rear of shank. Dub generous tapered body forward to 1/8 in. Behind post.
6. Separate barbs on quill wing making section equal to hook gap. Cut from stem.cut butt end straight across. Round the other end. Length equal to hook length. Place butt against post. Tie in place.
7. I like to prepare many ahead. Cut 4 barbs from stem and tie knot in center for each leg. This is tricky to do. Look on U-tube for various techniques, or buy them already prepared. Coat to reinforce. Tie in one on each side of wing. Knee should be near bend of hook. Trim length (see sample). Dub more over wing and leg tie in section.
8. Prepare butt end of hackle with crew cut. Tie in crew cut in front of post. Holding upright, make a couple thread wraps to hold in place. Dub generous thorax from eye to post. Wrap thread clockwise around post leaving it hanging on your side of fly. Wrap hackle clockwise around base of post 3 times. Holding hackle toward you and slightly down, bring thread up infront of hackle stem, then around base of post 3 times, then forward to eye. Tie off, cut excess. Cut excess hackle. Apply sm. Amt. glue to final thread wraps and base of post.
Posted on March 25th, 2020