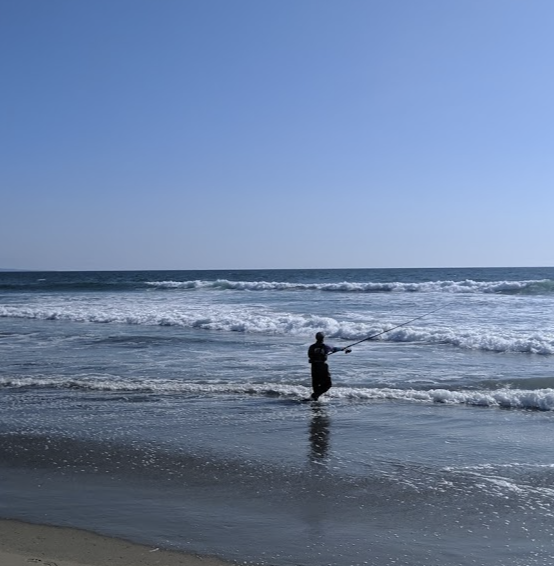 NOTE THAT THE OCTOBER FISHOUT TAKES PLACE ON A SUNDAY!!!!
The October Surf Fishout will take place at Palm State Beach in Watsonville, on Sunday, October 11th. We are now on a fall schedule, as the sun will rise at 7:12 a.m., so the plan is for us to meet at 7 AM. The tide will be high at 8:07 AM, and the surf at this time of year can be expected to be moderate. Our meeting place is just past the entrance to the State Park at 2660 Beach Road. (See the detailed directions below.) For information regarding equipment and technique, see the excellent instructions on surf fishing that Sam Bishop has published on our club website (https://www.santacruzflyfishing.org/what-you-need-to-know-if-you-plan-to-go-surf-fishing/). You can also call me at 831-338-6056. The basic equipment is a five- to 7-weight rod with an intermediate to full-sinking line or sinking tip. Surf perch are available year-round, and October is a month when you have an increased chance of hooking a striped bass. A Clouser pattern or anchovy fly will work for stripers, and small bonefish patterns (for example, Gotchas) will catch perch, especially if they have red or orange highlights. The only surf-specific piece of essential equipment is a stripping basket (like the ones that Sam makes and sells for $20 to benefit the club.) Face masks are optional while actually fishing, since we will be well spread out; but masks and social distancing measures (maintaining 6' of separation) will be in effect whenever we gather, whether at the meeting place or on the beach. It helps if all participants have their rods rigged in advance and are ready to step into the rest of their equipment immediately upon arrival.
Directions: From Santa Cruz, head south on Highway 1 past the first Watsonville exits and take the Riverside Drive (Highway 129) exit. Turn right at the end of the exit ramp, then right again onto Lee Road. At the traffic light, turn left onto West Beach Road. Drive 3 miles to where West Beach Road ends just past the entrance to the State Beach and just across from the entrance to Pajaro Dunes. Park on the right along the row of eucalyptus trees.
Posted on September 25th, 2020