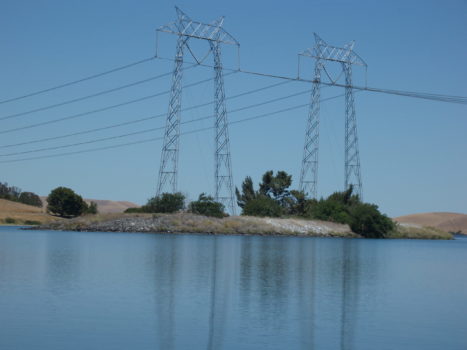 Last reminder for our annual FishOut at Medeiros Campground, O'Neill ForeBay. (we camp just west of the power lines in a group site with  4 or 5 separate campsites near each other. Look for our club banner and lots of float tubes on the shore or out fishing.  Bring all float tube stuff,  #7 or #8 wt rods with fast sinking line. Tie a short 6′ leader of 14-17 lb. test fluorocarbon which sinks better than Monofilament lines and has no stretch which makes better hook sets.   We hope to have more flies for sale or bring your own clauser minnows with hook sizes #1, 1-0 and 2-0 and pinch the barbs for safety.
This is a remote style camping spot, we have 1 vault style toilet that is kept clean and there is no water available.  Campers be sure to bring all the gear you need.  There is a store about a mile away to get ice, beer etc.  If this is your first time and need more info, call me at 831 462 4532 or email me at ssrudzinski@gmail.com.  Anyone wanting to order flies, do this ASAP so I can get an order in, they will be $5. each.
Hope to see you there and lets hope for good weather and especially, good fishing.   
Stosh 
Posted on September 21st, 2021