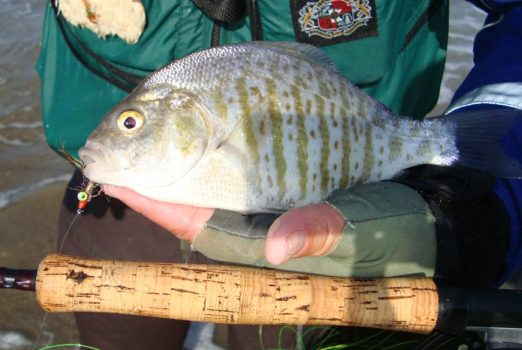 Saturday, October 2, Palm Beach – 0630 am
The Forebay fish-out Stosh organized is the second weekend of October, so I have moved our surf fish-out to the first Saturday in October (2nd) so everyone can participate in both.
Sunrise is at 07:04 and we will meet at 0640. High tide (+4.2') is at 09:17, so we will fish a flood tide. Some people believe this is the best tide as the fish will be coming in to feed on critters untouched in the sand for several hours. I can't personally say one way or the other, as I have caught fish in the surf at all stages of tide. It seems to be more a case of whether or not they see what I am offering and are they biting it?
I will have flies (free), stripping baskets ($20 to the Club) and brand new wading belts ($10 to repay my cost) available.
Getting there: Take West Beach out of Watsonville all the way towards the ocean until you are mired in the sand. You went just a bit too far, so back up your 4WD about 100 feet and park on the right under the Eucalyptus trees that drip and stain your vehicle when they are wet. (Hint: Wash it off right away when you get home.)
BTW, I like the State Beaches, because when you are done, there is a shower nearby to wash the sand off your waders and salt off your gear before heading home.
This is our last "organized" surf fish-out for 2021. Last month most everyone caught fish or had hook-ups. Let's do it again!
Posted on September 21st, 2021