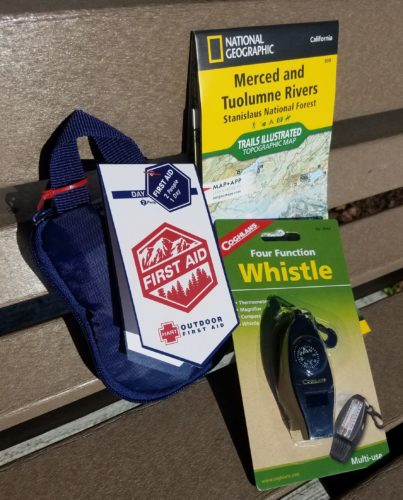 Everyone who attends the December Fly Club zoom meeting get a free ticket to the monthly door prize drawing.
We have some neat stuff, keep it yourself or use it for fly buddy stocking stuffers.
The FirstAid kit is not intended for major surgery but will come in handy for cuts, bruises, and other minor medical mishaps that might be encountered during a fly fishing adventure.
The four function Coghlan's has a compass, magnifier, thermometer, and whistle. Great on the the back trails or on your float tube on the water.
How about a National Geographic trail topographic map for the Merced and the Tuolumne river? Great for planning and executing a fly fishing back pack trip.
These prizes are all from the new REI store that has opened up in Santa Cruz across from Dominican Hospital. Great place, check it out . Gift receipts are included if you would like to swap out the prize for some other treat.
Posted on November 21st, 2021