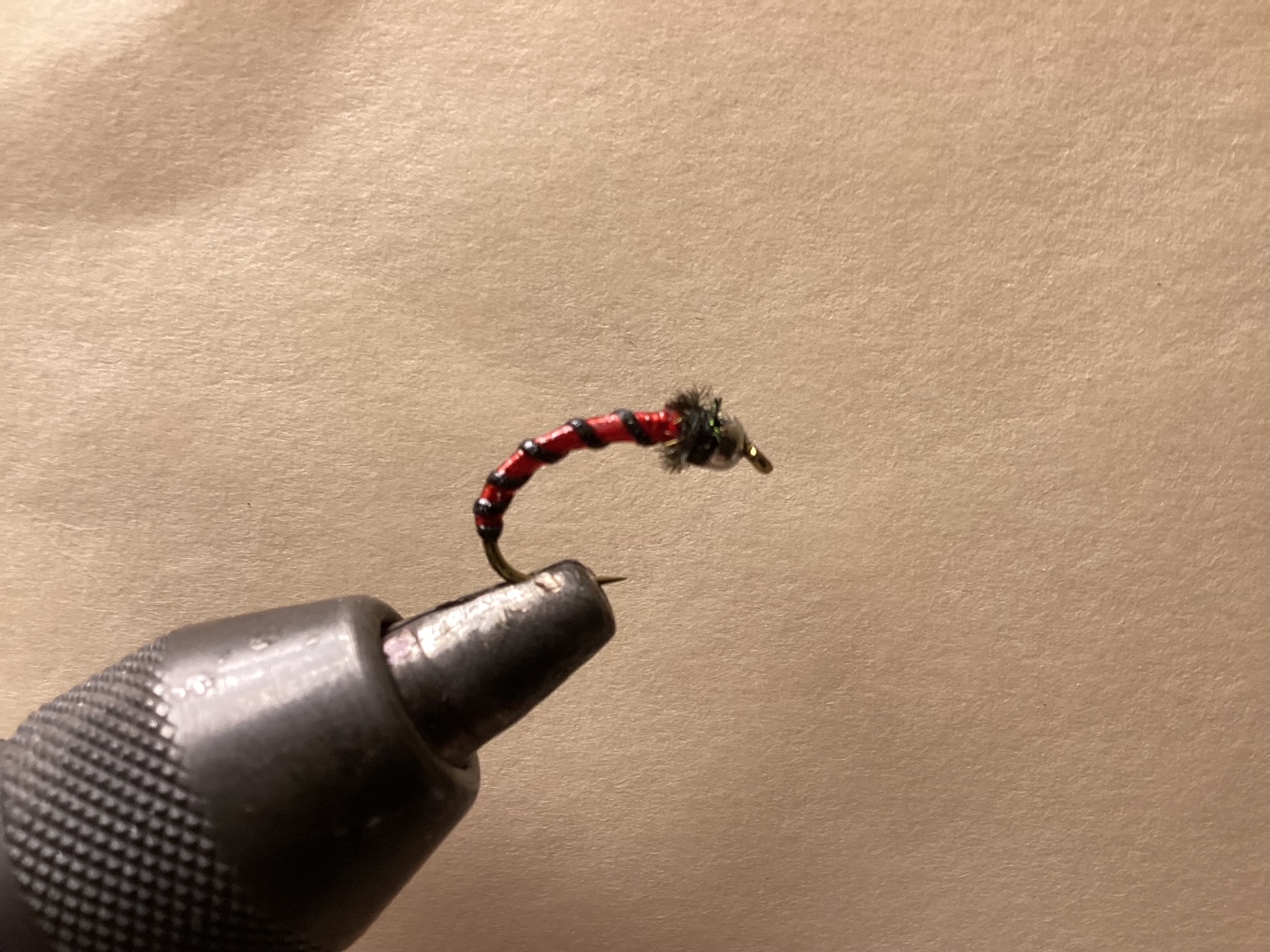 Midges, also known as chironomids, are available to trout year-round. Not only in their larval stage but hatches occur as well. In nature they vary a lot in size and color. For the club fishout at Pyramid Lake tie larger flies. I prefer size 8 hooks. For Crowley lake use smaller hooks. The best way to fish a midge is to suspend it under an indicator so it rides a little above the bottom.
HOOK: TMC 2457 or TMC 2487   sizes 6-16
Note: 2457 is a heavier hook and is typically the hook of choice for a bigger fish like it Pyramid Lake.
Crimp Barb.
BEAD: Silver, size to match hook.
Note, for a size 10 Hook use a size 5/32 inch.
Slip small opening on to hook first, and position behind hook eye.
THREAD: Red, 3/0 or 6/0 depending on hook size
Test thread with glue to be sure it doesn't turn black when applied.
Thinner thread with larger hooks will require more thread wraps.
Attached behind the bed.
RIB: Larva Lace   Other brands also available. This is a vinyl strand with elasticity. Diameter is usually round, sometimes D shaped.
Micro midge for size 16 hooks, midge for 12 and 14, small for eight and 10, medium for size 6. Lay on top of shank with and slightly behind bead. Touching thread wraps halfway back on shank. Then pull on rib material to make thinner and continue with thread wraps halfway around rear bend of hook. Note spin thread counter clockwise to keep flat and avoid twisting.
BODY: Red thread.
Wrap forward with touching thread wraps to cover rib well up to bed. Spin thread as above. Use more touching thread wraps backward and forward to form a slender tapered body if necessary. Finish with thread behind bead. Make one half hitch.. Snugly spiral rib forward in opposite direction of thread wraps, 6 wraps to reach bead, each a little further apart. Secure in place with 5 to 6 snug thread wraps. Cut excess rib. Tie off thread, cut. Applied glue to entire body. Allow to dry.
COLLAR: Peacock hurl and black 8/0 thread.
Attach thread behind bead. Select one hurl from stem of feather with medium to long barbules. Break off fragile tip. Tie tip in behind bead. Make dubbing loop. Hold hurl down side of loop, insert dubbing tool, and twist to make chenille. Make several chenille wraps behind bead, tie off, cut excess. Apply glue to about 1/2 inch of thread near bead, whip finish behind bead, cut thread.
Posted on February 14th, 2022