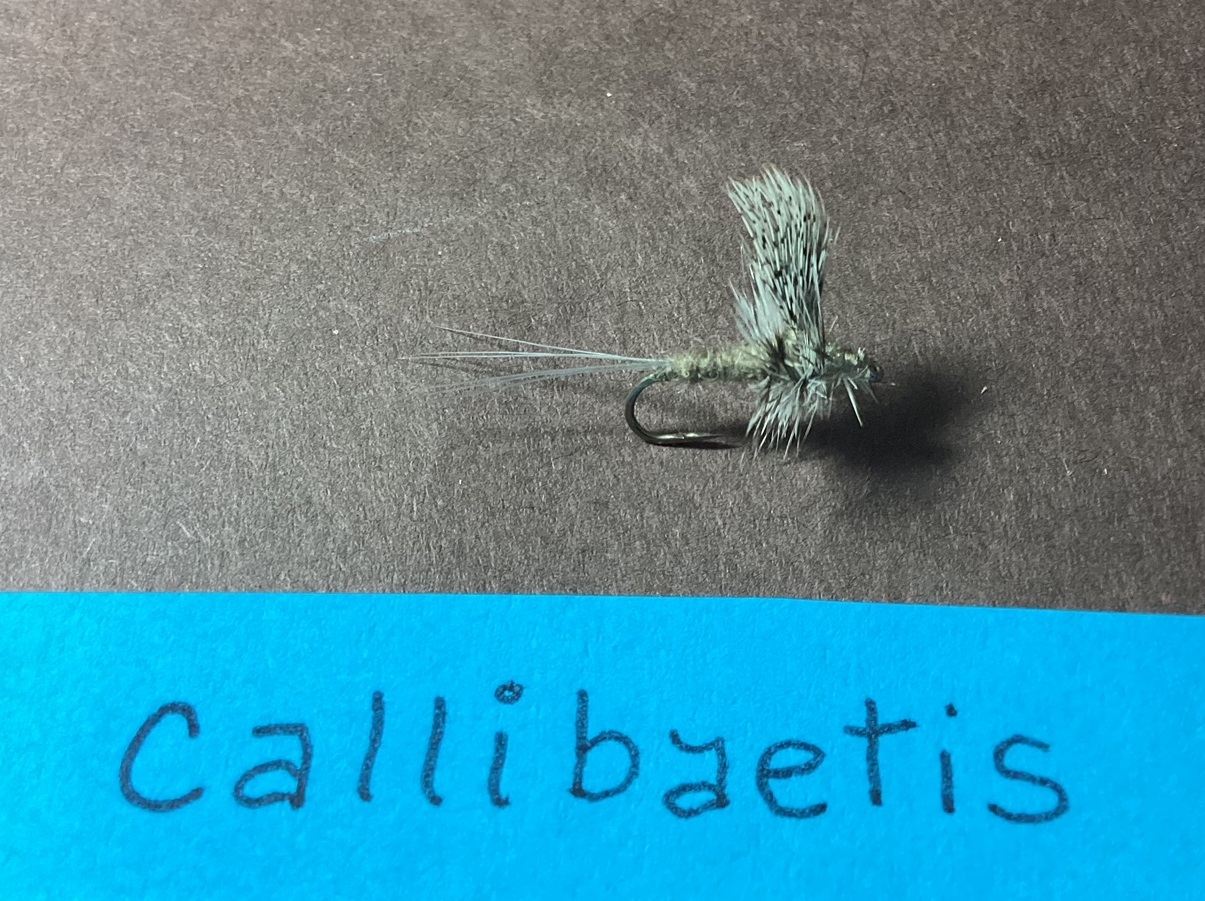 There are 15 species of callibaetis in the western United States in Canada. They emerge in spring, summer and fall, and are usually larger in the spring and smaller in the fall. Their distinguishing features are two tails, tan under body and modeled wings. They prefer still water but can be found in slow moving water as well. Use a floating line, apply floatant, leave still on water or dead drift.
HOOK: TMC 100. Sizes 12-16. Crimp Barb.   Crimp Barb.
THREAD:   Tan 8/0
Apply mid shank. Wrap forward to 1/3 back on shank. Cut thread tag.
WING: Hungarian Partridge
Using two feathers, pull barbs off base of feather until a narrow fan is formed. Length of fan should equal hook shank length. Attach feather to top of shank tips,  forward and stems to rear , at junction of feather and stem. Pull feathers upright and make several wraps in front to hold in place.  Tie down 1/8 inch of stems behind wing cut access. Make several thread wraps around base of wing to hold upright. Wrap thread to rear of shank.
TAIL: dun microfibetts
Make thread ball with 8 to 10 X thread wraps on top of one another. Wrap thread forward 1/3 of shank. Select 6-8 fibers(keep tips lined up). Lay on top of shank, tips extending well to rear. Tie to shank with four touching three thread wraps toward ball. Pull fibetts forward to make tail equal to shank length. Divide fibetts with bodkin. Pull the fibetts on far side away from shank and slightly upward, take one thread wrap toward ball. Grab remaining fibetts,  pull them toward you and slightly downward. Take another wrap of thread toward ball. Repeat last two steps a couple more times.  Ending at the ball. Cut access.
BODY: Tan super fine dubbing
Advance thread one wrap. Dub a narrow tapered body up to wing.
HACKLE: Grizzly, barbs equal to hook gap
Form a crew cut at butt end of feather by cutting 5 to 6 barbs short on each side of stem. Tie crew cut in at base of wing with dark side of feather toward you and tip to rear.
THORAX: Tan super find dubbing
Dub around base of wing. Taper dubbing forward to one hook eye length behind eye. Spiral hackle forward, two wraps behind wing, to in front of wing.  Tie off cut access. Tie thread head. Whip finish, cut thread.
Posted on March 25th, 2022