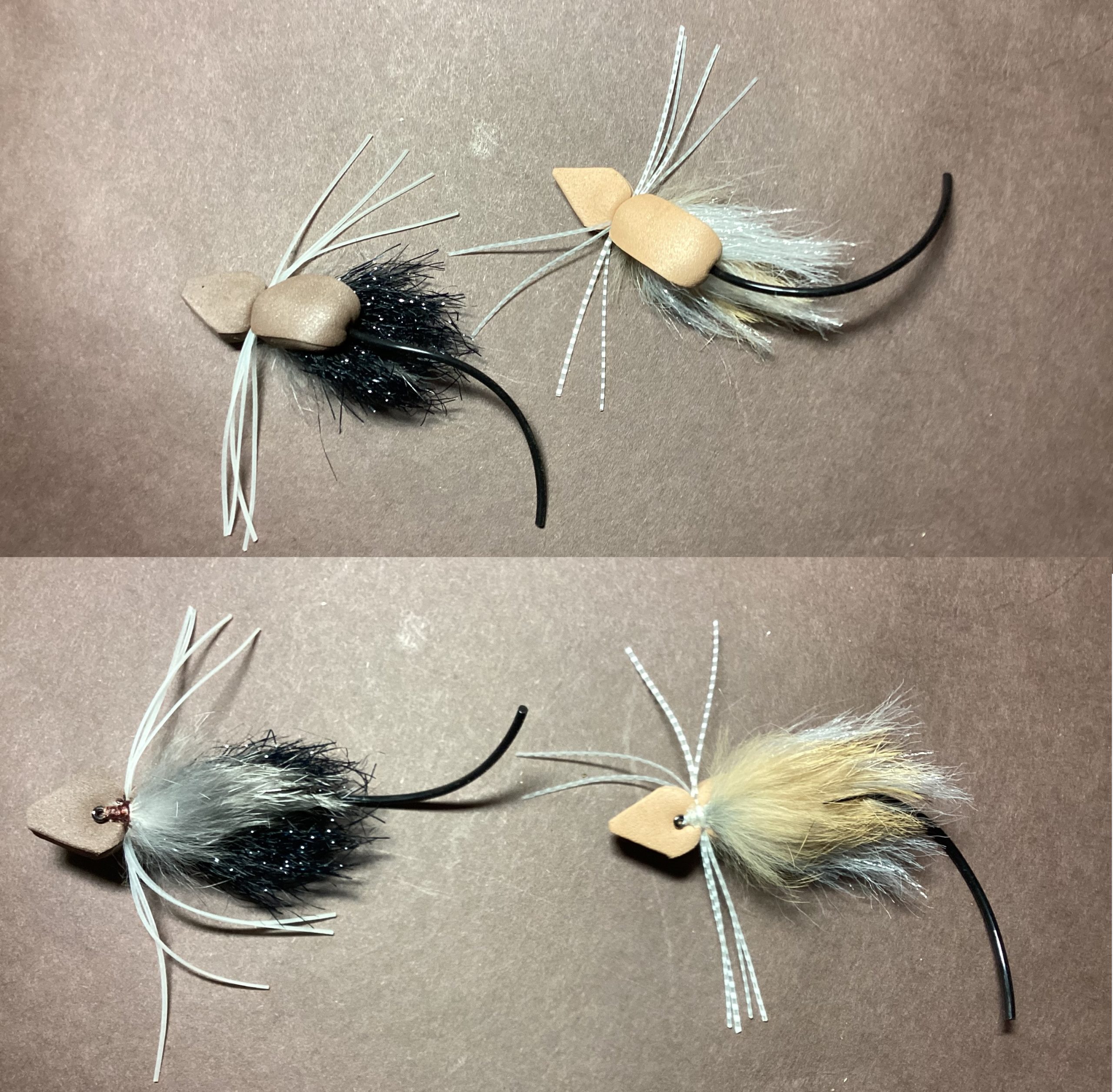 This is a large fly that can target large brown trout or large mouth bass. These flies can be fished during the day but will prove most effective at night with both these types of fish. This fly can be tied in either brown or tan. The fly was designed by Brett Smith who you can find on YouTube.
HOOK: Partridge D3ST size 4.
Crimp Barb.
THREAD: Flad wax nylon. Brown or tan
Attach mid shank. Wrap back to above hook point.
TAIL: Black rubber bracelet material that can be found at Walmart or hobby stores.
Using a 3 inch piece of material, tie in tip mid shank, while pulling a little on material,  wrap back to above hook point.
BODY: Brown or tan foam. 5 mm thick. Can be found in fly shops and hobby shops.
Cut a strip one half inch wide and 4-5 inches long. At one end cut a tapered, blunt point.
Apply Zap-A-Gap or similar glue to entire shank. Advance thread to two hook eye lengths behind eye. Position foam on top of shank, pointed end two eye lengths behind hook eye. Attach and spiral wrap, with only moderate tension (don't compress), using about 6 spirals, back to tail. Hold foam upright to be sure it's wrapped far enough back. There should be no thread wraps visible on tail. Spiral wrap thread forward in about six wraps up to two eye lengths behind eye.
LARGE KRYSTAL HACKLE – BROWN OR DUN
Return thread back to tail. Tie in hackle.. Advance thread up to two eye lengths behind eye. Wrap hackle forward using touching wraps and stroking fibers to the rear with each wrap. Tie off, cut access. Brush hackle to get out excess fibers. Stroke fibers out to each side so that they are in the same plane.
BODY continued:
Place glue on top rib of body. Pull on foam and bring it forward. Pinch it from side to side were thread hangs hold it for a minute. Make two snug thread wraps, then let glue set a little longer. Make several more thread wraps around neck. Brush hackle out to sides again.
ARTIC FOX: grey or tan.
Turn hook upside down. Cut hide side of arctic fox into peace 3/16 of an inch by 3/4 of an inch. Position hide against under side of body with one end at neck. Attach with several snug thread wraps. Apply glue to underside of body. Press hide down and hold until glue sets.
LEGS: Magnum Predator Legs -Grizzly Barred – Root Beer Colored or Dun.
turn hook right side up. Using two legs on each side, attached centers to neck area. Trim legs so that they extend a little beyond hook bend. Tie off behind Eye. Apply glue.
HEAD: Continuation of foam body.
Cut a blunted pointed head. See picture.
Finish by stroking hackle to rear.
Posted on June 27th, 2022