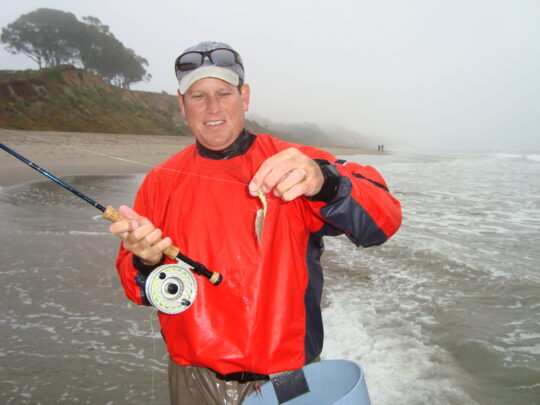 FLY FISH THE SURF!!
Take West Beach out of Watsonville to the west until you hit the sand dune, then back up and park. No RSVP required, just show up with a smile on your face. Guests are welcome, so bring friends.
Let's meet at 0620, the days are getting shorter with sunrise at 0640, so we can meet later than before. High tide will have been at 05:20.
Parking is just outside the State Park. I tend to pick State Park beaches among other things, because there is a shower there to wash the sand off and do a first rinse of your salt laden rods and reels.
If you haven't been out in a long time or are new to the game, you might want to review the surf fishing article on our website www.santacruzflyfishing.org. It is under the "knowledge" drop down menu.
I will have extra flies and stripping baskets. We are almost out of the baskets I make, there are maybe 5 left.
Everyone is welcome, so bring guests. See you Saturday, September 3 at 0620.
And BTW, yes we catch bigger fish than the one in the picture that Tom Bradley caught one day, but this perch was almost smaller than the fly he hit. Dreams of grandeur I suppose.
Posted on August 26th, 2022