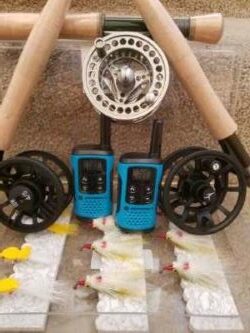 End of Summer Raffle! This month we have three great prizes. Winners get the choice of a 4-piece 9-foot rod & reel set (5 WT, 6WT, or & WT), hand-tied striper flies by Lee Haskin (Perfect for the Forebay), or a set of Motorola Walkie-Talkie units with batteries included!
The ticket sales are open and close at noon 10/5 the day of the meeting.
Click on this link to purchase tickets: https://www.santacruzflyfishing.org/product-category/raffle-prizes/
Tickets are a dollar each, $20 bucks get you 25. The drawing of tickets will take place at the monthly meeting. Club membership is not required to participate, need not be present to win.
Support your club, buy a raffle ticket!
Posted on September 27th, 2022