After 3 long years, we are bringing back our annual fundraiser on February 18th from 12:30 pm to 6:00 pm at the Aptos Grange!   So many things have changed in the past three years and there was no way we could run the fundraiser "the way we used to", so here we go.  New venue, new hours, new food, new ticket price, new faces and with your help, more comradery, laughter and fun.    We will be serving lunch, raffling wonderful prizes, spotlighting deserving members with annual awards, and introducing the 2023 Board of Directors.
Buy your tickets now:    Its such a bummer to plan a party when no one tells you they are coming.  We know you are thinking about it, so just do it!  Tickets are  $25/person and we only can sell 150 entrance/meal tickets due to space limitations of the Grange.    Tickets are  available online  here:  https://www.santacruzflyfishing.org/product-category/annual-fundraiser/
Volunteer:    Many long term club members say the best part of our Annual Fundraiser is the time volunteering and working with others to put the whole event together.     We still need people to step-up and take an assignment whether it is before, during or after the event.    Contact Elaine Cook (coookin@gmail.com) to find out where you can best help.
Lunch: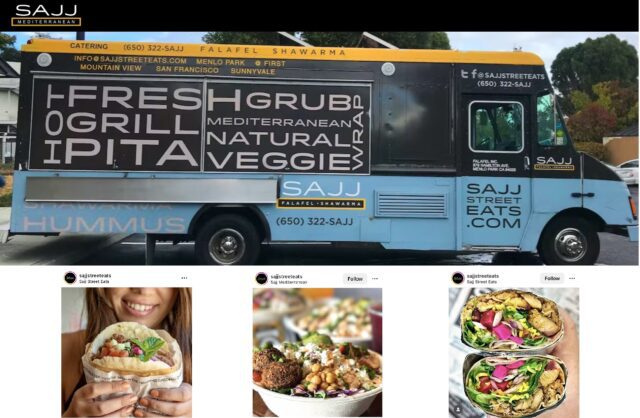 Fresh, healthy, filling and fun.   What's not to like about Mediterranean food?   We are bringing a winner from the Bay Area down to cater our lunch.   @Zagat dubbed SAJJ Mediterranean falafel as best in the Bay Area!   Guests will have the option to choose between the following three entrees.  (All entrees will be served with fries.)
SAJJ Bowl: Your choice of Chicken Shawarma, Steak shawarma or falafel; served over turmeric rice, wild arugula, tomato & cucumber mix, hummus, cabbage, diced pickles, and a drizzle of tahini sauce
SAJJ Wrap: Your choice of Chicken Shawarma, Steak shawarma or falafel; garlic spread, wild arugula, tomato & cucumber mix, sumac onions and diced pickles
SAJJ Pita: Your choice of Chicken Shawarma, Steak shawarma or falafel; with hummus, wild arugula, tomato & cucumber mix, diced pickles
Seating will be available indoor and outdoor all though inside will be cozy depending on the weather.     Lunch will be available between 1:00 pm – 3:00 pm.    Water, soda, and coffee will be available as well as a dessert table.   We will not be serving or selling alcohol so plan accordingly.
Parking:  Everyone needs to buddy-up and comes to the Fundraiser with a fellow member, so that we can fit everyone in the parking lot.  Otherwise, over flow will need to park on Mar Vista Drive.
Raffle Tickets:    Tickets can be purchased online and can also be purchased at the event.   If you purchased online, your tickets will be waiting for you along with your entrance/lunch receipt when you check-in.    Raffle boxes will be on the tables for you to decide what you want to win.   Keep a portion of your ticket so that you can claim your winnings.
Health Protocol:   We hope to have a lot of people attend this event and the Grange is not that big of a building.  Masking is encouraged as we want everyone healthy for the upcoming fishing season.
---
Posted on December 27th, 2022