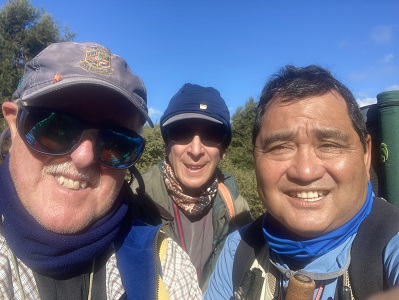 As the new president of the Santa Cruz Fly Fishing club, I am excited to have a chance to work with all of you to make this club, stronger and more valuable for all of us. First of all, I want to thank Tom Hogye, who encouraged me to join the board three years ago and promised that the more I put into the club, the more I would get out of it.  He was right.  Tom's passion and emphasis while president was in the areas of conservation and education, and he will continue to champion those causes for us as well as the larger NCFFI organization.  Thank you, Tom.
My focus in the upcoming year is centered around fellowship. A club like ours provides a great opportunity for us to make new friends, share experiences while teaching and learning from each other along the way. As a part of the SCFF Board of Directors, we are committed to increasing the number of activities and the quality of the events per year. All we ask of you is … participate!
During February and March we have a lot of events for your participation. In the newsletter, we have a new section in the Membership area called "Club Activities" which lists events such as fly casting, volunteer opportunities, dinners, and hang outs. These are separate from the sections of the fly tying and fish outs which describe what is happening in future months. If you want to see everything that is happening, click on EVENTS on the website which has a calendar showing the dates of the events along with sections with detailed info about fishouts, fly tying and club activities.
I want to highlight some of the changes that we are making to provide more opportunities to congregate and socialize. These include:
Feb 18th, Annual Fund Raiser and Installation: After a three-year hiatus, the event will feature a new venue, new hours, new food, a new ticket price, and with your help, more comradery, laughter and fun. The day will include a lunch catered by SAJJ Mediterranean, raffle of great prizes, annual awards, and introduction of the new Board of Directors.
General Meetings (1st Wednesday of the Month):    Please attend our General Meetings in person at the Aptos Grange.   Doors will open at 6:00 pm and the meeting will start promptly at 6:45 pm.  This provides up to 45 minutes to help setup the room, swap fishing stories, buy raffle tickets, and  meet new members.  
March 8 @ 6:30 pm, Fly Tying Hangout:    We are trying out something new by providing a venue for members to come together and tie flies along side others.   Its a great excuse to get out of the house, so bring your vise, tools, materials and fish stories. 
I hope that you can attend some of these upcoming events and if you have any suggestions on other club activities, let me know: scottkitayama@gmail.com or mobile 650 279 5871.
See you on the water – Scott
Posted on January 22nd, 2023