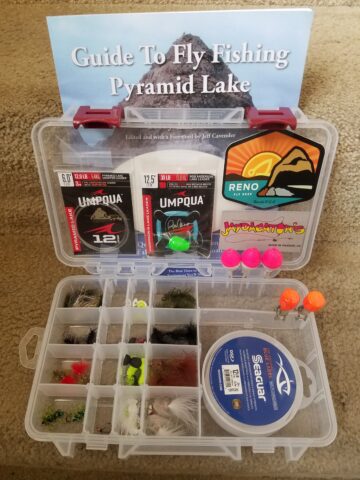 Something a little different for our February Fly Club raffle since we have so many prizes and later in the month at the Fundraiser.
We have a great prize to kick off the winter/spring season at Pyramid Lake.
Working with the Reno Fly shop we put together a complete kit of everything needed to be successful at the 'Lake of the Giants'.
The kit includes:
32 custom flies; woolly buggers, nymphs, midges, beetles, and balanced leaches.
A 25 yard spool of 12 pound Blue Label Seaguar fluorocarbon.
3 Jaydacator balsa indicators.
2 weighted depth finder clips.
A 12 pound 2 pack of Pyramid Lake dropper leaders.
A Rob Anderson deep water break away indicator system.
Plus a copy of Terry Barron's classic:
"Guide to Fly Fishing Pyramid Lake" along with the the Trout Creek Outfitters four part guide and Rob Anderson's beach descriptions.
This is a great prize for both the beginner and veteran of Pyramid Lake along with those who have never gone but always wanted to take a run at the 'Giants'.
The ticket sales are open and close on Friday before the Fundraiswer (2/17/23).
Click on this link to purchase tickets: https://www.santacruzflyfishing.org/product-category/raffle-prizes/
Tickets are a dollar each, $20 bucks get you 25. The drawing of tickets will take place at the monthly meeting. Club membership is not required to participate, need not be present to win.
Support your club, buy a raffle ticket!
Posted on January 26th, 2023