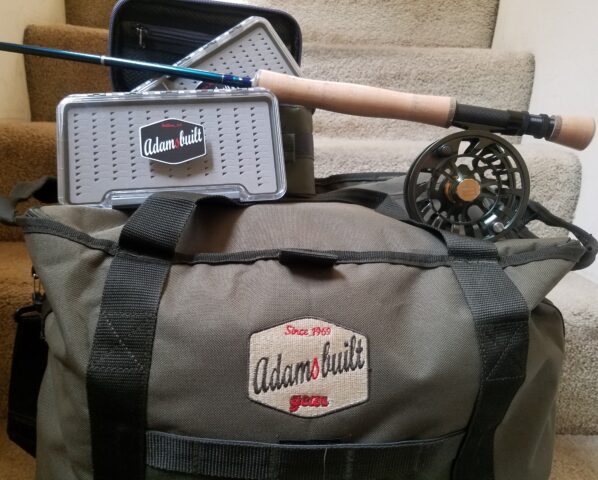 March is here, winter is just about over, and it time to get back out on the water. We have some great raffle prizes to help you get back in the swing of things.
Planning a trip to Pyramid? Maybe some Delta bass or stripers? Taking a run at our local surf spots, How about some North coast rivers for Steelhead? Any of these plans would be enhanced by adding this nice 8wt rod and reel to your quiver. This is a 9 foot 4 piece 8 wt V-access rod with a large arbor VII reel.
Comes with a cordura covered hard tube and a neoprene stretch reel pouch.
If you spent the winter tying flies or need to organize your existing inventory this fly box case from Adamsbuilt with 4 fly boxes is a perfect way to get ready for the upcoming season. The padded storage case has belt loops that will allow you to have hundreds of stored flies at your fingertips.
When you look at that big pile of gear that needs to somehow get packed away for your next outdoor adventure, think about this great wet/dry gear bag from Adamsbuilt. It's got bunches of storage room, a removable waterproof liner, and a molded hard bottom to keep your gear clean and dry. Waders, boots, vest, and more; there is room for just about everything including external Velcro straps to secure both wading staff and rod tube.
Online ticket sales are available by clicking on the following link:
Tickets are a dollar each, 20 bucks gets you 25. The raffle drawing will take place at the March 1st meeting. Club membership is not required, need not be present to win.
Support your club, buy a raffle ticket!
Posted on February 24th, 2023