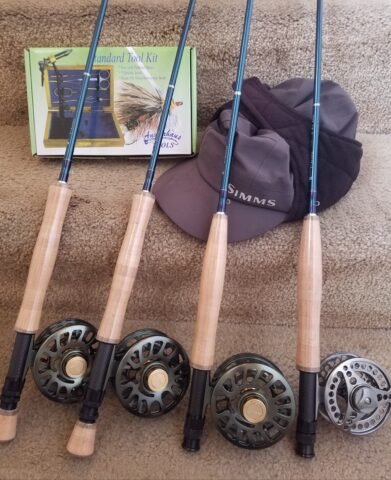 A lot of us fisherpeople (is that a word?) think of April as the kickoff of a new season to launch our angling endeavors across the great outdoors. To that end we have some great raffle prizes up for grabs.
How about a winners pick for a V-access rod and reel package? This is a great way to fill in that empty slot in your fly rod quiver.  The winner (singular) has their pick of either a 5wt,6wt,7wt. or 8wt rod along with a matching reel. These picks can get you covered from the small Sierra streams to the big Northern rivers or the Stillwater in between.  It's a winners choice!
Thinking of one more trip to Pyramid or maybe a spring trip to Mammoth Lakes?
Take a look at this Simms Gortex hat that will keep you warm and dry. The fold down flaps will keep your ears and neck warm while darkened underbill cuts down on reflected glare. Don't let the cold and wet put a damper on your next angling adventure.
Anybody thinking about getting into Fly Tying? Anybody looking for a great gift for a Fly Fishing friend? Anybody need neat little Fly Tying kit to pack away on your next trip? This Fly Tying kit from Colorado Angler Supply is just the prize you're looking for. Packed away in a classic wooden box is a vise with a pedestal base along with seven  quality tying tools. Also included is a basic fly tying instruction book. A really sweet prize for a lucky winner.
Raffle tickets are available online, click on the following link to purchase your lucky tickets:
Tickets are a dollar each, twenty bucks gets you 25. The ticket sales office will close at noon on the the day of the April meeting (4/5/23). Club membership is not required to participate,  need not be present to win.
Posted on March 30th, 2023