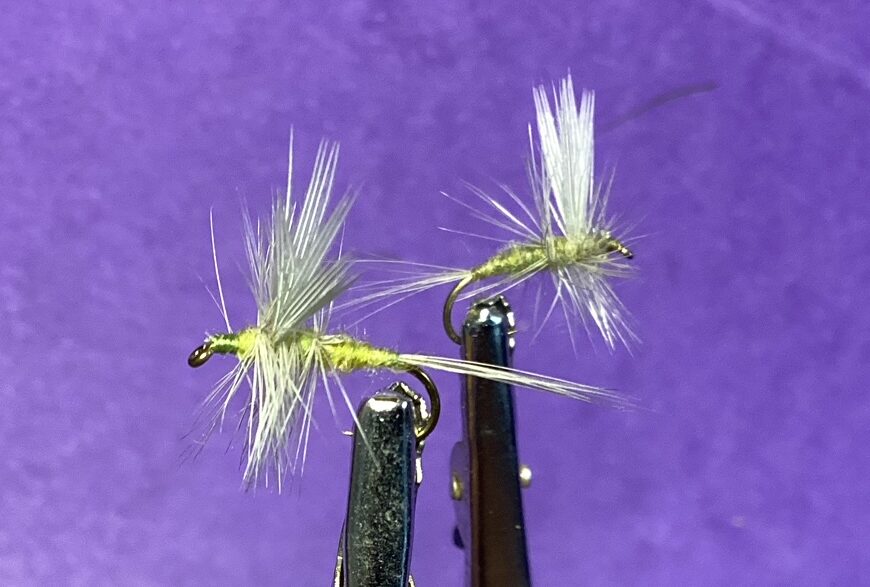 This dry fly is an absolute must for the upcoming fishout to Mammoth Lakes. Be sure to use this in the high Sierra streams, Hot Creek,, and the upper Owens. don't hesitate to use this fly throughout the west and the north east as well. The fish in the Rockies particularly like the larger flies. This thorax fly tying style was developed around 75 years ago by Vince Marinaro for the limestone streams of the Northeast.
HOOK: TMC 10o (standard dry fly) size is 12–18.     The small flies work well in spring creeks and tail waters.
Crimp Barb.
THREAD: Olive 8/0.
Attach thread, mid shank, and leave hanging 1/3 back from eye.
WING: light, gray, turkey flat.
Select a bunch of turkey, flat, barbs, lining up tips and cutting from stem. Measure turkey flat barbs  equal in length to hook shank and tie and on top of shank with Tips extending beyond eye.  Cut bar butts off at an angle. Stand wing upright, making several wraps as a dam to hold barbs vertical. Return thread to cut Barb butts.
TAIL: light dun hackle fibers. (Side feather from chicken neck that has stiffer barbs).
Select 10–12 hackle barbs, line up tips, tie in so tips are one hook shank length beyond the end of the shank. Last wrap under tail  to keep from bending downward. Cut, butts even with cut wing butts.
BODY: Olive, superfine dubbing. ( the natural insect varies in color from olive, to pale olive gray, to yellow olive green, to rusty olive).
Dub a slender body up to mid shank.
HACKLE: light dun neck, or saddle
Select hackle with barbs 1 1/2 hook gap long. Remove any fuzz at butt end, stroke barbs against grain at butt end. Cut several barbs short off each side of butt end. Lay that section on side of shank, tip to rear and tie in place. dub remainder of hook to one eye length behind eye. Spiral hackle forward in three turns behind wing and three turns in front of wing. Tie off cut access. Wrap, a small thread head, whip finish, cut thread, and seal with his cement, if desired.
Posted on April 29th, 2023