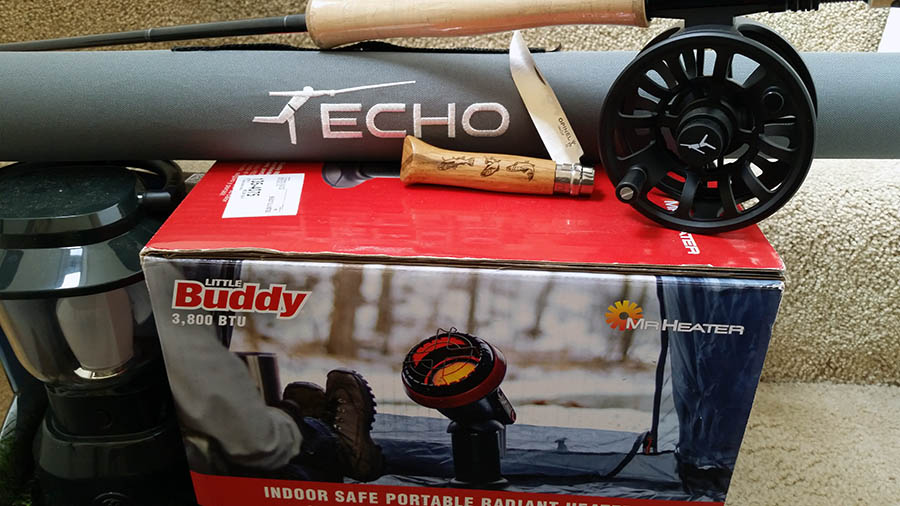 Just in time for your big trip to Pyramid Lake we have an Echo Ion XL 9 ft. 8 wt. Rod which features a twin ring locking reel seat, alignment dots on each of the four sections, and a nice little fighting butt. Paired with this rod is an Echo Ion large arbor Rulon disc reel. This package is perfect for the big fish and the big winds that Pyramid is known for. It also is a nice rig for the surf.
In case we have forgotten, it is still on the cool side of spring so it might be nice to have a little bit of heat on these cold mornings when we are outdoors. This Little Buddy heater runs off the small propane tanks putting out 3800 BTU's of heat for in the tent, the back of the truck or in the shop. It will heat up to 95 square feet and will run for over 5 hours on single tank of gas. Also great for the bath at home when the power is out.
As long as we're up early in the dark or possibly facing a power outage, a GE Enbrighten lantern can help light the way. It puts out 500 lu-mens of bright white light for 180 hours running on 4 D cell batteries. It features 3 light levels and a carabiner style hanger handle.
DOOR PRIZE! EVERYONE GETS A FREE TICKET! We have a really nice little pocket knife by Opinel of Savoie France. It has a twist lock ring and Trout image wooden handle. The company dates back to the late 1800's. It is perfect for streamside picnic lunch preparation.
Posted on March 22nd, 2020