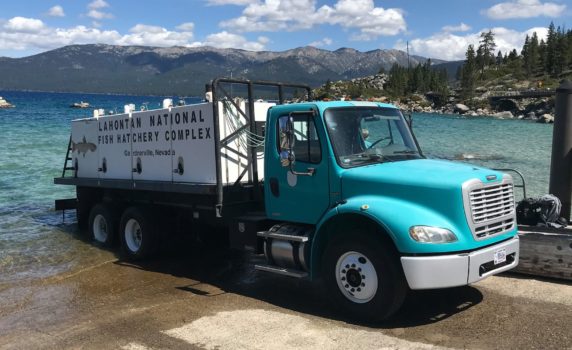 Article from https://www.facebook.com/LahontanNFHC
Our first two stockings of the 2021 season in Lake Tahoe are complete! This week we stocked 5,083 10 inch Pilot Peak Lahontan Cutthroat Trout on the Nevada side. To monitor and evaluate Pilot Peak LCT growth, survival, and movement around the Lake, 30% of those trout were FLOY tagged with a unique ID and phone number so that anglers can report their catch and help us collect this vital information. Thank you to the Washoe Tribe of California and Nevada, Nevada Department of Wildlife, Tahoe Regional Planning Agency and the U.S. Forest Service-Lake Tahoe Basin Management Unit for the ongoing collaboration in providing a native trout for recreational angling opportunities in Lake Tahoe.
​Fun Facts:
-Lahontan Cutthroat Trout are the only trout native to Lake
Tahoe.
-Lahontan Cutthroat Trout is the state fish of Nevada.
-Lahontan Cutthroat Trout are the Largest inland cutthroat trout in the world.
(Photo Credits USFWS)
Posted on June 11th, 2021